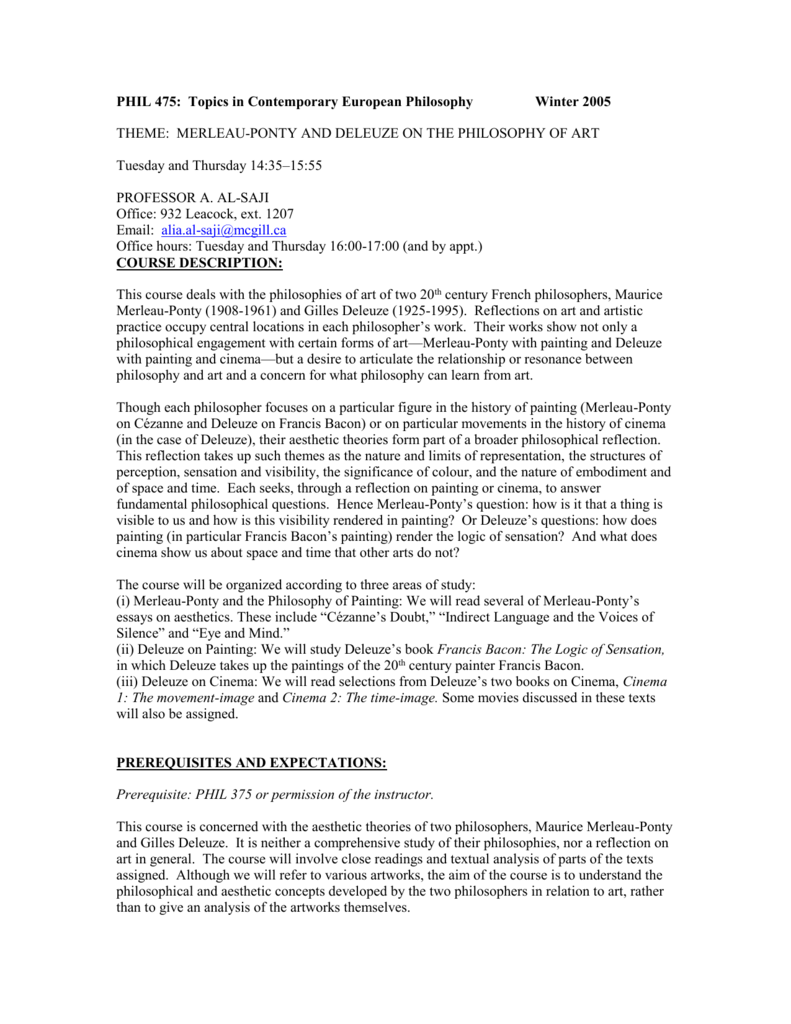 PHIL 475: Topics in Contemporary European Philosophy
Winter 2005
THEME: MERLEAU-PONTY AND DELEUZE ON THE PHILOSOPHY OF ART
Tuesday and Thursday 14:35–15:55
PROFESSOR A. AL-SAJI
Office: 932 Leacock, ext. 1207
Email: [email protected]
Office hours: Tuesday and Thursday 16:00-17:00 (and by appt.)
COURSE DESCRIPTION:
This course deals with the philosophies of art of two 20th century French philosophers, Maurice
Merleau-Ponty (1908-1961) and Gilles Deleuze (1925-1995). Reflections on art and artistic
practice occupy central locations in each philosopher's work. Their works show not only a
philosophical engagement with certain forms of art—Merleau-Ponty with painting and Deleuze
with painting and cinema—but a desire to articulate the relationship or resonance between
philosophy and art and a concern for what philosophy can learn from art.
Though each philosopher focuses on a particular figure in the history of painting (Merleau-Ponty
on Cézanne and Deleuze on Francis Bacon) or on particular movements in the history of cinema
(in the case of Deleuze), their aesthetic theories form part of a broader philosophical reflection.
This reflection takes up such themes as the nature and limits of representation, the structures of
perception, sensation and visibility, the significance of colour, and the nature of embodiment and
of space and time. Each seeks, through a reflection on painting or cinema, to answer
fundamental philosophical questions. Hence Merleau-Ponty's question: how is it that a thing is
visible to us and how is this visibility rendered in painting? Or Deleuze's questions: how does
painting (in particular Francis Bacon's painting) render the logic of sensation? And what does
cinema show us about space and time that other arts do not?
The course will be organized according to three areas of study:
(i) Merleau-Ponty and the Philosophy of Painting: We will read several of Merleau-Ponty's
essays on aesthetics. These include "Cézanne's Doubt," "Indirect Language and the Voices of
Silence" and "Eye and Mind."
(ii) Deleuze on Painting: We will study Deleuze's book Francis Bacon: The Logic of Sensation,
in which Deleuze takes up the paintings of the 20th century painter Francis Bacon.
(iii) Deleuze on Cinema: We will read selections from Deleuze's two books on Cinema, Cinema
1: The movement-image and Cinema 2: The time-image. Some movies discussed in these texts
will also be assigned.
PREREQUISITES AND EXPECTATIONS:
Prerequisite: PHIL 375 or permission of the instructor.
This course is concerned with the aesthetic theories of two philosophers, Maurice Merleau-Ponty
and Gilles Deleuze. It is neither a comprehensive study of their philosophies, nor a reflection on
art in general. The course will involve close readings and textual analysis of parts of the texts
assigned. Although we will refer to various artworks, the aim of the course is to understand the
philosophical and aesthetic concepts developed by the two philosophers in relation to art, rather
than to give an analysis of the artworks themselves.
A. Al-Saji, PHIL 475, p. 2
The artworks, whether painting or film, which will be discussed in the course often aim to
challenge habitual definitions of art. They are sometimes shocking, always demanding, and
generally neither beautiful (this not being a category that either philosopher uses), nor
entertaining.
REQUIRED TEXTS: Gilles Deleuze, Francis Bacon: The Logic of Sensation (Paragraphe
Bookstore)
Course Pack (McGill Bookstore)
ASSIGNMENTS AND GRADES:
One short paper (30%), one term paper (45%), and a series of 5 questions submitted throughout
the term (15%). The remaining 10% depends on your attendance and participation in discussion
segments of the class and in the class in general.
Details of Assignments:
(1) The short paper, worth 30%, will be approximately 5-6 pages in length. It is due March
17th in class (or in my mailbox in Leacock 908). For this paper you must choose one
artwork. (This can be a painting that you have seen at a museum or in some other venue.
It can also be another form of art other than painting. You are encouraged to draw on
Montreal's rich network of museums to select the artwork.) In your paper, you should
take up this artwork in the context of one of the aesthetic theories (Merleau-Ponty or
Deleuze) discussed in the course, reflect on whether this philosophical theory is
applicable to the artwork you have chosen, how it may be useful for understanding the
artwork, and, on the other hand, how the artwork may help enrich the philosophical
theory (or may show the limitations of the theory).
(2) The term paper, worth 45%, will be approximately 10-12 pages in length. The topic of
this paper is to be designed by you, in consultation with the instructor. It will be due in
the final week of term.
(3) Five questions, together worth 15%. These questions will be due at designated dates
throughout the term. Each question must be well-formulated, must deal with the reading
for that day, and must aim to generate discussion. A question should be no more than 4
lines in length. You will be assigned a grade for all five questions as a whole at the end
of the term.
(4) Participation and attendance, worth 10%. This includes participation in the discussion
segments of class (on designated days), as well as participation and attendance in class in
general.
SCHEDULE OF READINGS: T.B.A.
McGILL UNIVERSITY VALUES ACADEMIC INTEGRITY. THEREFORE ALL STUDENTS
MUST UNDERSTAND THE MEANING AND CONSEQUENCES OF CHEATING,
PLAGIARISM AND OTHER ACADEMIC OFFENCES UNDER THE CODE OF STUDENT
CONDUCT AND DISCIPLINARY PROCEDURES (see www.mcgill.ca/integrity for more
information).