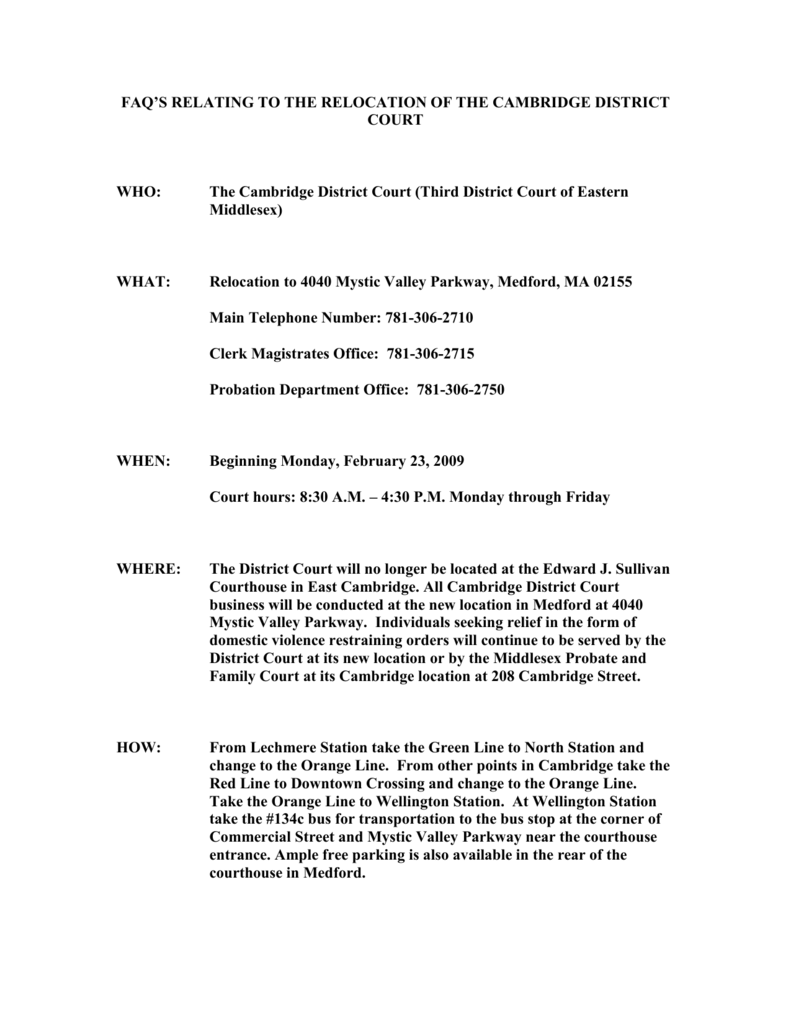 FAQ'S RELATING TO THE RELOCATION OF THE CAMBRIDGE DISTRICT
COURT
WHO:
The Cambridge District Court (Third District Court of Eastern
Middlesex)
WHAT:
Relocation to 4040 Mystic Valley Parkway, Medford, MA 02155
Main Telephone Number: 781-306-2710
Clerk Magistrates Office: 781-306-2715
Probation Department Office: 781-306-2750
WHEN:
Beginning Monday, February 23, 2009
Court hours: 8:30 A.M. – 4:30 P.M. Monday through Friday
WHERE:
The District Court will no longer be located at the Edward J. Sullivan
Courthouse in East Cambridge. All Cambridge District Court
business will be conducted at the new location in Medford at 4040
Mystic Valley Parkway. Individuals seeking relief in the form of
domestic violence restraining orders will continue to be served by the
District Court at its new location or by the Middlesex Probate and
Family Court at its Cambridge location at 208 Cambridge Street.
HOW:
From Lechmere Station take the Green Line to North Station and
change to the Orange Line. From other points in Cambridge take the
Red Line to Downtown Crossing and change to the Orange Line.
Take the Orange Line to Wellington Station. At Wellington Station
take the #134c bus for transportation to the bus stop at the corner of
Commercial Street and Mystic Valley Parkway near the courthouse
entrance. Ample free parking is also available in the rear of the
courthouse in Medford.