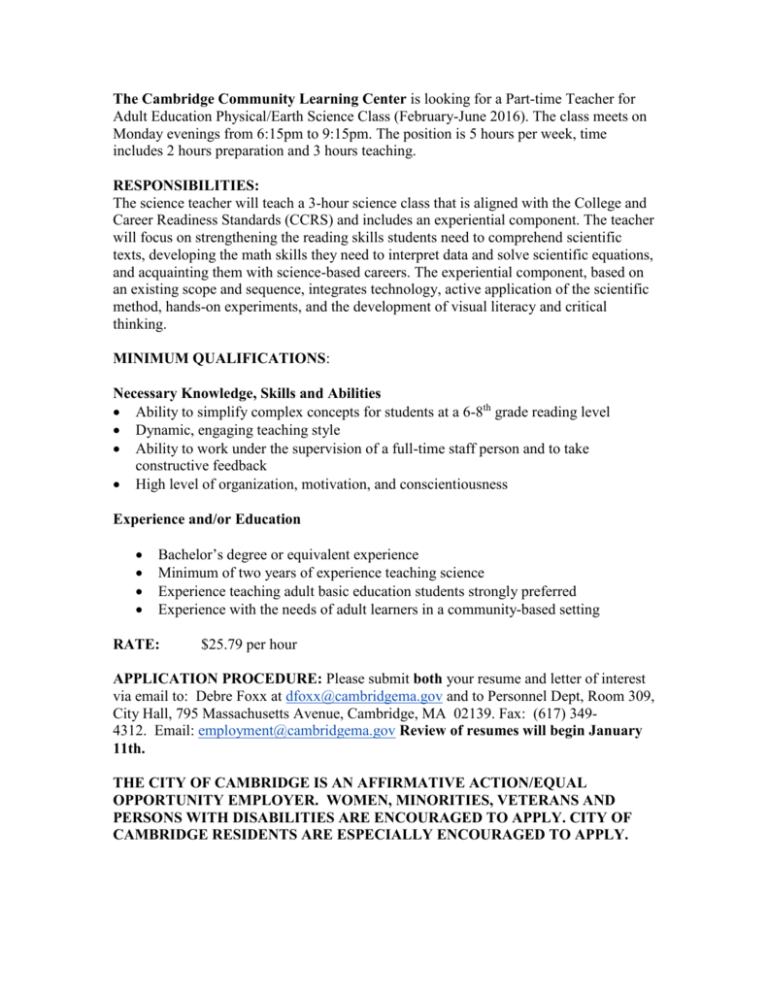 The Cambridge Community Learning Center is looking for a Part-time Teacher for
Adult Education Physical/Earth Science Class (February-June 2016). The class meets on
Monday evenings from 6:15pm to 9:15pm. The position is 5 hours per week, time
includes 2 hours preparation and 3 hours teaching.
RESPONSIBILITIES:
The science teacher will teach a 3-hour science class that is aligned with the College and
Career Readiness Standards (CCRS) and includes an experiential component. The teacher
will focus on strengthening the reading skills students need to comprehend scientific
texts, developing the math skills they need to interpret data and solve scientific equations,
and acquainting them with science-based careers. The experiential component, based on
an existing scope and sequence, integrates technology, active application of the scientific
method, hands-on experiments, and the development of visual literacy and critical
thinking.
MINIMUM QUALIFICATIONS:
Necessary Knowledge, Skills and Abilities
 Ability to simplify complex concepts for students at a 6-8th grade reading level
 Dynamic, engaging teaching style
 Ability to work under the supervision of a full-time staff person and to take
constructive feedback
 High level of organization, motivation, and conscientiousness
Experience and/or Education




Bachelor's degree or equivalent experience
Minimum of two years of experience teaching science
Experience teaching adult basic education students strongly preferred
Experience with the needs of adult learners in a community-based setting
RATE:
$25.79 per hour
APPLICATION PROCEDURE: Please submit both your resume and letter of interest
via email to: Debre Foxx at dfoxx@cambridgema.gov and to Personnel Dept, Room 309,
City Hall, 795 Massachusetts Avenue, Cambridge, MA 02139. Fax: (617) 3494312. Email: employment@cambridgema.gov Review of resumes will begin January
11th.
THE CITY OF CAMBRIDGE IS AN AFFIRMATIVE ACTION/EQUAL
OPPORTUNITY EMPLOYER. WOMEN, MINORITIES, VETERANS AND
PERSONS WITH DISABILITIES ARE ENCOURAGED TO APPLY. CITY OF
CAMBRIDGE RESIDENTS ARE ESPECIALLY ENCOURAGED TO APPLY.