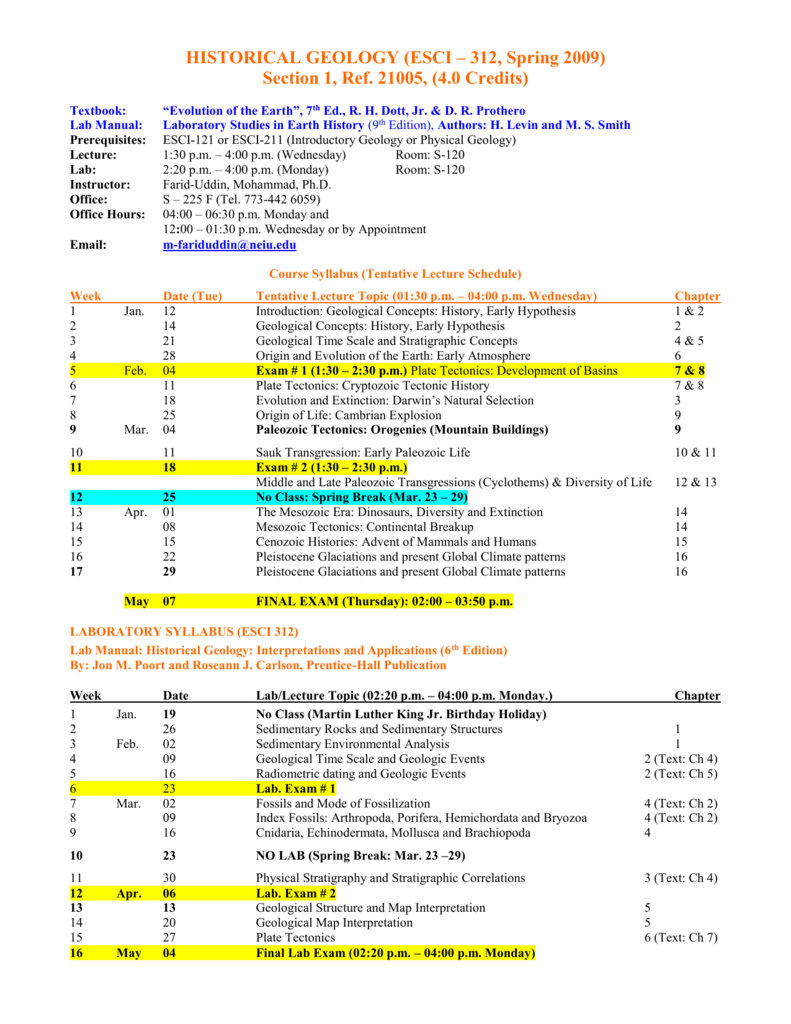 HISTORICAL GEOLOGY (ESCI – 312, Spring 2009)
Section 1, Ref. 21005, (4.0 Credits)
Textbook:
Lab Manual:
Prerequisites:
Lecture:
Lab:
Instructor:
Office:
Office Hours:
Email:
"Evolution of the Earth", 7th Ed., R. H. Dott, Jr. & D. R. Prothero
Laboratory Studies in Earth History (9th Edition), Authors: H. Levin and M. S. Smith
ESCI-121 or ESCI-211 (Introductory Geology or Physical Geology)
1:30 p.m. – 4:00 p.m. (Wednesday)
Room: S-120
2:20 p.m. – 4:00 p.m. (Monday)
Room: S-120
Farid-Uddin, Mohammad, Ph.D.
S – 225 F (Tel. 773-442 6059)
04:00 – 06:30 p.m. Monday and
12:00 – 01:30 p.m. Wednesday or by Appointment
[email protected]
Course Syllabus (Tentative Lecture Schedule)
Date (Tue)
12
14
21
28
04
11
18
25
04
Tentative Lecture Topic (01:30 p.m. – 04:00 p.m. Wednesday)
Introduction: Geological Concepts: History, Early Hypothesis
Geological Concepts: History, Early Hypothesis
Geological Time Scale and Stratigraphic Concepts
Origin and Evolution of the Earth: Early Atmosphere
Exam # 1 (1:30 – 2:30 p.m.) Plate Tectonics: Development of Basins
Plate Tectonics: Cryptozoic Tectonic History
Evolution and Extinction: Darwin's Natural Selection
Origin of Life: Cambrian Explosion
Paleozoic Tectonics: Orogenies (Mountain Buildings)
Chapter
1&2
2
4&5
6
7&8
7&8
3
9
9
10
11
11
18
10 & 11
12
13
14
15
16
17
25
01
08
15
22
29
Sauk Transgression: Early Paleozoic Life
Exam # 2 (1:30 – 2:30 p.m.)
Middle and Late Paleozoic Transgressions (Cyclothems) & Diversity of Life
No Class: Spring Break (Mar. 23 – 29)
The Mesozoic Era: Dinosaurs, Diversity and Extinction
Mesozoic Tectonics: Continental Breakup
Cenozoic Histories: Advent of Mammals and Humans
Pleistocene Glaciations and present Global Climate patterns
Pleistocene Glaciations and present Global Climate patterns
07
FINAL EXAM (Thursday): 02:00 – 03:50 p.m.
Week
1
2
3
4
5
6
7
8
9
Jan.
Feb.
Mar.
Apr.
May
12 & 13
14
14
15
16
16
LABORATORY SYLLABUS (ESCI 312)
Lab Manual: Historical Geology: Interpretations and Applications (6 th Edition)
By: Jon M. Poort and Roseann J. Carlson, Prentice-Hall Publication
Week
1
2
3
4
5
6
7
8
9
Jan.
Feb.
Mar.
10
11
12
13
14
15
16
Apr.
May
Date
19
26
02
09
16
23
02
09
16
Lab/Lecture Topic (02:20 p.m. – 04:00 p.m. Monday.)
No Class (Martin Luther King Jr. Birthday Holiday)
Sedimentary Rocks and Sedimentary Structures
Sedimentary Environmental Analysis
Geological Time Scale and Geologic Events
Radiometric dating and Geologic Events
Lab. Exam # 1
Fossils and Mode of Fossilization
Index Fossils: Arthropoda, Porifera, Hemichordata and Bryozoa
Cnidaria, Echinodermata, Mollusca and Brachiopoda
23
NO LAB (Spring Break: Mar. 23 –29)
30
06
13
20
27
04
Physical Stratigraphy and Stratigraphic Correlations
Lab. Exam # 2
Geological Structure and Map Interpretation
Geological Map Interpretation
Plate Tectonics
Final Lab Exam (02:20 p.m. – 04:00 p.m. Monday)
Chapter
1
1
2 (Text: Ch 4)
2 (Text: Ch 5)
4 (Text: Ch 2)
4 (Text: Ch 2)
4
3 (Text: Ch 4)
5
5
6 (Text: Ch 7)
Teaching Policy:
This course will be a straight lecture and lab based. You will need to buy the textbook and lab manual. You should
read the assigned chapter before class and familiarize yourself with the figures and graphs. I will extensively use those
figures and graphs in my lectures and exams. Students are expected to attend all scheduled classes and are responsible
for all work missed when absent. You are responsible for all material covered in class, and all announcements made in
class. If you miss a class, it is your responsibility to contact your classmates to get the lecture notes. The instructor
does not give lecture notes to students who miss class or who are unable to keep up with the class. Since the exams
will heavily depend on the lecture materials, you will lose a lot by missing any lecture. If you need extra help, tutoring
is available.
EXAMS AND GRADES: Your grade will be based on:
Lecture Exams (45%): Three Lecture Exams:
Laboratory (45%):
45% (100 + 100 + 150 Points)
Assignments:
25% (1500 Points)
Three Lab Exams:
20% (300 Points)
Field Trip & Report (10%):
10% (200 Points), TBA
EXTRA CREDITS: Only Applied for Students with >95% Attendance and Active Participation in Class Activities.
10% Extra Credits in each Exam. (Group Discussions, Mini Projects, Assignments, etc.)
2% Grade Jump (Final Grade)
10% Bonus Point (Extra Credit): if Lab Assignment Submitted in Time
Many Surprise Bonuses
Final Grades will be based on the following percentages:
A: >90%
B: 81 – 90%
C: 71 – 80%
D: 60 – 70%
F: <60%
Note: You are responsible for keeping track of your own grades throughout the semester, and you may use these
grades to calculate your course grade as of the midpoint of the semester. (There is no guarantee, however, that the
final course grade will be the same as the grade at the midpoint of the semester.)
Midterm exams will cover only the materials in the previous segment of the course. However, Final Exam will be
partially comprehensive. Exams will be a mix bag of multiple-choice, true-false, fill-in the blanks, brief
explanations, short answer, draw/explain figures, etc. Please bring a Number-2 Pencil on Exam/Quiz days.
Makeup Exam Policy: No EXCUSE No Makeup Exams.
Exceptions: If you have spoken with me in advance, and you must have a university-approved excuse.
Late Assignment Policy:
Assignments will be collected before the lecture (Lab) of due date.
10% deduction: If submitted after class (within 24 hrs. after the due date).
50% deduction: If submitted after 24 hrs. of the due date.
Assignments will be no longer accepted after 48 hrs. of the due date.
If you are the victim of circumstances beyond your control you may request a twenty-four hour extension
(Need prior permission for late submission).
Note:
1.
2.
3.
4.
5.
Regular attendance is strongly recommended.
Not allowed: Talking, Sleeping, Reading Newspapers or any other disruptive behavior.
ABSOLUTELY No Exam/Quiz will be given early.
Makeup or Late exams may be different from regular exam.
No Extra Credits for Makeup Exam/Late Lab Assignment.
6. No Excuse, for missing Extra Credit.
7. NO Makeup's for Extra Credit.
8. Cheating on any Test/Quiz will result Immediate "F" Semester Grade.