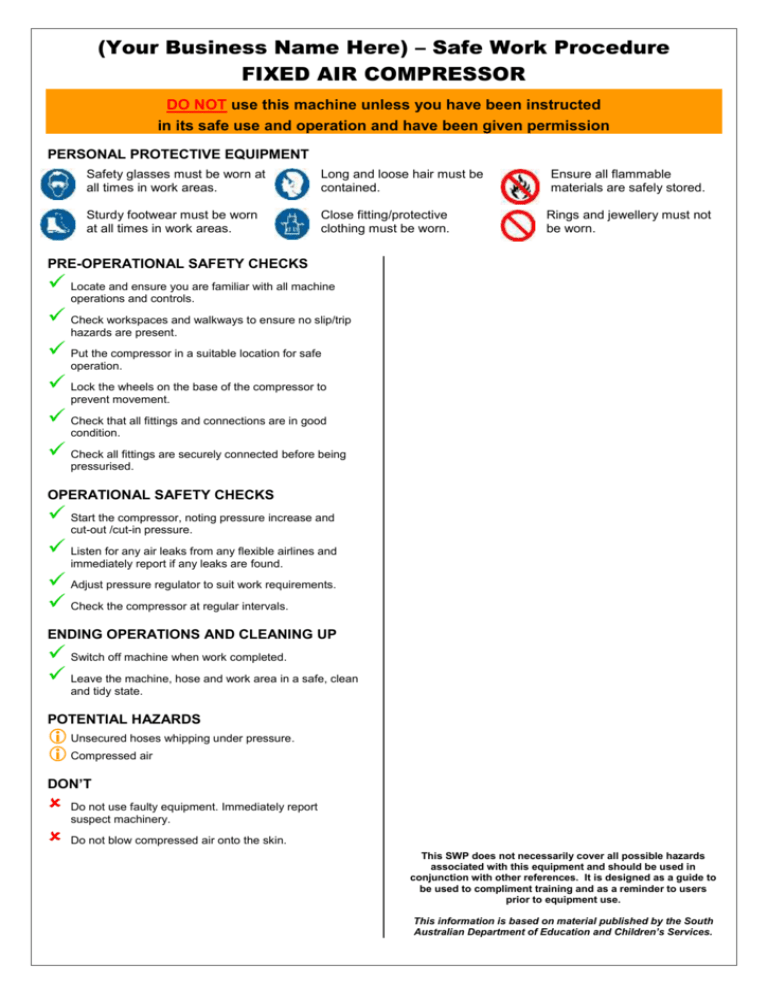 (Your Business Name Here) – Safe Work Procedure
FIXED AIR COMPRESSOR
DO NOT use this machine unless you have been instructed
in its safe use and operation and have been given permission
PERSONAL PROTECTIVE EQUIPMENT
Safety glasses must be worn at
all times in work areas.
Long and loose hair must be
contained.
Sturdy footwear must be worn
at all times in work areas.
Close fitting/protective
clothing must be worn.
Ensure all flammable
materials are safely stored.
Rings and jewellery must not
be worn.
PRE-OPERATIONAL SAFETY CHECKS
 Locate and ensure you are familiar with all machine
operations and controls.
 Check workspaces and walkways to ensure no slip/trip
hazards are present.
 Put the compressor in a suitable location for safe
operation.
 Lock the wheels on the base of the compressor to
prevent movement.
 Check that all fittings and connections are in good
condition.
 Check all fittings are securely connected before being
pressurised.
OPERATIONAL SAFETY CHECKS
 Start the compressor, noting pressure increase and
cut-out /cut-in pressure.
 Listen for any air leaks from any flexible airlines and
immediately report if any leaks are found.
 Adjust pressure regulator to suit work requirements.
 Check the compressor at regular intervals.
ENDING OPERATIONS AND CLEANING UP
 Switch off machine when work completed.
 Leave the machine, hose and work area in a safe, clean
and tidy state.
POTENTIAL HAZARDS
 Unsecured hoses whipping under pressure.
 Compressed air
DON'T


Do not use faulty equipment. Immediately report
suspect machinery.
Do not blow compressed air onto the skin.
This SWP does not necessarily cover all possible hazards
associated with this equipment and should be used in
conjunction with other references. It is designed as a guide to
be used to compliment training and as a reminder to users
prior to equipment use.
This information is based on material published by the South
Australian Department of Education and Children's Services.