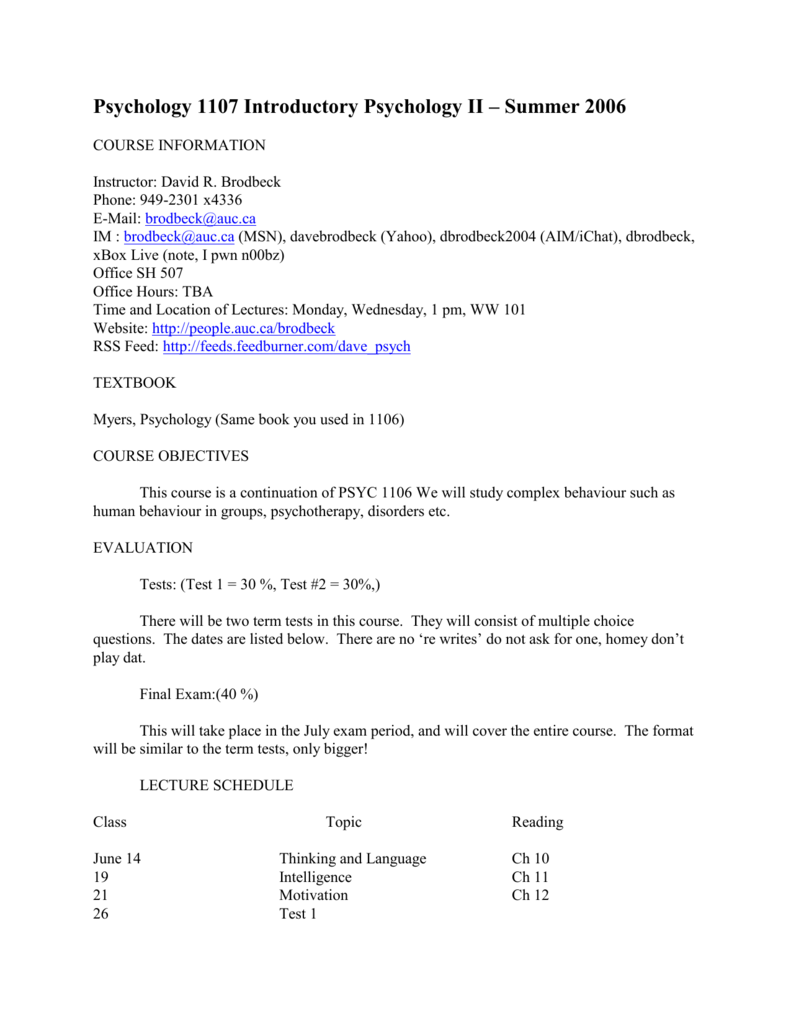 Psychology 1107 Introductory Psychology II – Summer 2006
COURSE INFORMATION
Instructor: David R. Brodbeck
Phone: 949-2301 x4336
E-Mail: [email protected]
IM : [email protected] (MSN), davebrodbeck (Yahoo), dbrodbeck2004 (AIM/iChat), dbrodbeck,
xBox Live (note, I pwn n00bz)
Office SH 507
Office Hours: TBA
Time and Location of Lectures: Monday, Wednesday, 1 pm, WW 101
Website: http://people.auc.ca/brodbeck
RSS Feed: http://feeds.feedburner.com/dave_psych
TEXTBOOK
Myers, Psychology (Same book you used in 1106)
COURSE OBJECTIVES
This course is a continuation of PSYC 1106 We will study complex behaviour such as
human behaviour in groups, psychotherapy, disorders etc.
EVALUATION
Tests: (Test 1 = 30 %, Test #2 = 30%,)
There will be two term tests in this course. They will consist of multiple choice
questions. The dates are listed below. There are no 're writes' do not ask for one, homey don't
play dat.
Final Exam:(40 %)
This will take place in the July exam period, and will cover the entire course. The format
will be similar to the term tests, only bigger!
LECTURE SCHEDULE
Class
June 14
19
21
26
Topic
Thinking and Language
Intelligence
Motivation
Test 1
Reading
Ch 10
Ch 11
Ch 12
28
July 5
10
12
17
19
24
Emotion
Stress
Personality
Test 2
Disorders
Therapy
Social Psych
Ch 13
Ch 14
Ch 15
Ch 16
Ch 17
Ch 18
ACADEMIC DISHONESTY
Please consult your course calendar for details, definitions and penalties. Beware, I take
cheating VERY seriously. If you are caught cheating on a test the full weight of the University
regulations on academic misconduct will come down on you, I promise.
MISSED TESTS
Please contact me ASAP so we can set something up. An acceptable documented
excuse (e.g., illness) will likely result in a make up test. I require proof, such as Doctor's note.
Workload is NEVER an acceptable excuse.