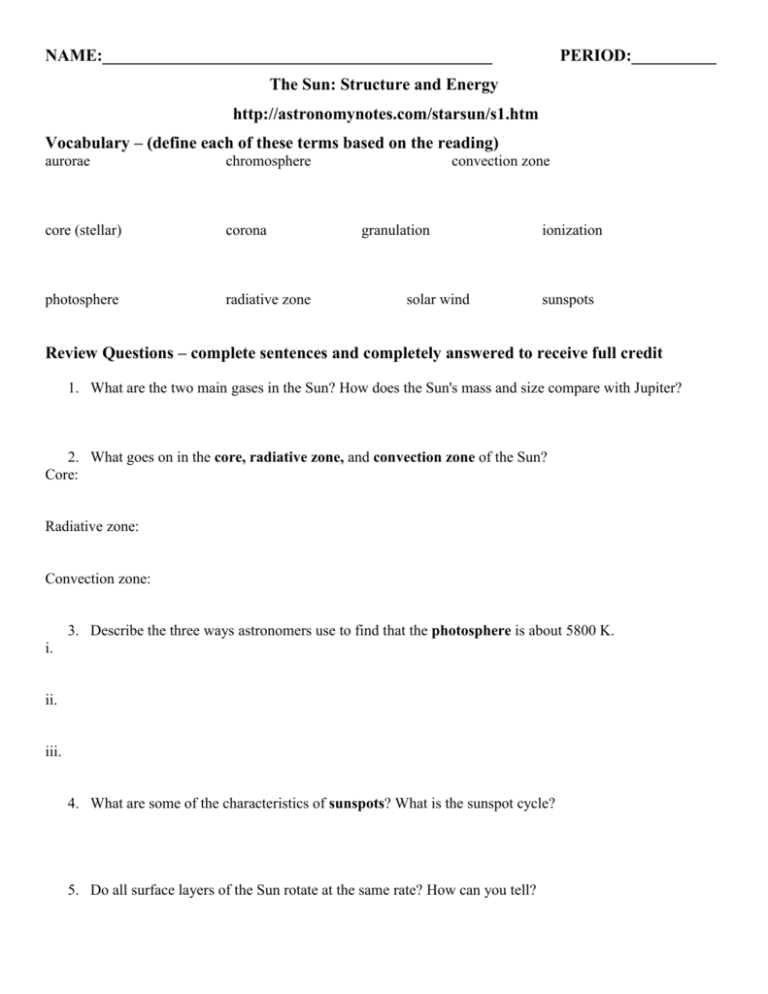 NAME:______________________________________________
PERIOD:__________
The Sun: Structure and Energy
http://astronomynotes.com/starsun/s1.htm
Vocabulary – (define each of these terms based on the reading)
aurorae
chromosphere
core (stellar)
corona
photosphere
radiative zone
convection zone
granulation
solar wind
ionization
sunspots
Review Questions – complete sentences and completely answered to receive full credit
1. What are the two main gases in the Sun? How does the Sun's mass and size compare with Jupiter?
2. What goes on in the core, radiative zone, and convection zone of the Sun?
Core:
Radiative zone:
Convection zone:
3. Describe the three ways astronomers use to find that the photosphere is about 5800 K.
i.
ii.
iii.
4. What are some of the characteristics of sunspots? What is the sunspot cycle?
5. Do all surface layers of the Sun rotate at the same rate? How can you tell?
6. What produces the granulation on the surface of the Sun?
7. What are prominences and flares?
8. How solar prominences and flares associated with solar activity?
9. How is the number of solar prominences and flares correlated with the number of sunspots?
10. How can we tell that the chromosphere and corona are over 6000 K (some parts reaching a few million
degrees).
11. What are ``coronal holes''?
12. What is the association of the magnetic field with the sunspots and solar atmosphere?
13. How is the solar wind associated with aurorae?