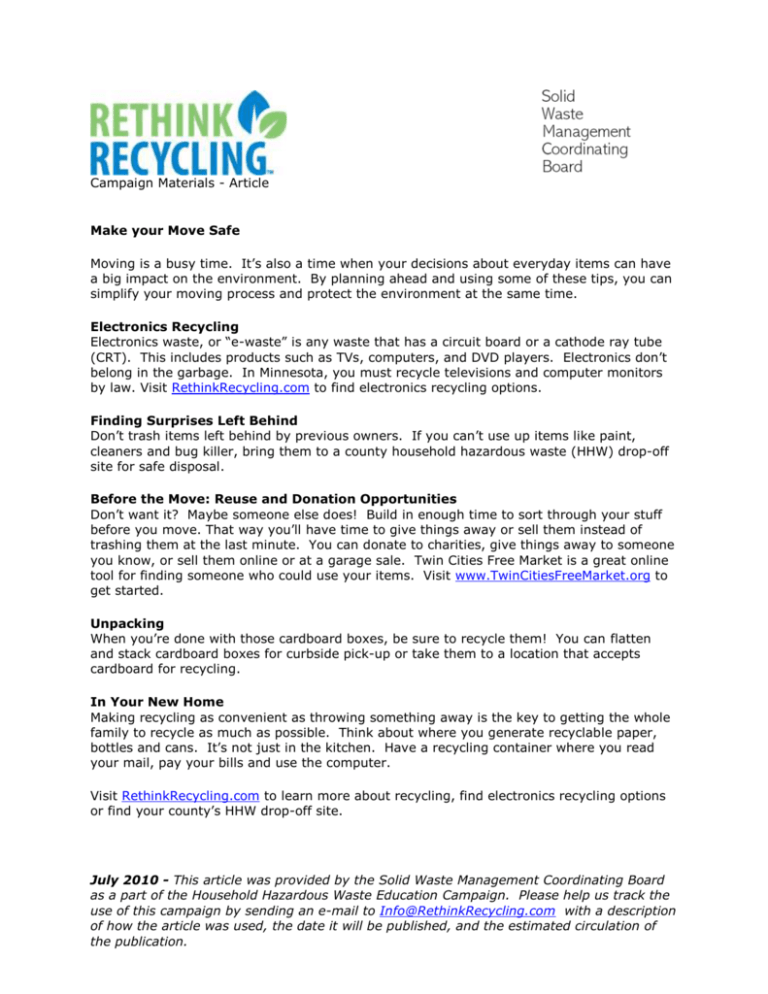 Campaign Materials - Article
Make your Move Safe
Moving is a busy time. It's also a time when your decisions about everyday items can have
a big impact on the environment. By planning ahead and using some of these tips, you can
simplify your moving process and protect the environment at the same time.
Electronics Recycling
Electronics waste, or "e-waste" is any waste that has a circuit board or a cathode ray tube
(CRT). This includes products such as TVs, computers, and DVD players. Electronics don't
belong in the garbage. In Minnesota, you must recycle televisions and computer monitors
by law. Visit RethinkRecycling.com to find electronics recycling options.
Finding Surprises Left Behind
Don't trash items left behind by previous owners. If you can't use up items like paint,
cleaners and bug killer, bring them to a county household hazardous waste (HHW) drop-off
site for safe disposal.
Before the Move: Reuse and Donation Opportunities
Don't want it? Maybe someone else does! Build in enough time to sort through your stuff
before you move. That way you'll have time to give things away or sell them instead of
trashing them at the last minute. You can donate to charities, give things away to someone
you know, or sell them online or at a garage sale. Twin Cities Free Market is a great online
tool for finding someone who could use your items. Visit www.TwinCitiesFreeMarket.org to
get started.
Unpacking
When you're done with those cardboard boxes, be sure to recycle them! You can flatten
and stack cardboard boxes for curbside pick-up or take them to a location that accepts
cardboard for recycling.
In Your New Home
Making recycling as convenient as throwing something away is the key to getting the whole
family to recycle as much as possible. Think about where you generate recyclable paper,
bottles and cans. It's not just in the kitchen. Have a recycling container where you read
your mail, pay your bills and use the computer.
Visit RethinkRecycling.com to learn more about recycling, find electronics recycling options
or find your county's HHW drop-off site.
July 2010 - This article was provided by the Solid Waste Management Coordinating Board
as a part of the Household Hazardous Waste Education Campaign. Please help us track the
use of this campaign by sending an e-mail to Info@RethinkRecycling.com with a description
of how the article was used, the date it will be published, and the estimated circulation of
the publication.