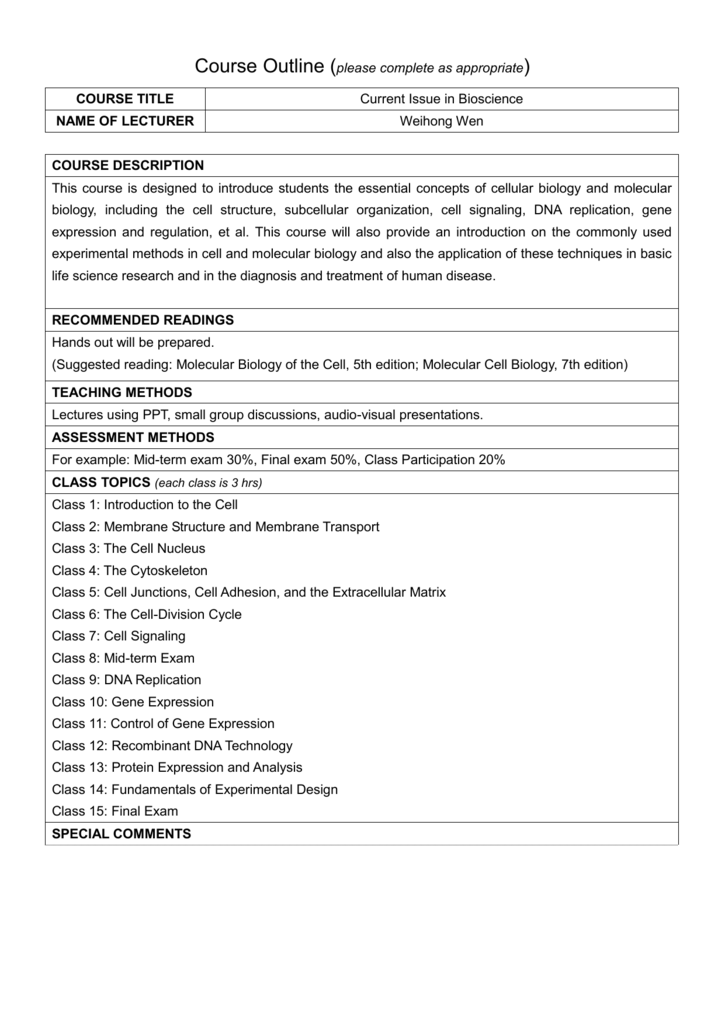 Course Outline (please complete as appropriate)
COURSE TITLE
Current Issue in Bioscience
NAME OF LECTURER
Weihong Wen
COURSE DESCRIPTION
This course is designed to introduce students the essential concepts of cellular biology and molecular
biology, including the cell structure, subcellular organization, cell signaling, DNA replication, gene
expression and regulation, et al. This course will also provide an introduction on the commonly used
experimental methods in cell and molecular biology and also the application of these techniques in basic
life science research and in the diagnosis and treatment of human disease.
RECOMMENDED READINGS
Hands out will be prepared.
(Suggested reading: Molecular Biology of the Cell, 5th edition; Molecular Cell Biology, 7th edition)
TEACHING METHODS
Lectures using PPT, small group discussions, audio-visual presentations.
ASSESSMENT METHODS
For example: Mid-term exam 30%, Final exam 50%, Class Participation 20%
CLASS TOPICS (each class is 3 hrs)
Class 1: Introduction to the Cell
Class 2: Membrane Structure and Membrane Transport
Class 3: The Cell Nucleus
Class 4: The Cytoskeleton
Class 5: Cell Junctions, Cell Adhesion, and the Extracellular Matrix
Class 6: The Cell-Division Cycle
Class 7: Cell Signaling
Class 8: Mid-term Exam
Class 9: DNA Replication
Class 10: Gene Expression
Class 11: Control of Gene Expression
Class 12: Recombinant DNA Technology
Class 13: Protein Expression and Analysis
Class 14: Fundamentals of Experimental Design
Class 15: Final Exam
SPECIAL COMMENTS
Today it has become clear that each cell, the basic unit of life, and each molecule composing a
cell have their roles. Based on this, the bioscience of the new century should be a new cellular
bioscience as well as a new molecular bioscience. These biosciences will elucidate the original
functions and shared functions of the single cell or molecule. The course of Current Issue on
Bioscience will provide a strong introduction on cell biology and molecular biology.