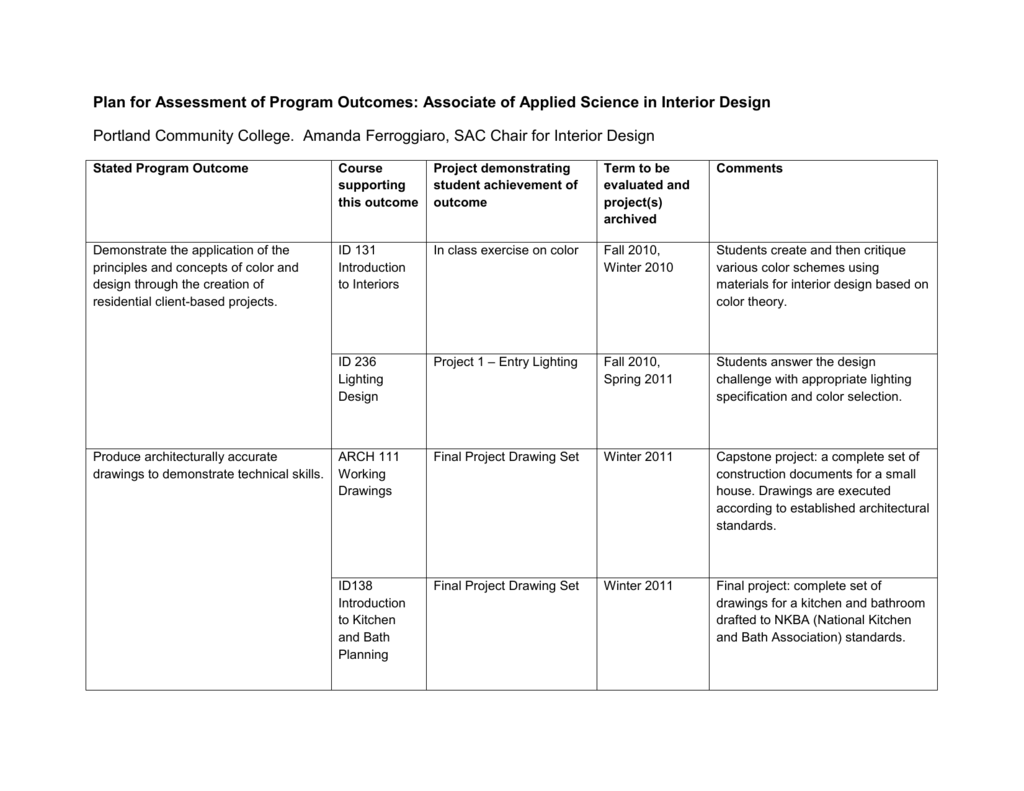 Plan for Assessment of Program Outcomes: Associate of Applied Science in Interior Design
Portland Community College. Amanda Ferroggiaro, SAC Chair for Interior Design
Stated Program Outcome
Course
supporting
this outcome
Project demonstrating
student achievement of
outcome
Term to be
evaluated and
project(s)
archived
Comments
Demonstrate the application of the
principles and concepts of color and
design through the creation of
residential client-based projects.
ID 131
Introduction
to Interiors
In class exercise on color
Fall 2010,
Winter 2010
Students create and then critique
various color schemes using
materials for interior design based on
color theory.
ID 236
Lighting
Design
Project 1 – Entry Lighting
Fall 2010,
Spring 2011
Students answer the design
challenge with appropriate lighting
specification and color selection.
ARCH 111
Working
Drawings
Final Project Drawing Set
Winter 2011
Capstone project: a complete set of
construction documents for a small
house. Drawings are executed
according to established architectural
standards.
ID138
Introduction
to Kitchen
and Bath
Planning
Final Project Drawing Set
Winter 2011
Final project: complete set of
drawings for a kitchen and bathroom
drafted to NKBA (National Kitchen
and Bath Association) standards.
Produce architecturally accurate
drawings to demonstrate technical skills.
Incorporate and articulate appropriate
historical perspectives in creating
residential design projects.
Demonstrate research and evaluation
skills in the selection and use of
products/ materials including
sustainable design applications.
Apply building and Americans with
Disability Act codes to residential design
projects
Demonstrate an understanding of
professional practice methodology,
ethics, selling techniques, and
communication/ listening skills
ID 123
History of
Furniture –
Ancient/ 1800
Notebook Project
Fall 2010
Students produce a compilation of
the historical design styles from
antiquity through the 19th c. Includes
a contemporary interpretation of
these styles.
ID 132
Planning
Interiors
Group Project – Design
Styles
Winter 2011
Group project analyzing the work of
a contemporary designer and their
influence of history on their work.
ID 120
Interior
Products/
Materials
Final Project – Kitchen
Design
Fall 2010
Students specify thirteen materials
for a large kitchen.
ID 121
Sustainable
Materials for
Residential
Interiors
ARCH 132
Residential
Building
Codes
ID 133
Space
Planning
ID 131
Introduction
to Interiors
Group Project – Airstream
Trailer
Winter 2011
Full selection and specification of
materials based on sustainability
research for a small residential
project.
Final Exam
Sprint 2011
Adaptive Reuse project
Winter 2011
Office Project Presentation
Spring 2011
Students are given instruction on
how to present their final design
solution to the class and their future
clients.
ID 135
Professional
Practices for
Designers
Final Notebook Project
Winter 2011
Students produce formal
specifications, contracts and sales
contracts for this course.
Demonstrate skills in leadership,
negotiation, interpersonal and teamwork
communication.
ID 121
Sustainable
Materials for
Residential
Interiors
Group Project – Airstream
Trailer
Winter 2011
Students work in a team throughout
the term to conceive of and execute
a design for a client to whom they
present their design solution to.
ID 234
Advanced
Interiors
Final Design Project –
Capstone Degree Project
Spring 2011
Students work individually with an
actual client to provide design
solutions for three areas of the
client's home.
Students are in contact with the
client throughout the term and the
final design solution is presented
formally at the end of the term.