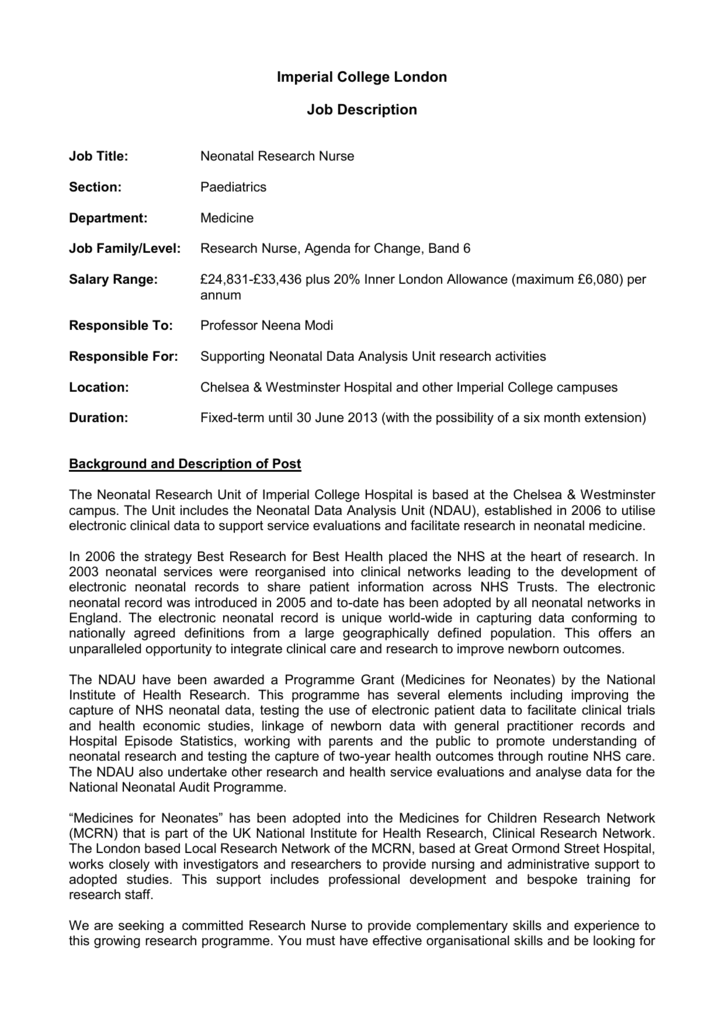 Imperial College London
Job Description
Job Title:
Neonatal Research Nurse
Section:
Paediatrics
Department:
Medicine
Job Family/Level:
Research Nurse, Agenda for Change, Band 6
Salary Range:
£24,831-£33,436 plus 20% Inner London Allowance (maximum £6,080) per
annum
Responsible To:
Professor Neena Modi
Responsible For:
Supporting Neonatal Data Analysis Unit research activities
Location:
Chelsea & Westminster Hospital and other Imperial College campuses
Duration:
Fixed-term until 30 June 2013 (with the possibility of a six month extension)
Background and Description of Post
The Neonatal Research Unit of Imperial College Hospital is based at the Chelsea & Westminster
campus. The Unit includes the Neonatal Data Analysis Unit (NDAU), established in 2006 to utilise
electronic clinical data to support service evaluations and facilitate research in neonatal medicine.
In 2006 the strategy Best Research for Best Health placed the NHS at the heart of research. In
2003 neonatal services were reorganised into clinical networks leading to the development of
electronic neonatal records to share patient information across NHS Trusts. The electronic
neonatal record was introduced in 2005 and to-date has been adopted by all neonatal networks in
England. The electronic neonatal record is unique world-wide in capturing data conforming to
nationally agreed definitions from a large geographically defined population. This offers an
unparalleled opportunity to integrate clinical care and research to improve newborn outcomes.
The NDAU have been awarded a Programme Grant (Medicines for Neonates) by the National
Institute of Health Research. This programme has several elements including improving the
capture of NHS neonatal data, testing the use of electronic patient data to facilitate clinical trials
and health economic studies, linkage of newborn data with general practitioner records and
Hospital Episode Statistics, working with parents and the public to promote understanding of
neonatal research and testing the capture of two-year health outcomes through routine NHS care.
The NDAU also undertake other research and health service evaluations and analyse data for the
National Neonatal Audit Programme.
"Medicines for Neonates" has been adopted into the Medicines for Children Research Network
(MCRN) that is part of the UK National Institute for Health Research, Clinical Research Network.
The London based Local Research Network of the MCRN, based at Great Ormond Street Hospital,
works closely with investigators and researchers to provide nursing and administrative support to
adopted studies. This support includes professional development and bespoke training for
research staff.
We are seeking a committed Research Nurse to provide complementary skills and experience to
this growing research programme. You must have effective organisational skills and be looking for
a new and exciting challenge. You should demonstrate the ability to manage your own work load
and work as part of a team. Previous research experience is not essential though an
understanding of the research process is desired. The successful candidate will have an
opportunity to maintain clinical skills, while being supported by an experienced MCRN senior
research nurse and London & South East Medicines for Children Research Network training and
development programme, which implements the Royal College of Nursing competency framework
for clinical research nurses. The post will involve working with parents, researchers, clinical and
management staff and professional organisations, academic institutions and hospitals, to improve
data collection in neonatal units.
This post offers unparalleled opportunities for professional development and is an excellent
opportunity for a highly motivated Band 5/6 qualified children's NICU/PICU/CICU or general
paediatric nurse. This is a full-time position but applicants wanting to work part-time in research
combined with clinical practice, or applicants seeking a secondment opportunity are welcome and
encouraged to apply.
You will be part of a team of around 20 research staff and students in the Neonatal Research Unit
at Imperial College. This is an exemplary opportunity for career development within a vibrant
research environment at a premiere UK research institution. The appointee will be primarily based
at the Chelsea & Westminster Hospital, London with whom the post-holder will hold an Honorary
Clinical contract, but will be expected to travel to other hospitals as required. Chelsea &
Westminster Hospital is a campus of Imperial College London.
Key Working Relationships
Neonatal Medicine Research Co-ordinator, Professor Kate Costeloe and other members of the
NDAU Board; NDAU staff, Neonatal Medicine Research Unit staff and students, Neonatal Network
Managers and clinical staff, Women's and Children's Directorates of NHS Trusts, Specialist
Commissioners, NHS Research & Development Managers, Royal College of Paediatrics & Child
Health and other professional bodies, Medicines for Children Research Network
Key Responsibilities





Helping neonatal unit staff improve the capture of electronic neonatal data on SEND and
related systems
Supporting the collection of research data
Training clinical and other staff in data collection and research processes
Liaison between research teams
Providing cross cover for other researchers/nurses if required and as appropriate
General Responsibilities











To undertake any training and/or development required
To collate and document investigations and patient results through completion of both paper
case report forms and electronic data collection systems
To attend local/international meetings, workshops and conferences as necessary
To report on progress at regular intervals, verbally and in writing
To promote team working and good professional relationships
To present findings to colleagues
To promote the reputation of the NDAU
To provide guidance to students and other members of the research group
To participate in research meetings and internal seminars
To demonstrate a willingness to work flexibly if the requirements of the project demand this
To comply with the College and Hospital safety practices and to attend courses on safety
when appropriate

To comply with relevant College policies and regulations (e.g. Financial Regulations, Equal
Opportunities Policy, Promoting Race Equality Policy, Health and Safety Policy, Information
Systems Security Policy, Data Protection, Intellectual Property Rights, Register of Interests)
Please note that, as this post is exempt from the Rehabilitation of Offenders Act 1974, a
satisfactory enhanced level Criminal Records Bureau (CRB) Disclosure will be required for
the successful candidate.
Further information about the Disclosure service can be found at www.crb.gov.uk or by
contacting the CRB information line on 0870 90 90 811.
Job descriptions cannot be exhaustive and so the post holder may be required to
undertake other duties, which are broadly in line with the above key responsibilities.
The post holder is expected to observe and comply with all College policies and
regulations, for example Health and Safety, Data Protection etc.
Imperial College is committed to equality of opportunity and to eliminating
discrimination. All employees are expected to adhere to the principles set out in our
Equal Opportunities in Employment Policy, Promoting Race Equality Policy and
Disability Policy and all other relevant guidance/practice frameworks.
Person Specification
Education and Qualifications
Essential

Registered Neonatal Nurse, Children's Nurse or Midwife
Desirable



Newborn Life Support Certification
A postgraduate degree
Other vocational training in a relevant field
Knowledge and Experience
Essential

NICU/PICU/CICU or general paediatric experience
Desirable





Clinical, epidemiological or health service research
Organisation and management of neonatal services
Familiarity with Good Clinical Practice guidelines, EU and UK research directives and
research governance requirements
Experience of practice at a senior nursing level
Experience of research involving children and adults
Skills and Abilities
Essential








Ability to work independently and to strict targets and timescales
Ability to recruit participants to a clinical trial in accordance with the requirements of informed
patient consent
Ability to support and provide training to other staff
Ability to work independently and in a team
Ability to use spreadsheets
Excellent working knowledge of using PCs, Microsoft Office (Particularly Word, Excel,
Outlook and PowerPoint) and electronic mail packages
Demonstrable administrative skills
Extremely well organised with meticulous attention to detail
Desirable

Familiarity with data management
Application Guidance
Please read the person specification carefully and describe, as part of your application, how
much you feel you meet each of the criteria. If you need more space, please attach additional
sheets to the application form.
The recruitment monitoring section of your application will be detached and will be used only
for monitoring and audit purposes as a basis for supporting our commitment to Equal
Opportunities.
An application form and full CV quoting reference number HM2010056(A) should be sent,
by the closing date of 25 May 2010 online via the Imperial College iRecruitment website.
Short listed candidates will be contacted as soon as possible after the closing date.
Thank you for your interest in this post. We look forward to receiving your application.