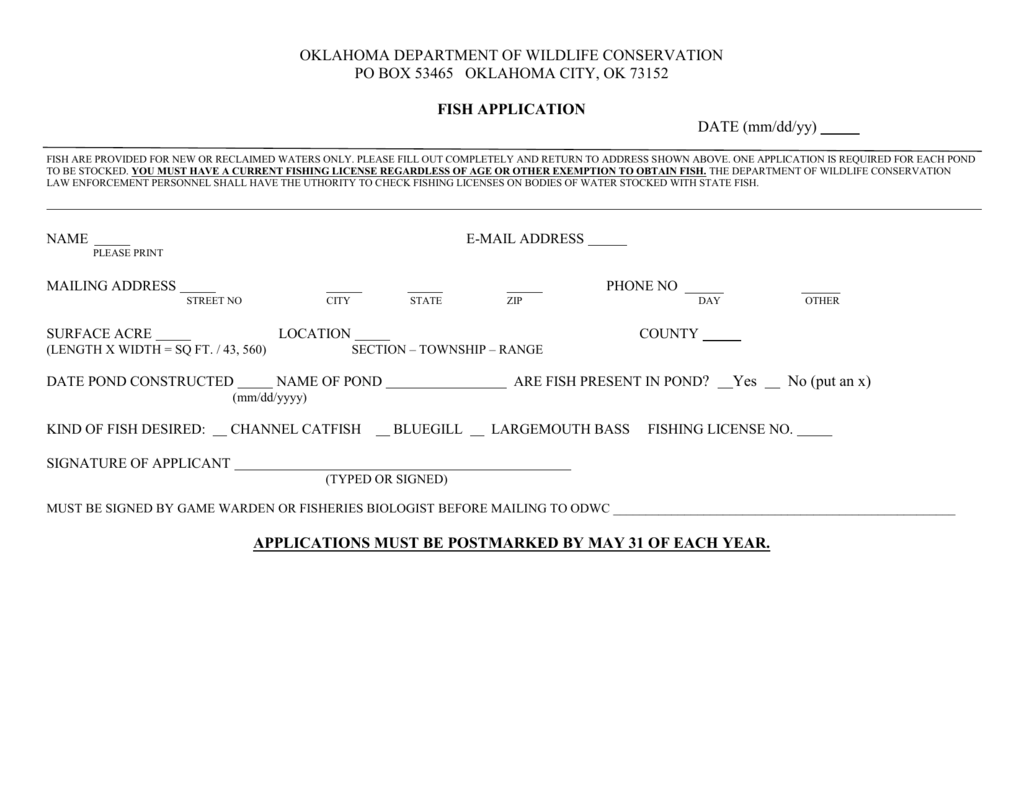 OKLAHOMA DEPARTMENT OF WILDLIFE CONSERVATION
PO BOX 53465 OKLAHOMA CITY, OK 73152
FISH APPLICATION
DATE (mm/dd/yy)
FISH ARE PROVIDED FOR NEW OR RECLAIMED WATERS ONLY. PLEASE FILL OUT COMPLETELY AND RETURN TO ADDRESS SHOWN ABOVE. ONE APPLICATION IS REQUIRED FOR EACH POND
TO BE STOCKED. YOU MUST HAVE A CURRENT FISHING LICENSE REGARDLESS OF AGE OR OTHER EXEMPTION TO OBTAIN FISH. THE DEPARTMENT OF WILDLIFE CONSERVATION
LAW ENFORCEMENT PERSONNEL SHALL HAVE THE UTHORITY TO CHECK FISHING LICENSES ON BODIES OF WATER STOCKED WITH STATE FISH.
NAME
E-MAIL ADDRESS
PLEASE PRINT
MAILING ADDRESS
PHONE NO
STREET NO
CITY
SURFACE ACRE
STATE
ZIP
LOCATION
OTHER
COUNTY
SECTION – TOWNSHIP – RANGE
(LENGTH X WIDTH = SQ FT. / 43, 560)
DATE POND CONSTRUCTED
DAY
ARE FISH PRESENT IN POND?
NAME OF POND
Yes
No (put an x)
(mm/dd/yyyy)
KIND OF FISH DESIRED:
CHANNEL CATFISH
BLUEGILL
LARGEMOUTH BASS
FISHING LICENSE NO.
SIGNATURE OF APPLICANT
(TYPED OR SIGNED)
MUST BE SIGNED BY GAME WARDEN OR FISHERIES BIOLOGIST BEFORE MAILING TO ODWC _____________________________________________________
APPLICATIONS MUST BE POSTMARKED BY MAY 31 OF EACH YEAR.