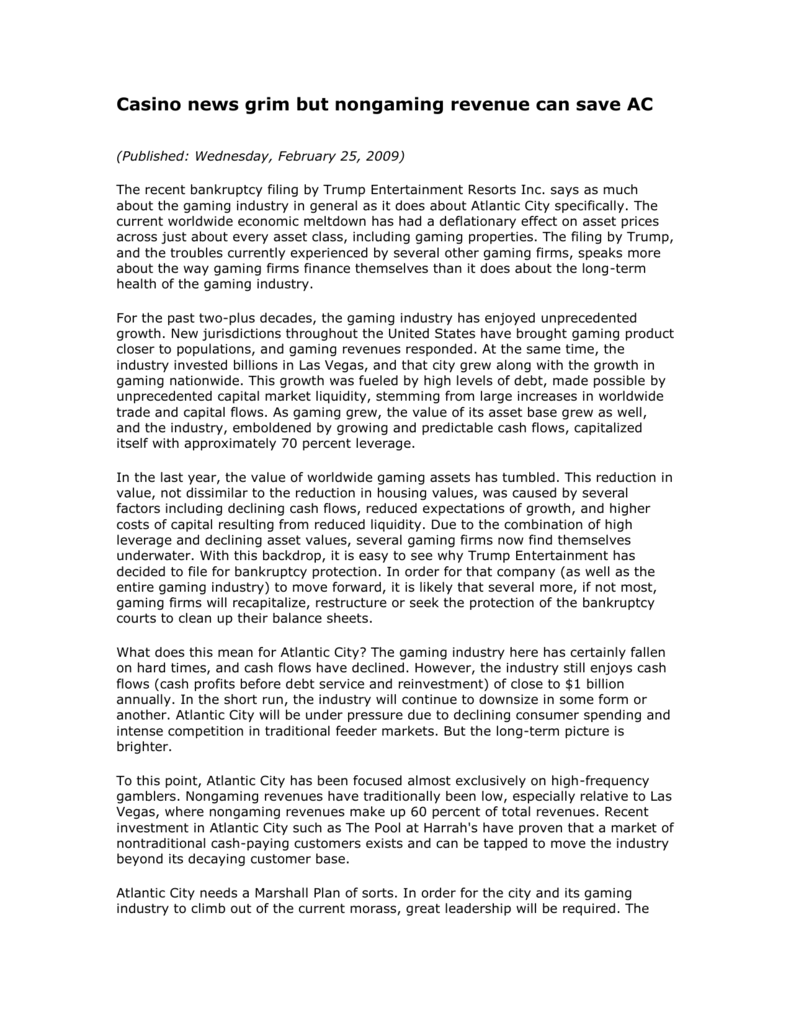 Casino news grim but nongaming revenue can save AC
(Published: Wednesday, February 25, 2009)
The recent bankruptcy filing by Trump Entertainment Resorts Inc. says as much
about the gaming industry in general as it does about Atlantic City specifically. The
current worldwide economic meltdown has had a deflationary effect on asset prices
across just about every asset class, including gaming properties. The filing by Trump,
and the troubles currently experienced by several other gaming firms, speaks more
about the way gaming firms finance themselves than it does about the long-term
health of the gaming industry.
For the past two-plus decades, the gaming industry has enjoyed unprecedented
growth. New jurisdictions throughout the United States have brought gaming product
closer to populations, and gaming revenues responded. At the same time, the
industry invested billions in Las Vegas, and that city grew along with the growth in
gaming nationwide. This growth was fueled by high levels of debt, made possible by
unprecedented capital market liquidity, stemming from large increases in worldwide
trade and capital flows. As gaming grew, the value of its asset base grew as well,
and the industry, emboldened by growing and predictable cash flows, capitalized
itself with approximately 70 percent leverage.
In the last year, the value of worldwide gaming assets has tumbled. This reduction in
value, not dissimilar to the reduction in housing values, was caused by several
factors including declining cash flows, reduced expectations of growth, and higher
costs of capital resulting from reduced liquidity. Due to the combination of high
leverage and declining asset values, several gaming firms now find themselves
underwater. With this backdrop, it is easy to see why Trump Entertainment has
decided to file for bankruptcy protection. In order for that company (as well as the
entire gaming industry) to move forward, it is likely that several more, if not most,
gaming firms will recapitalize, restructure or seek the protection of the bankruptcy
courts to clean up their balance sheets.
What does this mean for Atlantic City? The gaming industry here has certainly fallen
on hard times, and cash flows have declined. However, the industry still enjoys cash
flows (cash profits before debt service and reinvestment) of close to $1 billion
annually. In the short run, the industry will continue to downsize in some form or
another. Atlantic City will be under pressure due to declining consumer spending and
intense competition in traditional feeder markets. But the long-term picture is
brighter.
To this point, Atlantic City has been focused almost exclusively on high-frequency
gamblers. Nongaming revenues have traditionally been low, especially relative to Las
Vegas, where nongaming revenues make up 60 percent of total revenues. Recent
investment in Atlantic City such as The Pool at Harrah's have proven that a market of
nontraditional cash-paying customers exists and can be tapped to move the industry
beyond its decaying customer base.
Atlantic City needs a Marshall Plan of sorts. In order for the city and its gaming
industry to climb out of the current morass, great leadership will be required. The
city and the regional economy thrive when tourists and conventioneers come to the
shore and spend money; tourism and leisure is its lifeblood. Getting beyond the
traditional frequent gamer will require a cooperative approach among several
different constituencies. A good amount of infrastructure exists to accomplish this.
The Casino Reinvestment Development Authority has already invested millions of
dollars in infrastructure and housing. The legacy of visionary legislators has put the
industry in a better place in terms of regulation. Low tax rates provide a competitive
edge over neighboring jurisdictions in terms of the ability to invest capital in the
industry.
Much more will be required. The future of Atlantic City will require the cooperation of
city government, state government, gaming industry unions and employees, the
Legislature, industry regulators, capital providers and the casinos themselves. If
Atlantic City is to tap the cash-paying, nongaming markets that are currently not
sampling the product here, it must transform itself into a must-see resort. Las
Vegas, even during its current downturn, has a certain energy that can be felt as
soon as the wheels touch down at McCarran Airport. That feeling simply does not
exist in Atlantic City.
Will there be more bankruptcies in Atlantic City? Yes, as there will be in other
jurisdictions. Does gaming in Atlantic City have a future? Certainly, but its future and
success are dependent on whether Atlantic City can become a must-see regional
destination. Absent that, the region better start looking for another economic
catalyst.
Cory Morowitz is chairman of Morowitz Gaming Advisors in Galloway Township.