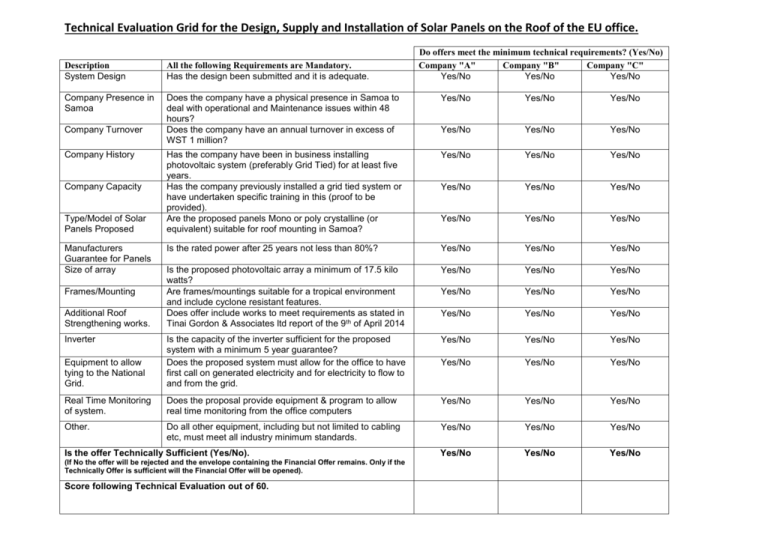 Technical Evaluation Grid for the Design, Supply and Installation of Solar Panels on the Roof of the EU office.
Do offers meet the minimum technical requirements? (Yes/No)
Company "A"
Company "B"
Company "C"
Yes/No
Yes/No
Yes/No
Description
System Design
All the following Requirements are Mandatory.
Has the design been submitted and it is adequate.
Company Presence in
Samoa
Does the company have a physical presence in Samoa to
deal with operational and Maintenance issues within 48
hours?
Does the company have an annual turnover in excess of
WST 1 million?
Yes/No
Yes/No
Yes/No
Yes/No
Yes/No
Yes/No
Has the company have been in business installing
photovoltaic system (preferably Grid Tied) for at least five
years.
Has the company previously installed a grid tied system or
have undertaken specific training in this (proof to be
provided).
Are the proposed panels Mono or poly crystalline (or
equivalent) suitable for roof mounting in Samoa?
Yes/No
Yes/No
Yes/No
Yes/No
Yes/No
Yes/No
Yes/No
Yes/No
Yes/No
Is the rated power after 25 years not less than 80%?
Yes/No
Yes/No
Yes/No
Is the proposed photovoltaic array a minimum of 17.5 kilo
watts?
Are frames/mountings suitable for a tropical environment
and include cyclone resistant features.
Does offer include works to meet requirements as stated in
Tinai Gordon & Associates ltd report of the 9th of April 2014
Yes/No
Yes/No
Yes/No
Yes/No
Yes/No
Yes/No
Yes/No
Yes/No
Yes/No
Yes/No
Yes/No
Yes/No
Equipment to allow
tying to the National
Grid.
Is the capacity of the inverter sufficient for the proposed
system with a minimum 5 year guarantee?
Does the proposed system must allow for the office to have
first call on generated electricity and for electricity to flow to
and from the grid.
Yes/No
Yes/No
Yes/No
Real Time Monitoring
of system.
Does the proposal provide equipment & program to allow
real time monitoring from the office computers
Yes/No
Yes/No
Yes/No
Other.
Do all other equipment, including but not limited to cabling
etc, must meet all industry minimum standards.
Yes/No
Yes/No
Yes/No
Yes/No
Yes/No
Yes/No
Company Turnover
Company History
Company Capacity
Type/Model of Solar
Panels Proposed
Manufacturers
Guarantee for Panels
Size of array
Frames/Mounting
Additional Roof
Strengthening works.
Inverter
Is the offer Technically Sufficient (Yes/No).
(If No the offer will be rejected and the envelope containing the Financial Offer remains. Only if the
Technically Offer is sufficient will the Financial Offer will be opened).
Score following Technical Evaluation out of 60.