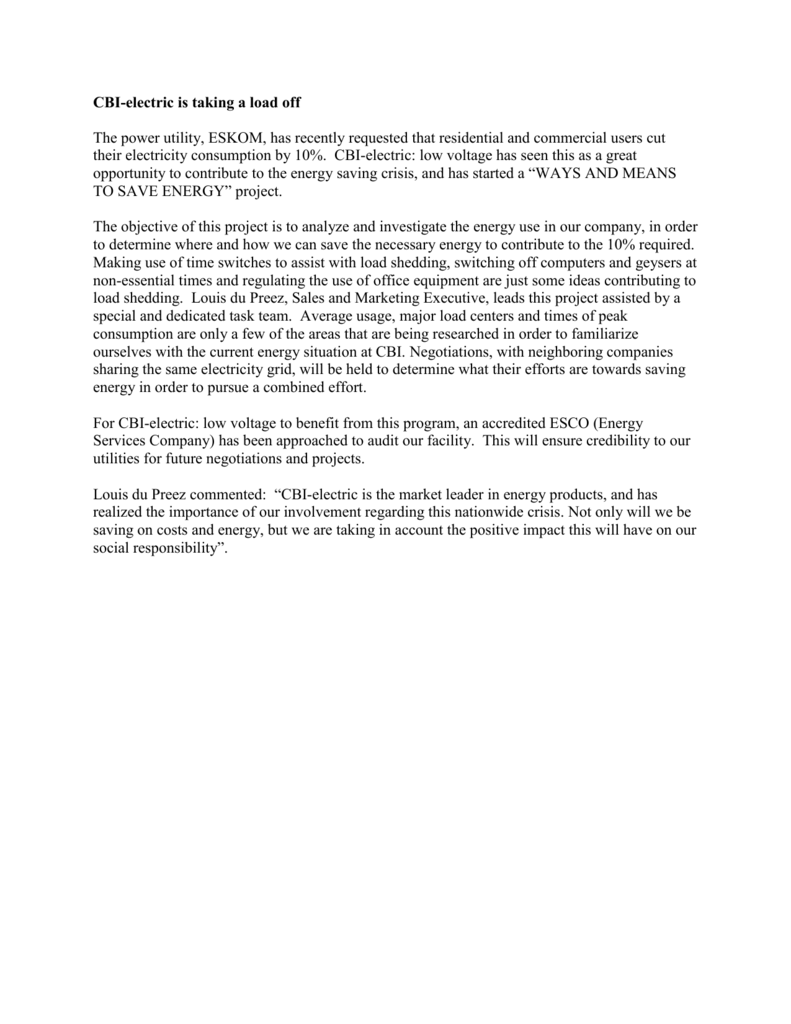 CBI-electric is taking a load off
The power utility, ESKOM, has recently requested that residential and commercial users cut
their electricity consumption by 10%. CBI-electric: low voltage has seen this as a great
opportunity to contribute to the energy saving crisis, and has started a "WAYS AND MEANS
TO SAVE ENERGY" project.
The objective of this project is to analyze and investigate the energy use in our company, in order
to determine where and how we can save the necessary energy to contribute to the 10% required.
Making use of time switches to assist with load shedding, switching off computers and geysers at
non-essential times and regulating the use of office equipment are just some ideas contributing to
load shedding. Louis du Preez, Sales and Marketing Executive, leads this project assisted by a
special and dedicated task team. Average usage, major load centers and times of peak
consumption are only a few of the areas that are being researched in order to familiarize
ourselves with the current energy situation at CBI. Negotiations, with neighboring companies
sharing the same electricity grid, will be held to determine what their efforts are towards saving
energy in order to pursue a combined effort.
For CBI-electric: low voltage to benefit from this program, an accredited ESCO (Energy
Services Company) has been approached to audit our facility. This will ensure credibility to our
utilities for future negotiations and projects.
Louis du Preez commented: "CBI-electric is the market leader in energy products, and has
realized the importance of our involvement regarding this nationwide crisis. Not only will we be
saving on costs and energy, but we are taking in account the positive impact this will have on our
social responsibility".