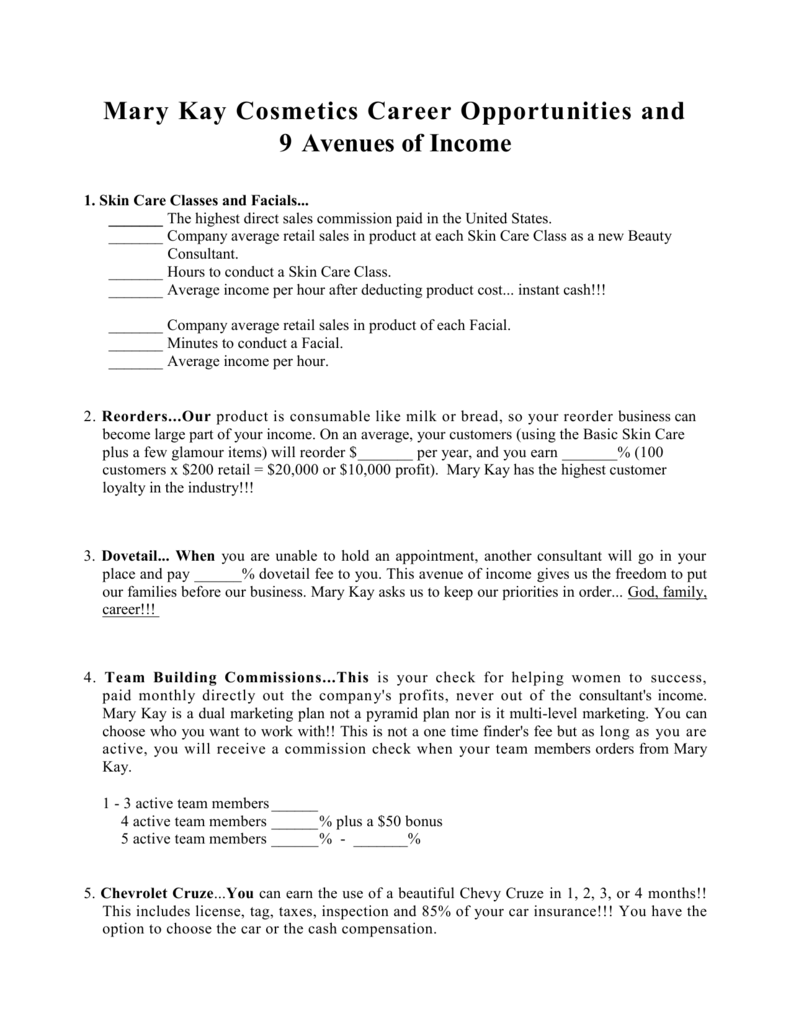 Mary Kay Cosmetics Career Opportunities and
9 Avenues of Income
1. Skin Care Classes and Facials...
_______ The highest direct sales commission paid in the United States.
_______ Company average retail sales in product at each Skin Care Class as a new Beauty
Consultant.
_______ Hours to conduct a Skin Care Class.
_______ Average income per hour after deducting product cost... instant cash!!!
_______ Company average retail sales in product of each Facial.
_______ Minutes to conduct a Facial.
_______ Average income per hour.
2. Reorders...Our product is consumable like milk or bread, so your reorder business can
become large part of your income. On an average, your customers (using the Basic Skin Care
plus a few glamour items) will reorder $_______ per year, and you earn _______% (100
customers x $200 retail = $20,000 or $10,000 profit). Mary Kay has the highest customer
loyalty in the industry!!!
3. Dovetail... When you are unable to hold an appointment, another consultant will go in your
place and pay ______% dovetail fee to you. This avenue of income gives us the freedom to put
our families before our business. Mary Kay asks us to keep our priorities in order... God, family,
career!!!
4. Team Building Commissions...This is your check for helping women to success,
paid monthly directly out the compan y's profits, never out of the consultant's income.
Mary Kay is a dual marketing plan not a pyramid plan nor is it multi-level marketing. You can
choose who you want to work with!! This is not a one time finder's fee but as long as you are
active, you will receive a commission check when your team members orders from Mary
Kay.
1 - 3 active team members ______
4 active team members ______ % plus a $50 bonus
5 active team members ______ % - _______%
5. Chevrolet Cruze...You can earn the use of a beautiful Chevy Cruze in 1, 2, 3, or 4 months!!
This includes license, tag, taxes, inspection and 85% of your car insurance!!! You have the
option to choose the car or the cash compensation.
6. Directorship...Advancement to the position of Sales Director can be applied for upon earning
the Chevrolet Cruze or after ______ month with the company. Directors not only receive
income from the above sources, but an additional ______ - ______ % in director commissions
for educating, motivating, and inspiring unit members to success. Directors can also receive a
$_________ bonus for each additional personal team member and up to $ ________ unit
bonuses. In addition, Director's receive insurance benefits, seminar awards and the popular
Pink Cadillacs.
7. National Sales Director...The climb up the ladder of success to National Sales Director
represents a significant management, leadership and teaching experience. It is a special sense
of accomplishment in having helped so many others to achieve success in their Mary Kay
careers. Our National Sales Directors average $280,000 a year in income!!! They also enjoy the
benefits of the NSD Family Security Program, a retirement program unique in the industry!!
Corporate America females will retire at $20,000 annual average. Mary Kay NSDs will
retire at $200,000 - $318,000 annual average. Shirley Hutton retired with $8.5 million.
8. Prizes...Weekly, quarterly and yearly prizes are given to all qualifying Consultants.
Prizes include trips, diamonds, home furnishings and other beautiful items to numerous to list.
9. Tax Benefits...
 Automobiles expenses
 A portion of telephone expense (including cell phone) and all Mary Kay long distance
calls.
 Entertainment when related strictly to Mary Kay (executive luncheons, workshops,
conferences, seminars, etc.)
 Business trips. You can travel and do business anywhere in the U.S.
 Child care when conducting business.
 Office supplies, etc.
 You have all the benefits of a small business out of your home.
IMPORTANT FACTS TO CONSIDER!!!
 90% BUYBACK OFFER
 100% Customer Satisfaction
 No Territories. . . No Sales Quotas . . . No Time Quotas. . .
 Lots of Training. . . Equal Opportunity!!!