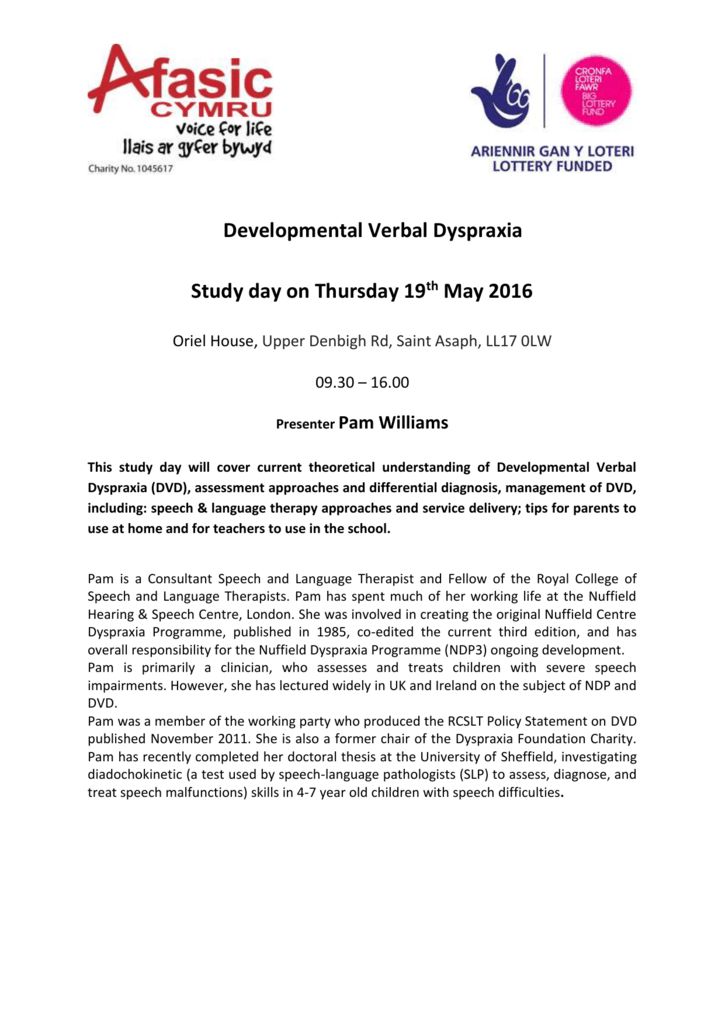 Developmental Verbal Dyspraxia
Study day on Thursday 19th May 2016
Oriel House, Upper Denbigh Rd, Saint Asaph, LL17 0LW
09.30 – 16.00
Presenter Pam
Williams
This study day will cover current theoretical understanding of Developmental Verbal
Dyspraxia (DVD), assessment approaches and differential diagnosis, management of DVD,
including: speech & language therapy approaches and service delivery; tips for parents to
use at home and for teachers to use in the school.
Pam is a Consultant Speech and Language Therapist and Fellow of the Royal College of
Speech and Language Therapists. Pam has spent much of her working life at the Nuffield
Hearing & Speech Centre, London. She was involved in creating the original Nuffield Centre
Dyspraxia Programme, published in 1985, co-edited the current third edition, and has
overall responsibility for the Nuffield Dyspraxia Programme (NDP3) ongoing development.
Pam is primarily a clinician, who assesses and treats children with severe speech
impairments. However, she has lectured widely in UK and Ireland on the subject of NDP and
DVD.
Pam was a member of the working party who produced the RCSLT Policy Statement on DVD
published November 2011. She is also a former chair of the Dyspraxia Foundation Charity.
Pam has recently completed her doctoral thesis at the University of Sheffield, investigating
diadochokinetic (a test used by speech-language pathologists (SLP) to assess, diagnose, and
treat speech malfunctions) skills in 4-7 year old children with speech difficulties.
BOOKING FORM
Please reserve ……………………………… places for Verbal Dyspraxia day on Thursday 19th May
2016 at ORIEL HOUSE St Asaph.
MEMBERS PLEASE STATE AFASIC MEMBERSHIP NUMBER ………………………………….
COST TO ATTEND includes training day, buffet lunch & refreshments
Afasic Parent members
£20
Parent non members
£25
Afasic professional members
£105
Afasic professional non-members
£120
Student
£50
Name of person(s) attending
Job title/Parent :
Correspondence address
Invoice address
E MAIL ADDRESS
I enclose a cheque for £
made payable to Afasic Cymru OR
Please send an invoice for
Dietary requirements:
e.g. vegetarian, gluten free
Access requirements:
e.g. wheelchair access
Communication requirements:
e.g., induction loop, interpreter
etc.
PLEASE SEND THE BOOKING FORM TO:
AFASIC CYMRU
Titan House
Lewis Road
Cardiff
CF24 5BS
Tel/Fax No 029 2046 5854
E mail:[email protected]
Confirmation of place/s will be issued upon receipt booking form
Cancellation Policy. Bookings can be cancelled for a full refund if received in writing four weeks before the
event. There are no refunds after that date and outstanding invoices must be settled even if delegate is unable
to attend. Substitutes are permitted at any time.