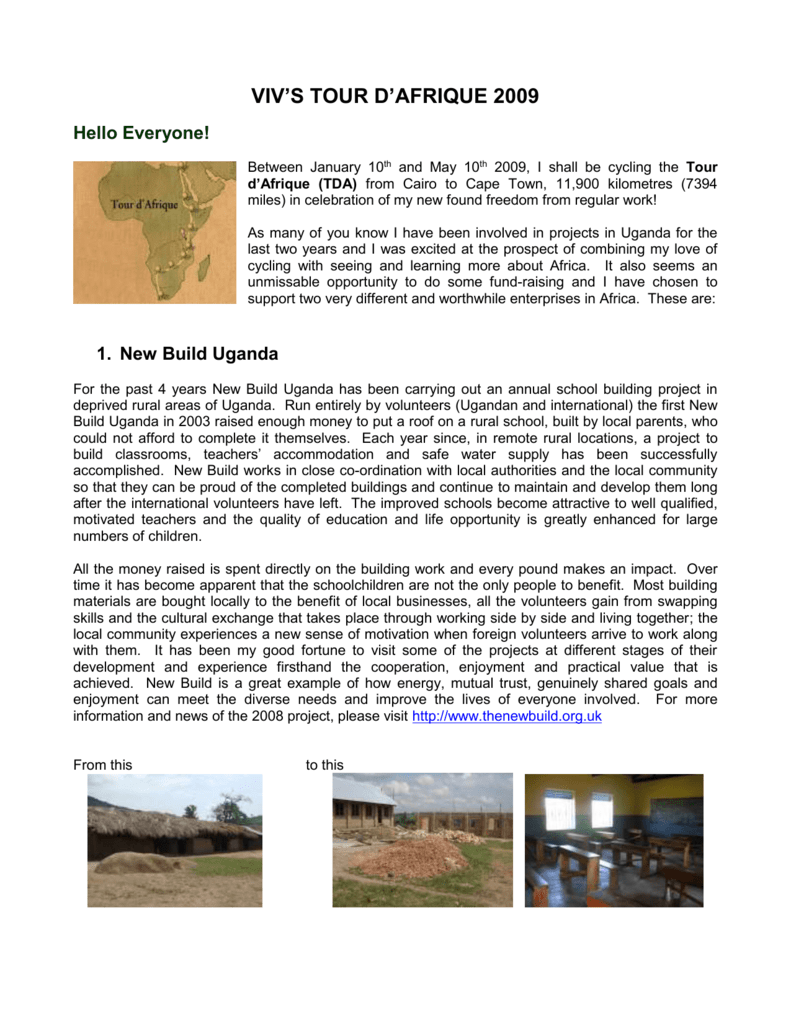 VIV'S TOUR D'AFRIQUE 2009
Hello Everyone!
Between January 10th and May 10th 2009, I shall be cycling the Tour
d'Afrique (TDA) from Cairo to Cape Town, 11,900 kilometres (7394
miles) in celebration of my new found freedom from regular work!
As many of you know I have been involved in projects in Uganda for the
last two years and I was excited at the prospect of combining my love of
cycling with seeing and learning more about Africa. It also seems an
unmissable opportunity to do some fund-raising and I have chosen to
support two very different and worthwhile enterprises in Africa. These are:
1. New Build Uganda
For the past 4 years New Build Uganda has been carrying out an annual school building project in
deprived rural areas of Uganda. Run entirely by volunteers (Ugandan and international) the first New
Build Uganda in 2003 raised enough money to put a roof on a rural school, built by local parents, who
could not afford to complete it themselves. Each year since, in remote rural locations, a project to
build classrooms, teachers' accommodation and safe water supply has been successfully
accomplished. New Build works in close co-ordination with local authorities and the local community
so that they can be proud of the completed buildings and continue to maintain and develop them long
after the international volunteers have left. The improved schools become attractive to well qualified,
motivated teachers and the quality of education and life opportunity is greatly enhanced for large
numbers of children.
All the money raised is spent directly on the building work and every pound makes an impact. Over
time it has become apparent that the schoolchildren are not the only people to benefit. Most building
materials are bought locally to the benefit of local businesses, all the volunteers gain from swapping
skills and the cultural exchange that takes place through working side by side and living together; the
local community experiences a new sense of motivation when foreign volunteers arrive to work along
with them. It has been my good fortune to visit some of the projects at different stages of their
development and experience firsthand the cooperation, enjoyment and practical value that is
achieved. New Build is a great example of how energy, mutual trust, genuinely shared goals and
enjoyment can meet the diverse needs and improve the lives of everyone involved. For more
information and news of the 2008 project, please visit http://www.thenewbuild.org.uk
From this
to this
2. Social Worker in Africa
After qualifying as a Social Worker last year, Carys Evans worked in Africa for 4
months as a highly effective independent volunteer, firstly in Hospice Uganda and
then with disadvantaged children and young people in a rural village in Tanzania.
Since her return she has undertaken the demanding role of Legacy Family
Worker, supporting asylum seeker and refugee families in Plymouth. This short
term post is coming to an end and Carys is keen to return to Africa to continue her
previous work. To do so she needs money for fares and expenses and has been
saving hard on a small income.
It has been my privilege to witness her work both here and in Africa and her exceptional capacity to
befriend, motivate and support people of all ages enables them to achieve very positive changes. Her
personal and professional social work values are seamlessly integrated and she brings energy,
kindness, compassion, humour and humanity to everything she does. So often, projects falter or fail
due to funding problems and I thought it would be a valuable alternative to support a responsive,
resourceful and flexible person in the knowledge that her commitment is sincere and long-term. It
seems an eminently direct and sustainable approach and it will be exciting to follow her progress and
the evolution of her work.
I really hope you will be able to join us on November 14th to see and hear
more about the projects and the TDA (please see 'Invitation' attachment).
If that isn't possible, please contact me if you would like to make a
donation and/or receive more information.
With best wishes
Viv
Email: [email protected] / [email protected]
Mobile: 07971880167
Postal address: Hazeldon Mews, Wallabrook, TAVISTOCK, PL19 0JR
NB I wish to make it absolutely clear that I have paid in full for my trip and will self-fund all my personal
expenses. EVERY penny that is donated will go directly to the enterprises described above. If you
prefer to give to one or the other, please specify otherwise donations will be shared equally.