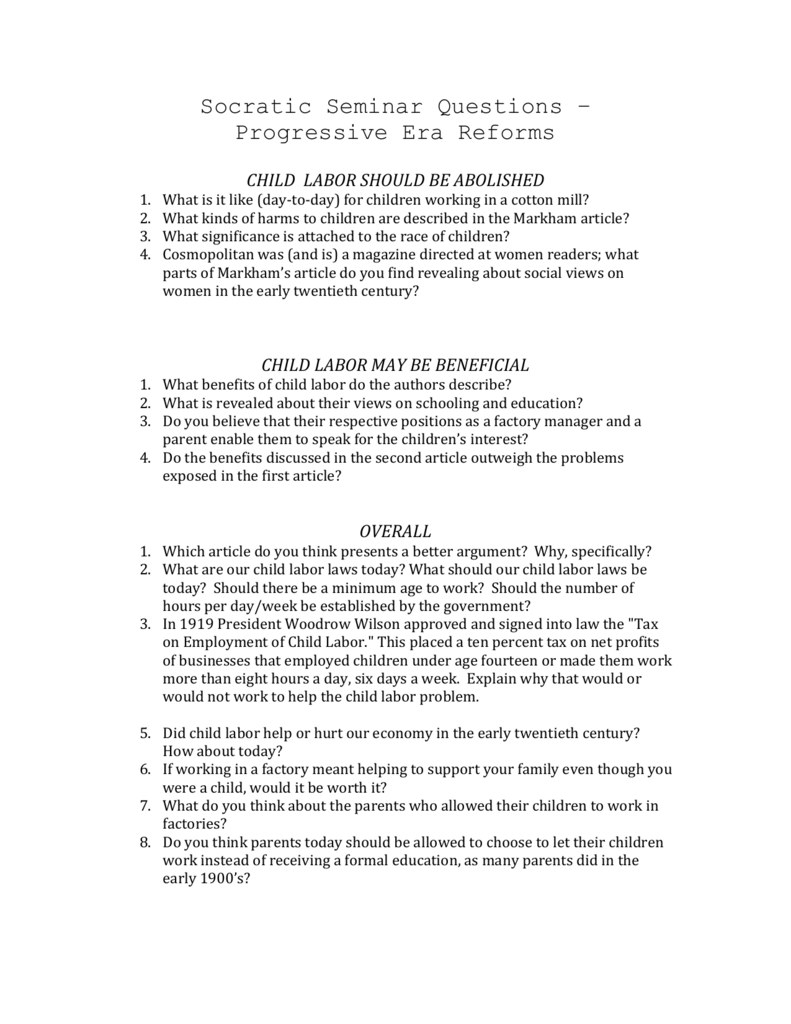 Socratic Seminar Questions –
Progressive Era Reforms
CHILD LABOR SHOULD BE ABOLISHED
1.
2.
3.
4.
What is it like (day-to-day) for children working in a cotton mill?
What kinds of harms to children are described in the Markham article?
What significance is attached to the race of children?
Cosmopolitan was (and is) a magazine directed at women readers; what
parts of Markham's article do you find revealing about social views on
women in the early twentieth century?
CHILD LABOR MAY BE BENEFICIAL
1. What benefits of child labor do the authors describe?
2. What is revealed about their views on schooling and education?
3. Do you believe that their respective positions as a factory manager and a
parent enable them to speak for the children's interest?
4. Do the benefits discussed in the second article outweigh the problems
exposed in the first article?
OVERALL
1. Which article do you think presents a better argument? Why, specifically?
2. What are our child labor laws today? What should our child labor laws be
today? Should there be a minimum age to work? Should the number of
hours per day/week be established by the government?
3. In 1919 President Woodrow Wilson approved and signed into law the "Tax
on Employment of Child Labor." This placed a ten percent tax on net profits
of businesses that employed children under age fourteen or made them work
more than eight hours a day, six days a week. Explain why that would or
would not work to help the child labor problem.
5. Did child labor help or hurt our economy in the early twentieth century?
How about today?
6. If working in a factory meant helping to support your family even though you
were a child, would it be worth it?
7. What do you think about the parents who allowed their children to work in
factories?
8. Do you think parents today should be allowed to choose to let their children
work instead of receiving a formal education, as many parents did in the
early 1900's?