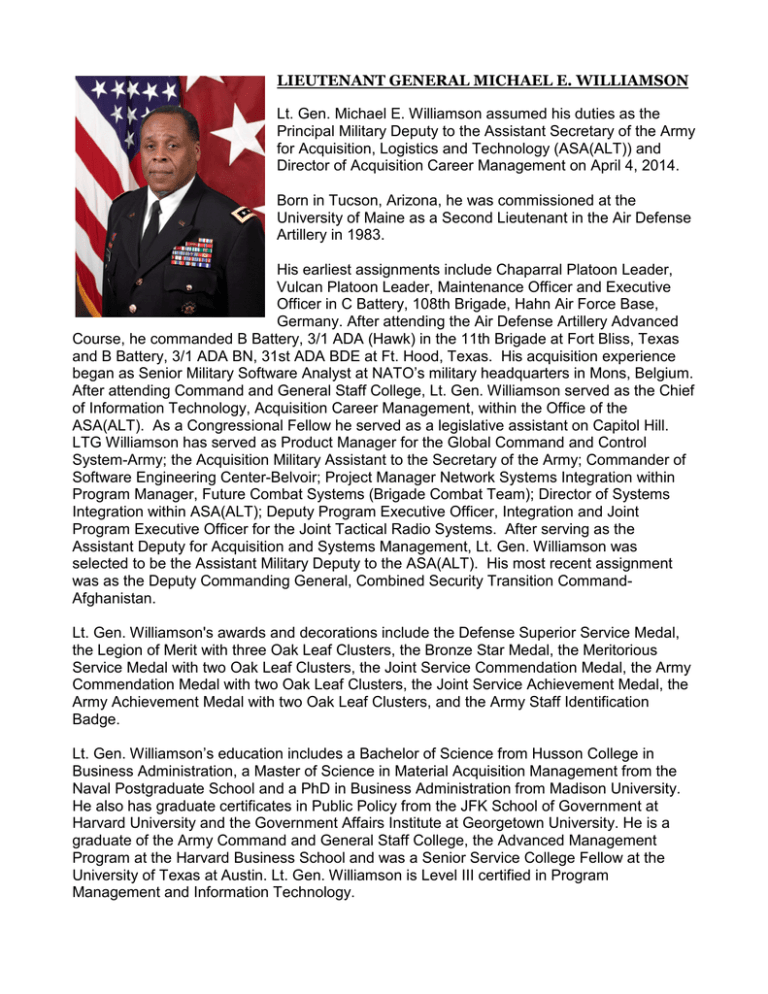 LIEUTENANT GENERAL MICHAEL E. WILLIAMSON
Lt. Gen. Michael E. Williamson assumed his duties as the
Principal Military Deputy to the Assistant Secretary of the Army
for Acquisition, Logistics and Technology (ASA(ALT)) and
Director of Acquisition Career Management on April 4, 2014.
Born in Tucson, Arizona, he was commissioned at the
University of Maine as a Second Lieutenant in the Air Defense
Artillery in 1983.
His earliest assignments include Chaparral Platoon Leader,
Vulcan Platoon Leader, Maintenance Officer and Executive
Officer in C Battery, 108th Brigade, Hahn Air Force Base,
Germany. After attending the Air Defense Artillery Advanced
Course, he commanded B Battery, 3/1 ADA (Hawk) in the 11th Brigade at Fort Bliss, Texas
and B Battery, 3/1 ADA BN, 31st ADA BDE at Ft. Hood, Texas. His acquisition experience
began as Senior Military Software Analyst at NATO's military headquarters in Mons, Belgium.
After attending Command and General Staff College, Lt. Gen. Williamson served as the Chief
of Information Technology, Acquisition Career Management, within the Office of the
ASA(ALT). As a Congressional Fellow he served as a legislative assistant on Capitol Hill.
LTG Williamson has served as Product Manager for the Global Command and Control
System-Army; the Acquisition Military Assistant to the Secretary of the Army; Commander of
Software Engineering Center-Belvoir; Project Manager Network Systems Integration within
Program Manager, Future Combat Systems (Brigade Combat Team); Director of Systems
Integration within ASA(ALT); Deputy Program Executive Officer, Integration and Joint
Program Executive Officer for the Joint Tactical Radio Systems. After serving as the
Assistant Deputy for Acquisition and Systems Management, Lt. Gen. Williamson was
selected to be the Assistant Military Deputy to the ASA(ALT). His most recent assignment
was as the Deputy Commanding General, Combined Security Transition CommandAfghanistan.
Lt. Gen. Williamson's awards and decorations include the Defense Superior Service Medal,
the Legion of Merit with three Oak Leaf Clusters, the Bronze Star Medal, the Meritorious
Service Medal with two Oak Leaf Clusters, the Joint Service Commendation Medal, the Army
Commendation Medal with two Oak Leaf Clusters, the Joint Service Achievement Medal, the
Army Achievement Medal with two Oak Leaf Clusters, and the Army Staff Identification
Badge.
Lt. Gen. Williamson's education includes a Bachelor of Science from Husson College in
Business Administration, a Master of Science in Material Acquisition Management from the
Naval Postgraduate School and a PhD in Business Administration from Madison University.
He also has graduate certificates in Public Policy from the JFK School of Government at
Harvard University and the Government Affairs Institute at Georgetown University. He is a
graduate of the Army Command and General Staff College, the Advanced Management
Program at the Harvard Business School and was a Senior Service College Fellow at the
University of Texas at Austin. Lt. Gen. Williamson is Level III certified in Program
Management and Information Technology.