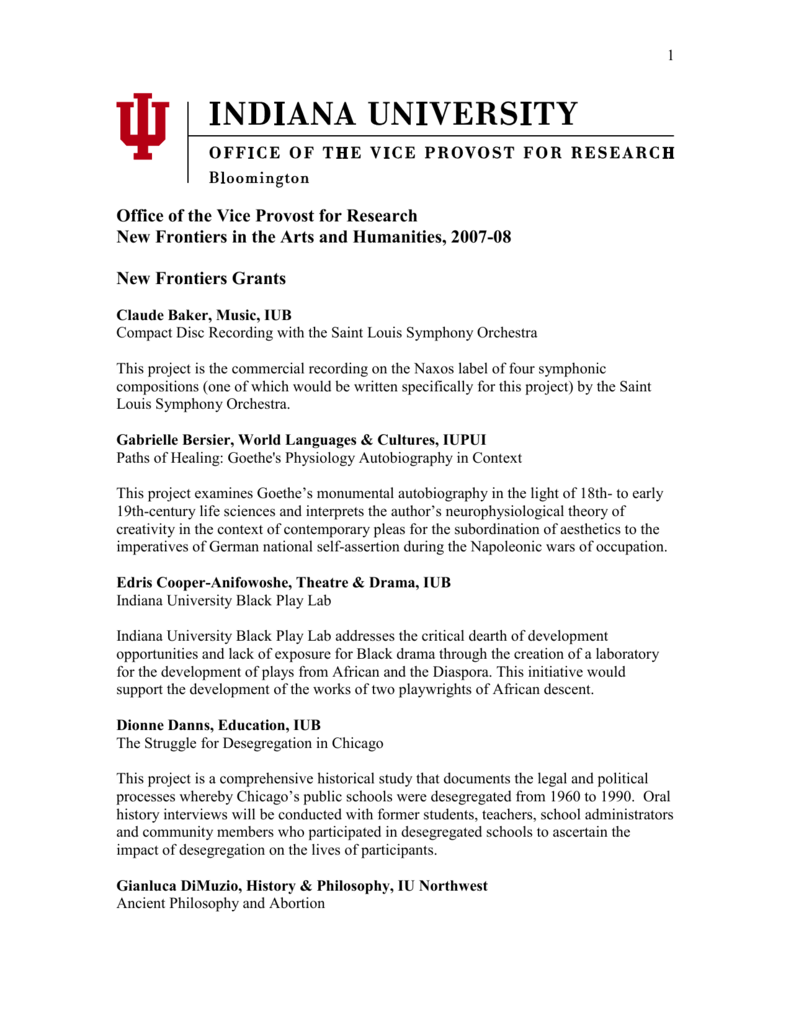 1
Office of the Vice Provost for Research
New Frontiers in the Arts and Humanities, 2007-08
New Frontiers Grants
Claude Baker, Music, IUB
Compact Disc Recording with the Saint Louis Symphony Orchestra
This project is the commercial recording on the Naxos label of four symphonic
compositions (one of which would be written specifically for this project) by the Saint
Louis Symphony Orchestra.
Gabrielle Bersier, World Languages & Cultures, IUPUI
Paths of Healing: Goethe's Physiology Autobiography in Context
This project examines Goethe's monumental autobiography in the light of 18th- to early
19th-century life sciences and interprets the author's neurophysiological theory of
creativity in the context of contemporary pleas for the subordination of aesthetics to the
imperatives of German national self-assertion during the Napoleonic wars of occupation.
Edris Cooper-Anifowoshe, Theatre & Drama, IUB
Indiana University Black Play Lab
Indiana University Black Play Lab addresses the critical dearth of development
opportunities and lack of exposure for Black drama through the creation of a laboratory
for the development of plays from African and the Diaspora. This initiative would
support the development of the works of two playwrights of African descent.
Dionne Danns, Education, IUB
The Struggle for Desegregation in Chicago
This project is a comprehensive historical study that documents the legal and political
processes whereby Chicago's public schools were desegregated from 1960 to 1990. Oral
history interviews will be conducted with former students, teachers, school administrators
and community members who participated in desegregated schools to ascertain the
impact of desegregation on the lives of participants.
Gianluca DiMuzio, History & Philosophy, IU Northwest
Ancient Philosophy and Abortion
2
This project is to conduct a book-length examination of ancient philosophical texts
dealing with abortion. This is to determine whether a genuine moral controversy over
abortion existed in antiquity, and if so, whether the controversy is comparable to the one
raging today.
Jane Goodman, Communication & Culture, IUB
Producing Algerian Publics: Theater between Secularism and Islam
This project is to examine Algerian vernacular theater as an artistic form used by both
secularizing and Islamist political movements to model practices of modern citizenship.
This will be an archival and ethnographic study of theatrical initiatives from two periods
(1930s, 1990s-2000s) that featured a particularly acute ideological cleavage between
Islamist and secularist movements.
Matthew Guterl, African American & African Diaspora Studies, IUB
Race - A Visual History
This book project will historicize the visual culture of race in American life, helping us to
understand how we have seen race at different times and in different contexts.
Joss Marsh, English, IUB
The Magic Lantern
This project is the first serious academic study of the Magic Lantern—the single most
significant visual entertainment and means of visual communication in the world for the
250 years from c. 1659. Four over-lapping components: reconstructive performance,
DVD production, the completion of 3 articles, and work towards book.
Lauren Morris MacLean, Political Science, IUB
Constructing Democracy in America: Tribal-State Conflict and Cooperation in American
Indian Health Policy, 1970-2005
This study analyzes how different state governments have consulted with American
Indian/Alaska Native tribes on health care policy from 1970 to the present. Despite the
media attention to Indian casino success, American Indian/Alaska Native populations
have the lowest life expectancy of any ethnic group in the U.S. Since most health policy
research is highly quantitative and economistic, this historical and culturallycontextualized analysis of the politics of health policy promises to be innovative.
Daniel Reed, Folklore & Ethnomusicology, IUB
Crossing Boundaries: An Application of Innovative Technology to an Ethnomuicological
Study of Ivorian Immigrants in the United States
This project investigates the roles of the arts in negotiating identities of recent Ivorian
immigrants to the U.S. One of the first ethnographic studies of African immigrant music,
3
the project will make use of a groundbreaking computer application that allows both
recording and annotating digital video in the field.
Jean Robertson, Fine Arts, IUPUI
Craig McDaniel, Fine Arts, IUPUI
Art (Re)Views Science
This research project will develop a conceptual framework for analyzing how
contemporary visual artists are responding to new research and methodologies in the
sciences, particularly the life sciences. The investigators use the tools of art history and
art cirticism to examine this rapidly evolving arena of visual art activity.
Susan Seizer, Communication & Culture, IUB
Stand Up People: Regional Comedy, U.S. Cultural Identity, and the Politics of
Geography
This project aims to understand the continuing appeal of live, regional stand-up comedy
in our contemporary media-saturated era, and to study the specific ways that pointedly
regional identities, attitudes, and interpretations of U.S. cultural and political life
contribute to recent debates on American "character."
Leslie Sharpe, Fine Arts, IUB
Northern Crossings
"Northern Crossings" is an interactive artwork using sound-sculpture and location-aware
devices with mobile phones. The project includes content around topics of northern
frontiers, identity, and the literal and metaphorical 'melting' of the solid boundaries of the
North and the Atlantic through global warming, development and in wireless
passages/histories.
James VanderVeen, Sociology & Anthropology, IU South Bend
Pre-Columbian Pottery and the Construction of Social Meaning
Traditional historical accounts of the contact period in the Caribbean can be revised
through archaeological study. While the chronicles describe only what the Europeans
saw, this project will analyze the design and ornamentation of domestic pottery to
reconstruct the more complex social and political differences between the colonists and
colonized.
Jeffrey Wolin, Fine Arts, IUB
Vietnamese War Veterans: Portraits and Stories from the Other Side
Following the publication and exhibition, "Inconvenient Stories", portraits of 50 Vietnam
War Veterans with their war stories, I have embarked upon a project photographing and
interviewing Vietnamese who fought in the war: Vietnamese who fought alongside us
4
and fled to the US after the war. In Vietnam I will work with North Vietnam Army
veterans and Viet Cong for their perspectives on the "American War".
New Perspectives Grants
Sonya Atalay, Anthropology, IUB
(Re)examining Archaeological Ethics
This project involves a workshop and related activities to investigate the effects of
archaeological ethics on Indigenous communities and revisions of current ethics
principles with such considerations in mind. Supporting activities include an Ethics Bowl
case, international conference session, public lecture, and funding and communication
strategies for future workshops.
Deborah Cohn, American Studies, IUB
Weekend-long conference on "Blackness in Latin America and the Caribbean"
This project is an interdisciplinary conference that will build upon IU's strengths in the
study of race in Latin America and the Caribbean. It will bring together a critical mass of
IUB faculty, many of whom are recent hires, and assist us in setting up scholarly
networks.
Vance Farrow, Fine Arts, IUPUI
Keynote Lectures by Distinguished Researchers, Artists, Innovators
This project is three lectures by internationally renowned arts professionals. Sir Ken
Robinson is an expert in the development of creative processes in education. Kenneth
Tyler is the foremost expert on 20th century printmaking. Robert Stackhouse is a highly
accomplished artist working in sculpture, drawing, printmaking, and public art. The three
keynote lectures would be presented during the Mid-America College Art Association
(MAACAA) that will be hosted by Herron School of Art and Design, October 15-18,
2008.
Shannon Gayk, English, IUB
Patricia Ingham, English, IUB
Things: A Symposium on Premodern Culture and the Material Object
This project is a one day symposium on medieval literature and the material object to be
held in October of 2008. We hope to provide a venue for the exchange of cutting-edge
ideas about the aesthetic, economic, and social roles that things play in medieval
literature.
Scott Herring, English, IUB
Americanist Research Colloquium
5
A year-long symposia of distinguished scholars in American, hemispheric, and
transatlantic studies whose have each produced some of the most important
interdisciplinary research in this field. These speakers will enhance the institutional and
national reputation of the newly inaugurated American Research Colloquium (ARC).
Susan Hyatt, Anthropology, IUPUI
Roger Jarjoura, SPEA, IUPUI
Inside Out Indiana's Prison Exchange Program: Linking Universities, Communities and
Prisons through Education
Inside-Out is a national model whereby University ("outside") students take courses
alongside incarcerated ("inside") students. Inside-Out Indiana courses are already being
offered through IUPUI. This project is a conference intended to bring together scholars,
stakeholders and students to examine the role of prisons and prison education in Central
Indiana.
Bill Johnston, Polish Studies Center, IUB
Justyna Beinek, Slavic Languages & Literatures, IUB
New Directions, New Connections: Polish Studies in Interdisciplinary Context
Polish Studies in North America is currently at a crossroads. Its old concerns and modes
of operation are undergoing a profound reevaluation in the light of the political changes
of the last two decades, and of the subsequent social, artistic, and cultural upheavals that
they have engendered. This international conference addresses these changes in light of
new theoretical, substantive, and disciplinary modes.
Ajay Mehrotra, Law, IUB
Michael Grossberg, History, IUB
New Directions in Law & Society Scholarship Workshop Series
The Center for Law, Society & Culture at Indiana Law proposes an innovative year-long
workshop series, New Directions in Law and Society Scholarship, which will bring
leading socio-legal scholars to Bloomington to discuss new streams of research, fostering
dialogue among scholars of the humanities, law, and social sciences.
Anya Royce, Anthropology, IUB
Elizabeth Shea, HPER/Dance, IUB
Bringing Worlds together around the Genome: Campus and Community conversations
across the Arts, Sciences, and the Field of Ethics
This project is a series of panels, workshops, symposia around the residency of the Liz
Lerman Dance Exchange and the performance of Ferocious Beauty: Genome. These will
involve scholars, local communities, seniors and youth at both Bloomington and
Indianapolis around the implications of genomic research in the arts, sciences, and ethics.
William Scheuerman, Political Science, IUB
6
William Rasch, Germanic Studies, IUB
Proposed Conference on "Old Europe, New Orders: Post-1945 German Thought on War,
Peace, and International Law
The proposed conference brings together leading scholars from a number of fields (Law,
German, Jewish Studies, Political Science) to reexamine a rich post-1945 Germanlanguage debate about the need to reorganize the international system in the wake of
World War II and the Holocaust. Special attention is paid to the intellectual crossfertilization between those German and German-Jewish scholars who grappled with the
moral and political implications of total war and genocide. The potential relevance of
their ideas about supranational political and legal organization to contemporary debates
concerning globalization is underscored.
Jane Schultz, English, IUPUI
Cancer Stories: Patients, Practitioners, and the Making of Narrative
This project is a two-day symposium to bring together scholars who produce and
investigate illness narratives. Held in conjunction with the dedication of the Indiana
University Melvin and Bren Simon Cancer Center (IUSCC), the event will feature
plenary lectures and interactive workshops that examine the enduring cultural importance
of stories about cancer and their impact on patients, practitioners, and the larger
community in which we live.
Lesley Walker, World Languages & Cultures, IU South Bend
New Paradigms in French Revolutionary Studies: A Franco-American Colloquium
This project is a colloquium on the cultural production of the French Revolution
organized in collaboration with a colleague from the University of Notre Dame. Six
scholars will be invited from France and another dozen from the United States to South
Bend for a two-day conference, which will take place on both the Notre Dame and IU
campuses, to discuss new directions in French Revolutionary studies. We are also
planning to produce a volume of collected essays as a result of the colloquium.
Edward Watts, History, IUB
Deborah Deliyannis, History, IUB
David Brakke, Relilgious Studies, IUB
Shifting Cultural Frontiers in Late Antiquity
"Shifting Cultural Frontiers in Late Antiquity" will convene a conference designed to
explore how dramatic political changes, including the fall of major empires and the rise
of new kingdoms, affected the cultural life of the Ancient Mediterranean, Near Eastern,
and North African worlds.
Visiting Visionary Scholars Grants
7
Gwendolyn Hamm, Health, Physical Education & Recreation, IUB
The Evans Artistic and Historical Legacy
This project is to bring Bill Evans, American modern dance artist, choreographer, and
teacher to Bloomington for a three-week residency to restage his 1978 master work
entitled, Impressions of Willow Bay, culminating in its performance by the IU Dance
Theater. Through master classes, seminars, and public lecture-demonstrations, Mr. Evans
will discuss his work and his collaboration with composer David Sanella.
Elizabeth Shea, Health, Physical Education & Recreation, IUB
Anya Royce, Anthropology, IUB
Bringing Worlds Together Around the Genome: A Residency with the Liz Lerman Dance
Exchange
The purpose of this project is to sponsor an internationally visible modern dance
company (Liz Lerman Dance Exchange) on the IUB campus whose work engages the
community in political discourse, focusing on issues important to our university such as
research and dissemination of information in the life sciences.