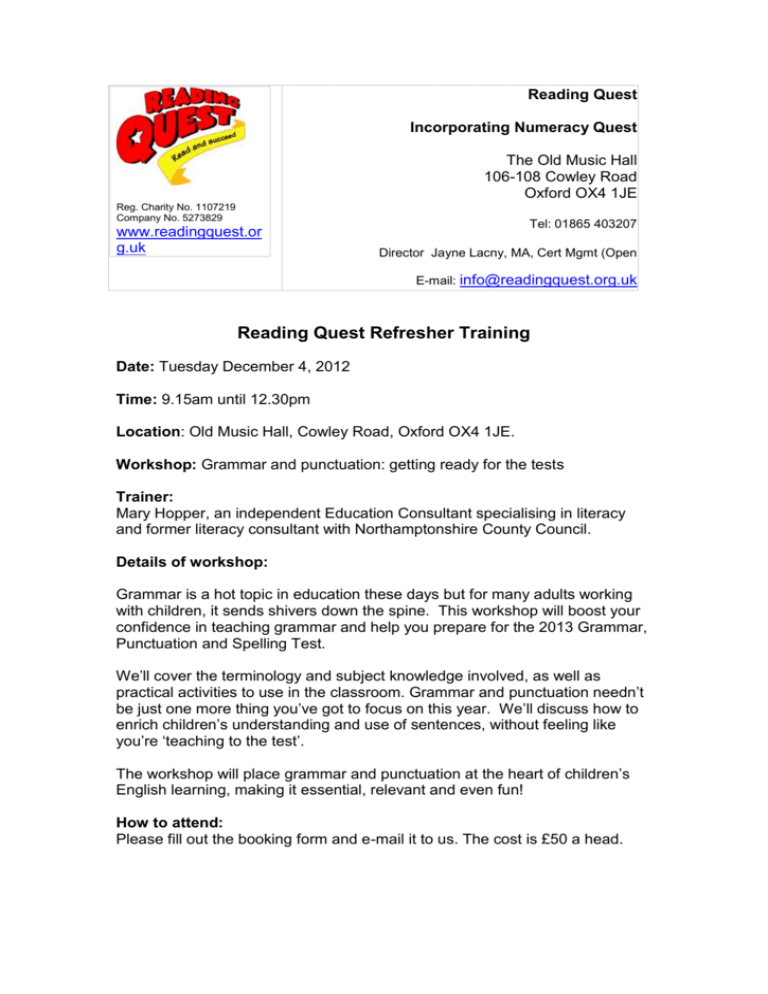 Reading Quest
Incorporating Numeracy Quest
The Old Music Hall
106-108 Cowley Road
Oxford OX4 1JE
Reg. Charity No. 1107219
Company No. 5273829
www.readingquest.or
g.uk
Tel: 01865 403207
Director Jayne Lacny, MA, Cert Mgmt (Open
E-mail: info@readingquest.org.uk
Reading Quest Refresher Training
Date: Tuesday December 4, 2012
Time: 9.15am until 12.30pm
Location: Old Music Hall, Cowley Road, Oxford OX4 1JE.
Workshop: Grammar and punctuation: getting ready for the tests
Trainer:
Mary Hopper, an independent Education Consultant specialising in literacy
and former literacy consultant with Northamptonshire County Council.
Details of workshop:
Grammar is a hot topic in education these days but for many adults working
with children, it sends shivers down the spine. This workshop will boost your
confidence in teaching grammar and help you prepare for the 2013 Grammar,
Punctuation and Spelling Test.
We'll cover the terminology and subject knowledge involved, as well as
practical activities to use in the classroom. Grammar and punctuation needn't
be just one more thing you've got to focus on this year. We'll discuss how to
enrich children's understanding and use of sentences, without feeling like
you're 'teaching to the test'.
The workshop will place grammar and punctuation at the heart of children's
English learning, making it essential, relevant and even fun!
How to attend:
Please fill out the booking form and e-mail it to us. The cost is £50 a head.
Details of the trainer:
Mary Hopper is an Independent Literacy Consultant and self-confessed
grammar geek! From Old English runes to modern classroom practice, Mary
specialises in English language professional development. Until 2011 she
was the Lead Advisor for Primary English at Northamptonshire Local
Authority. She continues to support schools, charities and individuals to
develop children's English through her company, Three Bears Literacy
Consultancy. Mary is also the author of forthcoming publications Outdoor
Literacy and Unlocking Speaking and Listening in Every Child.