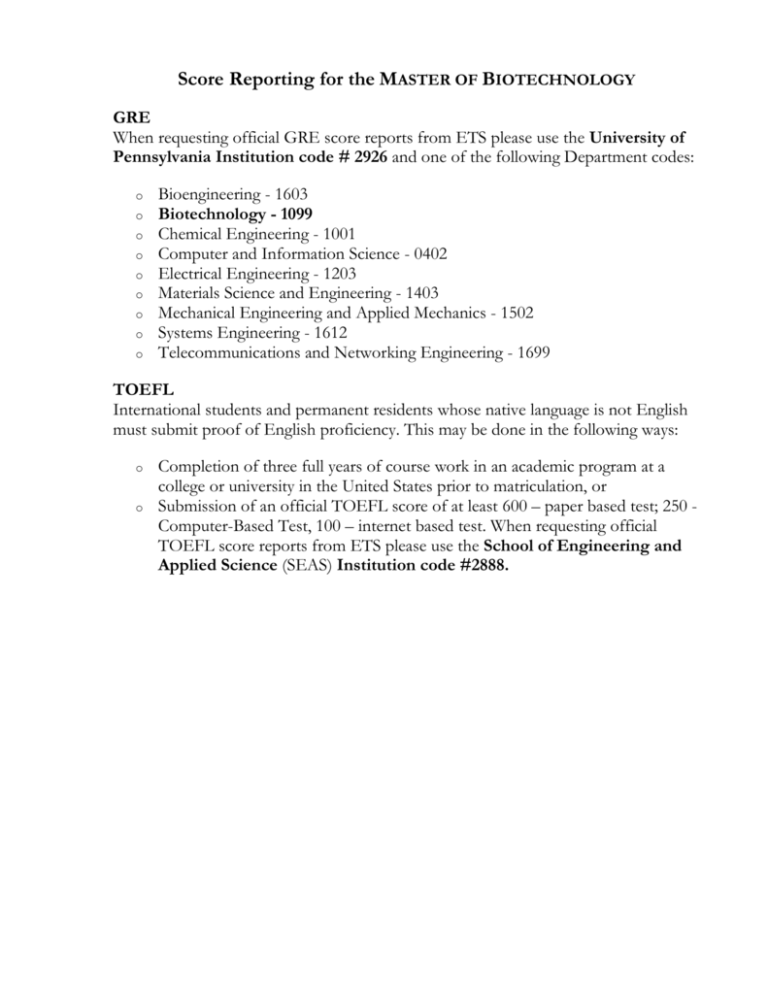 Score Reporting for the MASTER OF BIOTECHNOLOGY
GRE
When requesting official GRE score reports from ETS please use the University of
Pennsylvania Institution code # 2926 and one of the following Department codes:
o
o
o
o
o
o
o
o
o
Bioengineering - 1603
Biotechnology - 1099
Chemical Engineering - 1001
Computer and Information Science - 0402
Electrical Engineering - 1203
Materials Science and Engineering - 1403
Mechanical Engineering and Applied Mechanics - 1502
Systems Engineering - 1612
Telecommunications and Networking Engineering - 1699
TOEFL
International students and permanent residents whose native language is not English
must submit proof of English proficiency. This may be done in the following ways:
o
o
Completion of three full years of course work in an academic program at a
college or university in the United States prior to matriculation, or
Submission of an official TOEFL score of at least 600 – paper based test; 250 Computer-Based Test, 100 – internet based test. When requesting official
TOEFL score reports from ETS please use the School of Engineering and
Applied Science (SEAS) Institution code #2888.