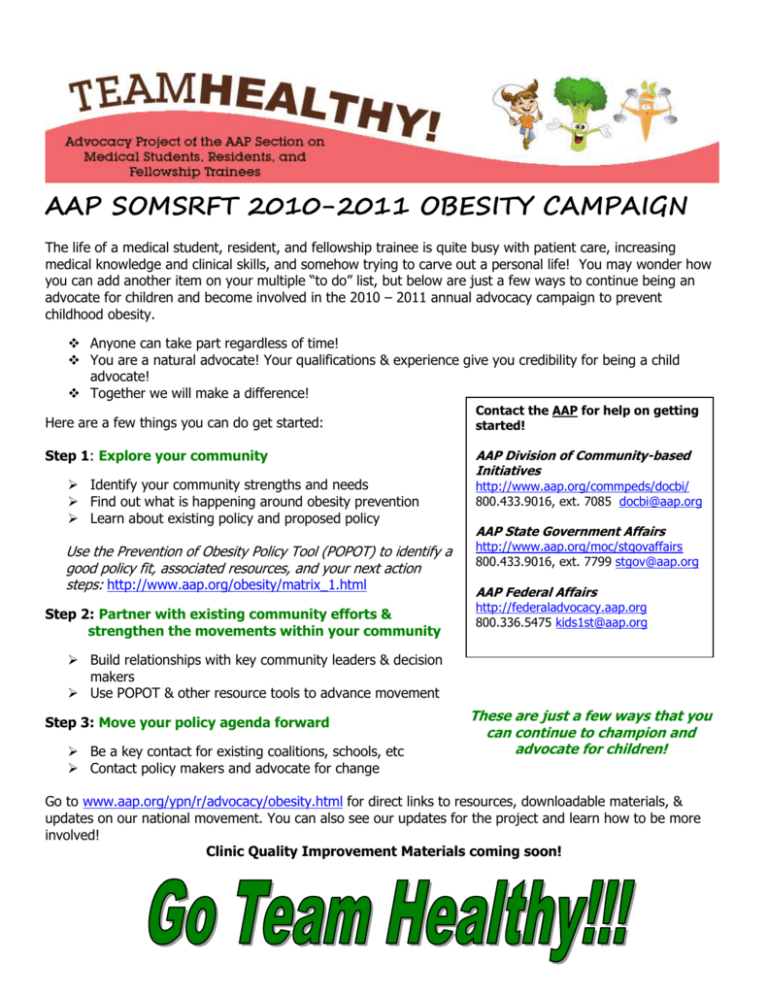 AAP SOMSRFT 2010-2011 OBESITY CAMPAIGN
The life of a medical student, resident, and fellowship trainee is quite busy with patient care, increasing
medical knowledge and clinical skills, and somehow trying to carve out a personal life! You may wonder how
you can add another item on your multiple "to do" list, but below are just a few ways to continue being an
advocate for children and become involved in the 2010 – 2011 annual advocacy campaign to prevent
childhood obesity.
 Anyone can take part regardless of time!
 You are a natural advocate! Your qualifications & experience give you credibility for being a child
advocate!
 Together we will make a difference!
Here are a few things you can do get started:
Step 1: Explore your community
 Identify your community strengths and needs
 Find out what is happening around obesity prevention
 Learn about existing policy and proposed policy
Use the Prevention of Obesity Policy Tool (POPOT) to identify a
good policy fit, associated resources, and your next action
steps: http://www.aap.org/obesity/matrix_1.html
Step 2: Partner with existing community efforts &
strengthen the movements within your community
Contact the AAP for help on getting
started!
AAP Division of Community-based
Initiatives
http://www.aap.org/commpeds/docbi/
800.433.9016, ext. 7085 docbi@aap.org
AAP State Government Affairs
http://www.aap.org/moc/stgovaffairs
800.433.9016, ext. 7799 stgov@aap.org
AAP Federal Affairs
http://federaladvocacy.aap.org
800.336.5475 kids1st@aap.org
 Build relationships with key community leaders & decision
makers
 Use POPOT & other resource tools to advance movement
Step 3: Move your policy agenda forward
 Be a key contact for existing coalitions, schools, etc
 Contact policy makers and advocate for change
These are just a few ways that you
can continue to champion and
advocate for children!
Go to www.aap.org/ypn/r/advocacy/obesity.html for direct links to resources, downloadable materials, &
updates on our national movement. You can also see our updates for the project and learn how to be more
involved!
Clinic Quality Improvement Materials coming soon!