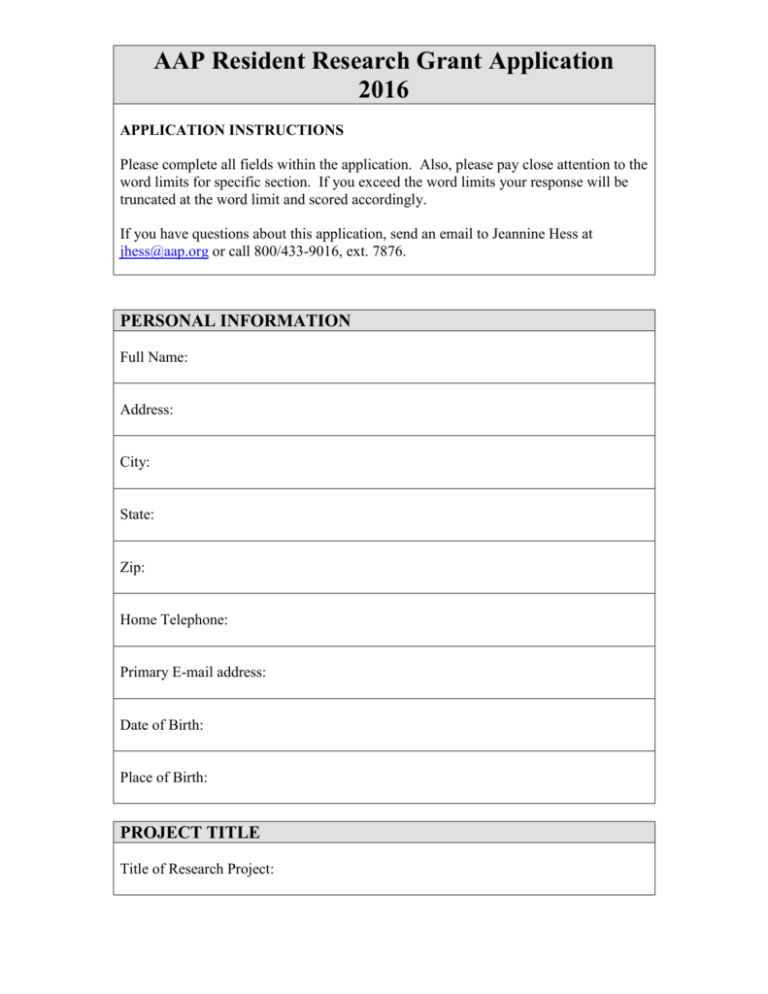 AAP Resident Research Grant Application
2016
APPLICATION INSTRUCTIONS
Please complete all fields within the application. Also, please pay close attention to the
word limits for specific section. If you exceed the word limits your response will be
truncated at the word limit and scored accordingly.
If you have questions about this application, send an email to Jeannine Hess at
jhess@aap.org or call 800/433-9016, ext. 7876.
PERSONAL INFORMATION
Full Name:
Address:
City:
State:
Zip:
Home Telephone:
Primary E-mail address:
Date of Birth:
Place of Birth:
PROJECT TITLE
Title of Research Project:
EDUCATION INFORMATION
Medical School/Date of Graduation:
Training Program Name:
Training Program City & State:
Project Mentor Name:
*Mentor must be a good-standing member of the AAP
Project Mentor Address & Telephone:
Program Director Name:
Program Director Address & Telephone:
Department Chairperson Name:
Department Chairperson Address & Telephone:
PEDIATRIC TRAINING
PGY-1- Hospital Name, City (Dates From – To):
PGY–2- Hospital Name, City(Dates From – To):
PGY-3- Housing Name, City(Dates From – To):
PGY-4 - Hospital Name, City(Dates From – To):
PGY-5 - Hospital Name, City(Dates From – To):
Anticipated Date of Completion of Your Residency Program:
GRANT INFORMATION
Proposals involving human subjects
require Institutional Review Board
(IRB) approval.
YES
Has your IRB approved this proposal?
Currently Under Review
NO
Not Applicable (no human subjects)
Proposed Starting Date of Research:
Anticipated Date of Completion:
GRANT INFORMATION
The $3,000 check ($2,000 grant award plus $1,000 travel stipend) will be made
payable to the name of the institution. The grant must be used specifically for this
project. Funds from grant award should not be used for computer equipment. No
indirect charges will be paid to the institution. Please issue the check to:
Institution Name _______________________________________________________
Institution Address _____________________________________________________
City, State and Zip _____________________________________________________
Institution Telephone ____________________________________________________
PROPOSED RESEARCH
I.
OVEALL GOALS, SPECIFIC AIMS:
[Please limit response to 500 words or less]
II.
HYPOTHESIS – RESEARCH QUESTION AND REASON FOR STUDY:
[Please limit response to 300 words or less]
III.
METHODOLOGY AND RATIONALE: (Indicate what components of the
research, such as data collection or analysis, you will be performing directly. If a
survey will be used, please include a list of key questions.)
[Please limit response to 750 words or less]
IV. .
BIBLIOGRAPHY:
V.
BUDGET: (Submit a basic budget that outlines how the grant money will be
used. If your budget exceeds $2,000, where will additional funding come from?
Please describe.)
VI.
REVELANCE TO PROFESSIONAL CAREER:
(Describe how you
selected this topic for study and how this proposed project fits into your career
plans. Include relevant research, clinical experience, and how the knowledge and
skills you will learn will contribute to your future professional goals.)
How did you hear about this program?
Internet / AAP website
Department Chairperson
Program Director
Program Coordinator
Chapter Executive Director
"What's New" Email from AAP
Other Residents
Other ____________________________________________________________
*** REMINDER ***
ALL FIELDS OF THE RESIDENT RESEARCH GRANT APPLICATION ARE
REQUIRED. DO NOT EXCEED WORD LIMITS.
DEADLINE: February 29, 2016
Email completed application to jhess@aap.org along with ALL supporting
documents/letters of support.