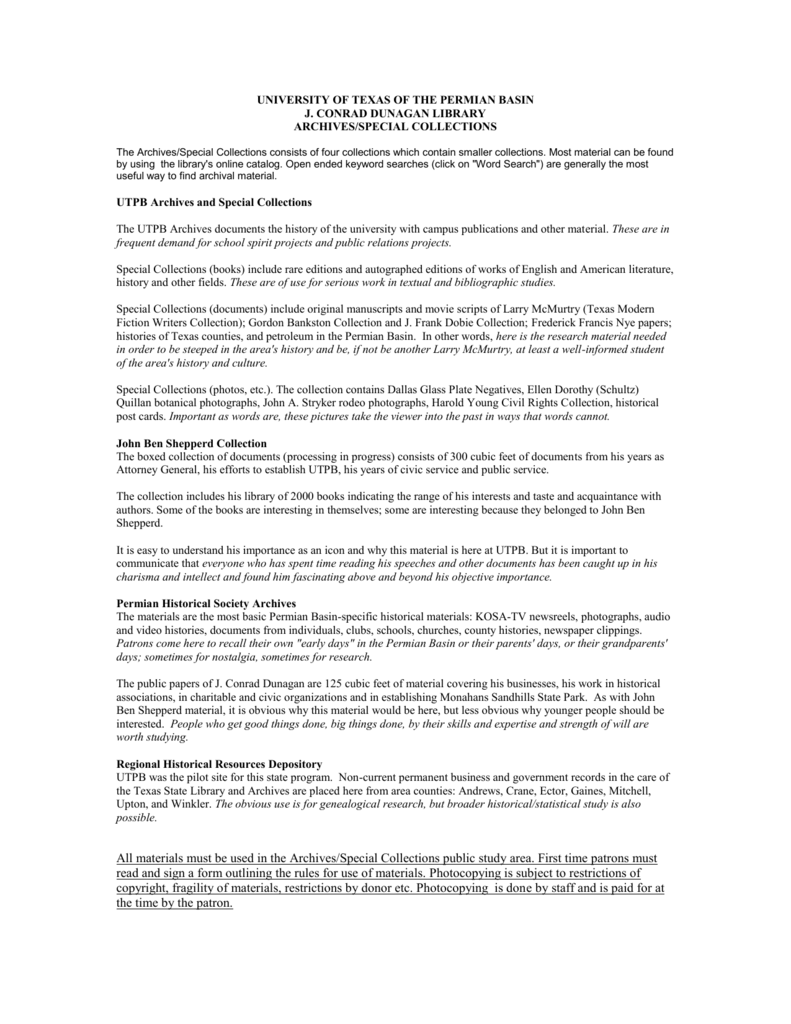 UNIVERSITY OF TEXAS OF THE PERMIAN BASIN
J. CONRAD DUNAGAN LIBRARY
ARCHIVES/SPECIAL COLLECTIONS
The Archives/Special Collections consists of four collections which contain smaller collections. Most material can be found
by using the library's online catalog. Open ended keyword searches (click on "Word Search") are generally the most
useful way to find archival material.
UTPB Archives and Special Collections
The UTPB Archives documents the history of the university with campus publications and other material. These are in
frequent demand for school spirit projects and public relations projects.
Special Collections (books) include rare editions and autographed editions of works of English and American literature,
history and other fields. These are of use for serious work in textual and bibliographic studies.
Special Collections (documents) include original manuscripts and movie scripts of Larry McMurtry (Texas Modern
Fiction Writers Collection); Gordon Bankston Collection and J. Frank Dobie Collection; Frederick Francis Nye papers;
histories of Texas counties, and petroleum in the Permian Basin. In other words, here is the research material needed
in order to be steeped in the area's history and be, if not be another Larry McMurtry, at least a well-informed student
of the area's history and culture.
Special Collections (photos, etc.). The collection contains Dallas Glass Plate Negatives, Ellen Dorothy (Schultz)
Quillan botanical photographs, John A. Stryker rodeo photographs, Harold Young Civil Rights Collection, historical
post cards. Important as words are, these pictures take the viewer into the past in ways that words cannot.
John Ben Shepperd Collection
The boxed collection of documents (processing in progress) consists of 300 cubic feet of documents from his years as
Attorney General, his efforts to establish UTPB, his years of civic service and public service.
The collection includes his library of 2000 books indicating the range of his interests and taste and acquaintance with
authors. Some of the books are interesting in themselves; some are interesting because they belonged to John Ben
Shepperd.
It is easy to understand his importance as an icon and why this material is here at UTPB. But it is important to
communicate that everyone who has spent time reading his speeches and other documents has been caught up in his
charisma and intellect and found him fascinating above and beyond his objective importance.
Permian Historical Society Archives
The materials are the most basic Permian Basin-specific historical materials: KOSA-TV newsreels, photographs, audio
and video histories, documents from individuals, clubs, schools, churches, county histories, newspaper clippings.
Patrons come here to recall their own "early days" in the Permian Basin or their parents' days, or their grandparents'
days; sometimes for nostalgia, sometimes for research.
The public papers of J. Conrad Dunagan are 125 cubic feet of material covering his businesses, his work in historical
associations, in charitable and civic organizations and in establishing Monahans Sandhills State Park. As with John
Ben Shepperd material, it is obvious why this material would be here, but less obvious why younger people should be
interested. People who get good things done, big things done, by their skills and expertise and strength of will are
worth studying.
Regional Historical Resources Depository
UTPB was the pilot site for this state program. Non-current permanent business and government records in the care of
the Texas State Library and Archives are placed here from area counties: Andrews, Crane, Ector, Gaines, Mitchell,
Upton, and Winkler. The obvious use is for genealogical research, but broader historical/statistical study is also
possible.
All materials must be used in the Archives/Special Collections public study area. First time patrons must
read and sign a form outlining the rules for use of materials. Photocopying is subject to restrictions of
copyright, fragility of materials, restrictions by donor etc. Photocopying is done by staff and is paid for at
the time by the patron.