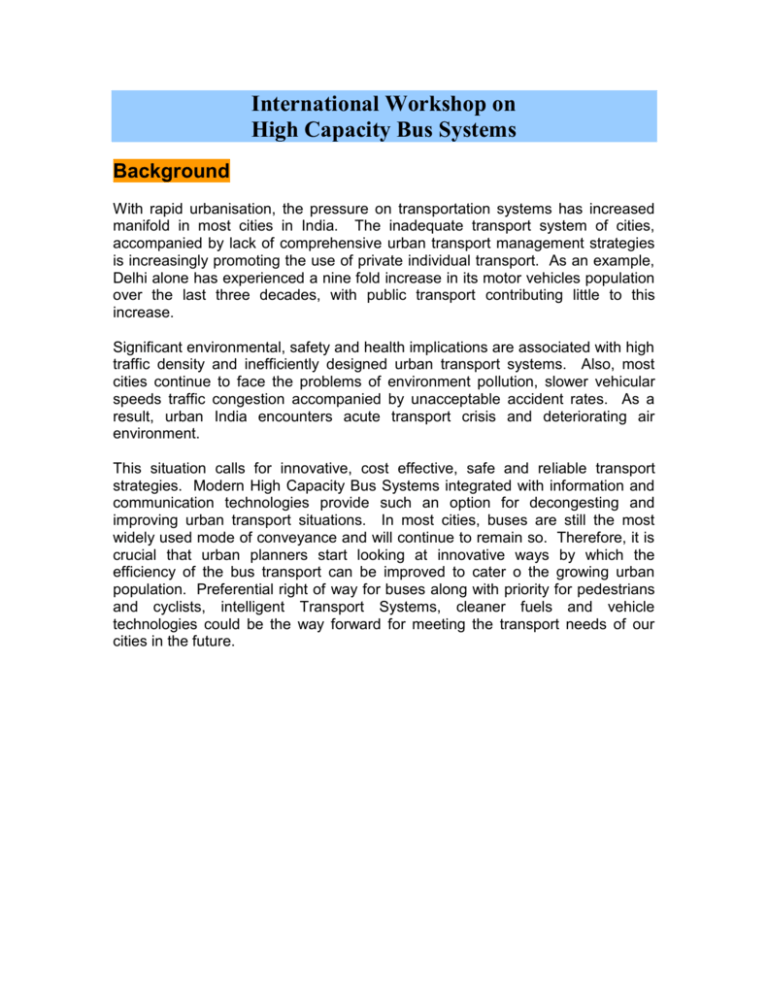 International Workshop on
High Capacity Bus Systems
Background
With rapid urbanisation, the pressure on transportation systems has increased
manifold in most cities in India. The inadequate transport system of cities,
accompanied by lack of comprehensive urban transport management strategies
is increasingly promoting the use of private individual transport. As an example,
Delhi alone has experienced a nine fold increase in its motor vehicles population
over the last three decades, with public transport contributing little to this
increase.
Significant environmental, safety and health implications are associated with high
traffic density and inefficiently designed urban transport systems. Also, most
cities continue to face the problems of environment pollution, slower vehicular
speeds traffic congestion accompanied by unacceptable accident rates. As a
result, urban India encounters acute transport crisis and deteriorating air
environment.
This situation calls for innovative, cost effective, safe and reliable transport
strategies. Modern High Capacity Bus Systems integrated with information and
communication technologies provide such an option for decongesting and
improving urban transport situations. In most cities, buses are still the most
widely used mode of conveyance and will continue to remain so. Therefore, it is
crucial that urban planners start looking at innovative ways by which the
efficiency of the bus transport can be improved to cater o the growing urban
population. Preferential right of way for buses along with priority for pedestrians
and cyclists, intelligent Transport Systems, cleaner fuels and vehicle
technologies could be the way forward for meeting the transport needs of our
cities in the future.