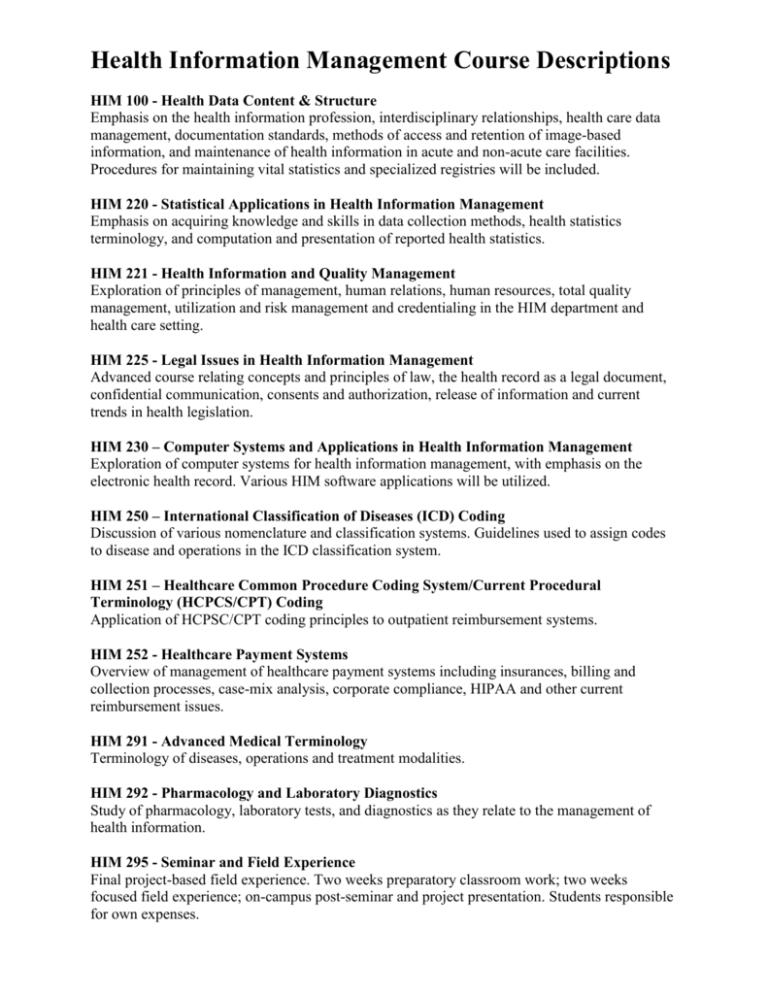 Health Information Management Course Descriptions
HIM 100 - Health Data Content & Structure
Emphasis on the health information profession, interdisciplinary relationships, health care data
management, documentation standards, methods of access and retention of image-based
information, and maintenance of health information in acute and non-acute care facilities.
Procedures for maintaining vital statistics and specialized registries will be included.
HIM 220 - Statistical Applications in Health Information Management
Emphasis on acquiring knowledge and skills in data collection methods, health statistics
terminology, and computation and presentation of reported health statistics.
HIM 221 - Health Information and Quality Management
Exploration of principles of management, human relations, human resources, total quality
management, utilization and risk management and credentialing in the HIM department and
health care setting.
HIM 225 - Legal Issues in Health Information Management
Advanced course relating concepts and principles of law, the health record as a legal document,
confidential communication, consents and authorization, release of information and current
trends in health legislation.
HIM 230 – Computer Systems and Applications in Health Information Management
Exploration of computer systems for health information management, with emphasis on the
electronic health record. Various HIM software applications will be utilized.
HIM 250 – International Classification of Diseases (ICD) Coding
Discussion of various nomenclature and classification systems. Guidelines used to assign codes
to disease and operations in the ICD classification system.
HIM 251 – Healthcare Common Procedure Coding System/Current Procedural
Terminology (HCPCS/CPT) Coding
Application of HCPSC/CPT coding principles to outpatient reimbursement systems.
HIM 252 - Healthcare Payment Systems
Overview of management of healthcare payment systems including insurances, billing and
collection processes, case-mix analysis, corporate compliance, HIPAA and other current
reimbursement issues.
HIM 291 - Advanced Medical Terminology
Terminology of diseases, operations and treatment modalities.
HIM 292 - Pharmacology and Laboratory Diagnostics
Study of pharmacology, laboratory tests, and diagnostics as they relate to the management of
health information.
HIM 295 - Seminar and Field Experience
Final project-based field experience. Two weeks preparatory classroom work; two weeks
focused field experience; on-campus post-seminar and project presentation. Students responsible
for own expenses.
HIM 350 - Health Informatics Research
Applies principles and methods of scientific research to selected topics in Health Informatics and
relevant healthcare issues.
HIM 351 - International Classification of Disease (ICD-10) Coding
Course provides students with opportunities to learn and apply guidelines of ICD-10-CM and
ICD-10-PCS coding.
HIM 422 - Clinical Evaluations and Outcomes
Advanced course in applying measurements, evaluations, and reports to processes, structures,
and outcomes in improving the efficiency and effectiveness of health information management
and clinical services.
HIM 450 - Application and Analysis of HIM Theory
Advanced study in application and analysis of HIM theory in healthcare settings. Must be taken
in semester prior to enrollment in HIM 495 Capstone PPE.
HIM 495 - Capstone Professional Practice Experience
Professional practice experience in a health-related setting. Students are responsible for their
own travel.