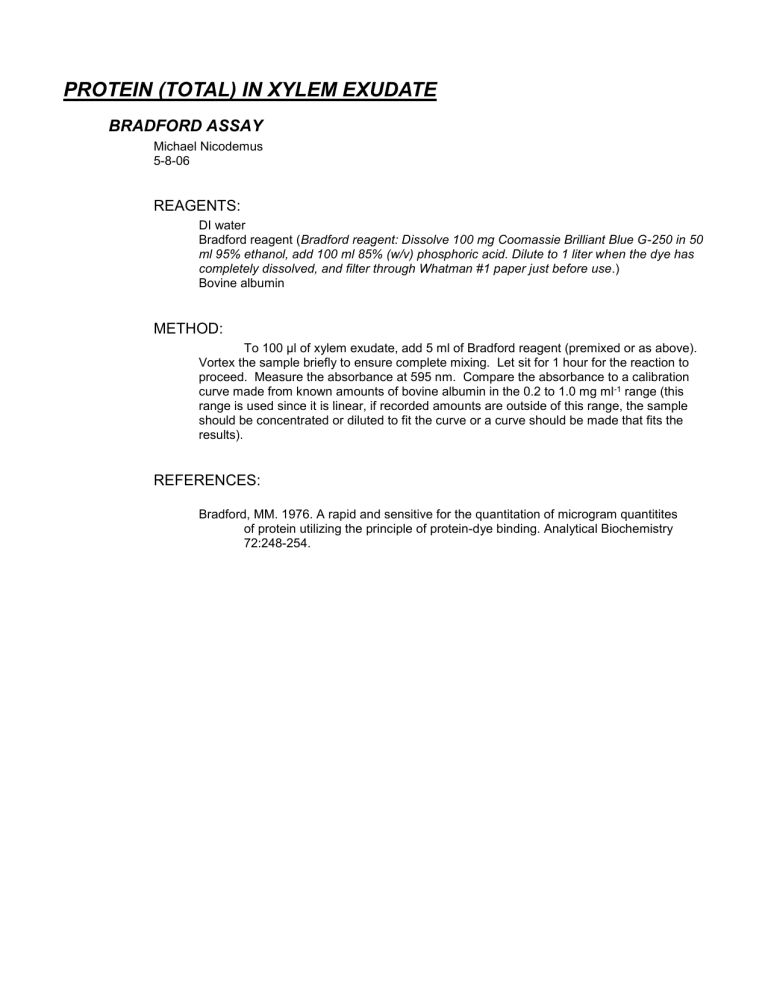 PROTEIN (TOTAL) IN XYLEM EXUDATE
BRADFORD ASSAY
Michael Nicodemus
5-8-06
REAGENTS:
DI water
Bradford reagent ( Bradford reagent: Dissolve 100 mg Coomassie Brilliant Blue G-250 in 50 ml 95% ethanol, add 100 ml 85% (w/v) phosphoric acid. Dilute to 1 liter when the dye has completely dissolved, and filter through Whatman #1 paper just before use .)
Bovine albumin
METHOD:
To 100 µl of xylem exudate, add 5 ml of Bradford reagent (premixed or as above).
Vortex the sample briefly to ensure complete mixing. Let sit for 1 hour for the reaction to proceed. Measure the absorbance at 595 nm. Compare the absorbance to a calibration curve made from known amounts of bovine albumin in the 0.2 to 1.0 mg ml -1 range (this range is used since it is linear, if recorded amounts are outside of this range, the sample should be concentrated or diluted to fit the curve or a curve should be made that fits the results).
REFERENCES:
Bradford, MM. 1976. A rapid and sensitive for the quantitation of microgram quantitites of protein utilizing the principle of protein-dye binding. Analytical Biochemistry
72:248-254.