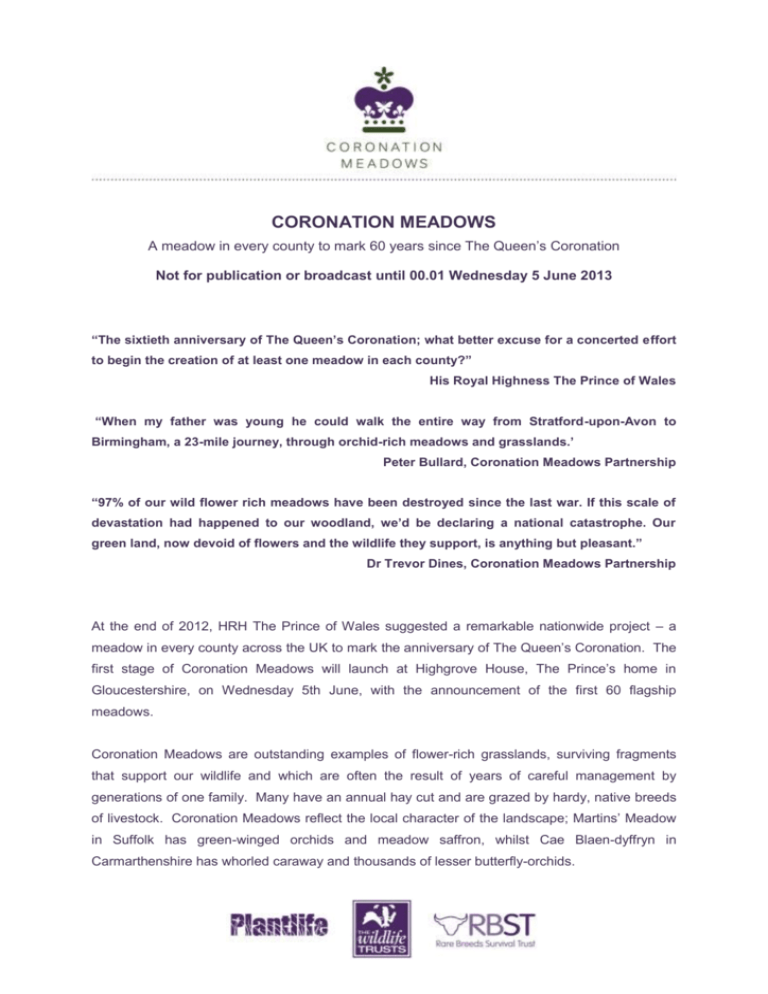 CORONATION MEADOWS
A meadow in every county to mark 60 years since The Queen's Coronation
Not for publication or broadcast until 00.01 Wednesday 5 June 2013
"The sixtieth anniversary of The Queen's Coronation; what better excuse for a concerted effort
to begin the creation of at least one meadow in each county?"
His Royal Highness The Prince of Wales
"When my father was young he could walk the entire way from Stratford-upon-Avon to
Birmingham, a 23-mile journey, through orchid-rich meadows and grasslands.'
Peter Bullard, Coronation Meadows Partnership
"97% of our wild flower rich meadows have been destroyed since the last war. If this scale of
devastation had happened to our woodland, we'd be declaring a national catastrophe. Our
green land, now devoid of flowers and the wildlife they support, is anything but pleasant."
Dr Trevor Dines, Coronation Meadows Partnership
At the end of 2012, HRH The Prince of Wales suggested a remarkable nationwide project – a
meadow in every county across the UK to mark the anniversary of The Queen's Coronation. The
first stage of Coronation Meadows will launch at Highgrove House, The Prince's home in
Gloucestershire, on Wednesday 5th June, with the announcement of the first 60 flagship
meadows.
Coronation Meadows are outstanding examples of flower-rich grasslands, surviving fragments
that support our wildlife and which are often the result of years of careful management by
generations of one family. Many have an annual hay cut and are grazed by hardy, native breeds
of livestock. Coronation Meadows reflect the local character of the landscape; Martins' Meadow
in Suffolk has green-winged orchids and meadow saffron, whilst Cae Blaen-dyffryn in
Carmarthenshire has whorled caraway and thousands of lesser butterfly-orchids.
Over 80% of the 60 meadows identified can trace an undisturbed history beyond the Coronation;
many are truly ancient, dating back hundreds of years. The oldest so far is Loughborough Big
Meadow in Leicestershire which can be traced back to 1762. They range in size from Therfield
Heath in Hertfordshire at over 400 acres (and home to the largest population of pasque flowers in
Britain) to Hayton Meadow in Shropshire at just ¾ of an acre. They are also home to quite
astonishing displays of wild flowers – orchids, cowslips, buttercups and oxeye daisies in their
thousands. The Prince's famous wild flower meadow at Highgrove House has a special place in
the project and has been named as The Royal Meadow, in addition to the 107 across the country.
Coronation Meadows has three aims:
1. The first, the identification of a Coronation Meadow in each county, will be completed by
the end of the Coronation year as Coronation Meadows for the remaining counties are
identified – there are candidates for nearly all of them and there will be 107 in total.
2. The second stage is to identify sites within each county where green hay and seed from
the Coronation Meadow can be used to restore or recreate new meadows, so fulfilling
HRH's original vision.
3. The final part of the project is perhaps the most ambitious – to map the UK's remaining
meadows. No such inventory currently exists (neither government nor conservation
organisation has this information) but, with the help of the public, we hope to identify all
the small pockets of flower-rich meadows that remain.
'My Coronation Meadows idea came to me when I read Plantlife's 2012 report and fully
appreciated just how many wildflower meadows had been lost over the past 60 years. This year,
we are celebrating my mother's coronation so surely there is no better moment to end this
destruction and to stimulate a new mood to protect our remaining meadows and to use them as
springboards for the restoration of other sites and the creation of new meadows right across the
UK.'
His Royal Highness The Prince of Wales
"His Royal Highness has given us a challenge; to conserve species and yet to maintain their
essential wildness. In an age where we too often turn to the quick-fix of commercial 'nectar
mixes', Coronation Meadows is both a celebration and a pledge to our children and
grandchildren, using the floral riches of the past to create meadow gems for the future. Restoring
meadows is painstaking, long-term stuff – it is about our landscape history and our cultural
heritage. Many of the meadows have local significance. For example, Welsh farms often had a
Cae Ysbyty or "Hospital Field", a flower-rich pasture where sick animals would recover from
illness or injury faster than on conventional pasture. This project is so resonant because it
reminds us just how spectacular and wildlife-rich our countryside can look – and the results can
be simply breathtaking."
Victoria Chester, Chief Executive of Plantlife
"We are delighted that our Patron HRH the Prince of Wales is championing wildflower meadows
as part of the Coronation celebrations. "Few people of my generation have ever experienced the
beauty of a flower-rich meadow in full bloom. 97% of these meadows have been lost in the last
century. But we are determined to ensure the next generation does have that chance. These 60
meadows are precious and irreplaceable fragments of a vital habitat. With the right care they can
thrive and spread their seed to new areas helping us to revive our landscapes."
Stephanie Hilborne OBE, Chief Executive of The Wildlife Trusts
'His Royal Highness, our Patron, is a passionate supporter of rare native breeds of livestock and
there is a close relationship between our native breeds and wild flower meadows. The ancient
meadows of this country were traditionally managed in order to produce feed for livestock to carry
them over the course of a long winter. Over generations, this livestock evolved traits that suited
the different climates, topography, minerals and flora found in the varied landscapes across the
United Kingdom. These traits developed further with selective breeding into the wide variety of
breeds that we see today. In a sense the meadows shaped the animals, as the animals shaped
the meadows, and their shared history is part of our valuable rural culture."
Rob Havard, Managing Director, Rare Breeds Survival Trust
The Coronation Meadows Partnership is made up of Plantlife, The Wildlife
Trusts and the Rare Breeds Survival Trust. HRH The Prince of Wales is Patron
of all three charities.
Contact information:
Justina Simpson, Publicity Manager, Plantlife
07584 995 929 justina.simpson@plantlife.org.uk
Anna Guthrie, Media & PR Manager, The Wildlife Trusts
01636 670075 / 07887 754659 / aguthrie@wildlifetrusts.org
Ruth Dalton, Field Officer, Rare Breeds Survival Trust
01539 816223 / 07880 584551
Images: we have images of the Top 10 Threatened Flowers found on Coronation
Meadows, other meadow wildlife images and native breeds of grazing livestock. They
are granted on a one-time use basis, in association with this release and the photographers
must be credited.
Coronation Meadows www.coronationmeadows.org.uk
We are Plantlife www.plantlife.org.uk
Plantlife is the organisation that is speaking up for our wild flowers, plants and fungi. From the
open spaces of our nature reserves to the corridors of government, we're here to raise their
profile, to celebrate their beauty, and to protect their future.
Wild flowers and plants play a fundamental role for wildlife, and their colour and character light up
our landscapes. But without our help, this priceless natural heritage is in danger of being lost.
Join us in enjoying the very best that nature has to offer.
The Wildlife Trusts (TWT) wildlifetrusts.org
There are 47 individual Wildlife Trusts covering the whole of the UK, with more than 800,000
members. All are working for an environment rich in wildlife for everyone. The Wildlife Trusts'
second annual 'Our Meadow Wildlife' weekend takes place on 15-16 June. People are invited to
discover some of the UK's finest remaining wildflower meadows, and their amazing wildlife.
Events and opportunities to enjoy the magic of the meadow can be found both through the
Coronation Meadows project website and http://www.wildlifetrusts.org/weekends/meadow
Rare Breeds Survival Trust www.rbst.org.uk
RBST is the leading national charity working to conserve and protect the United Kingdom's rare
native breeds of farm animals from extinction. We believe in the value of the UK's rich and varied
livestock heritage and that this needs to be conserved as a vital genetic and cultural resource for
future generations and the benefit of agriculture.
Linking the conservation of our traditional meadows and our native livestock highlights the role
sustainable farming plays in conserving our wonderful semi-natural habitats. Join RBST and help
us to save our native breeds.