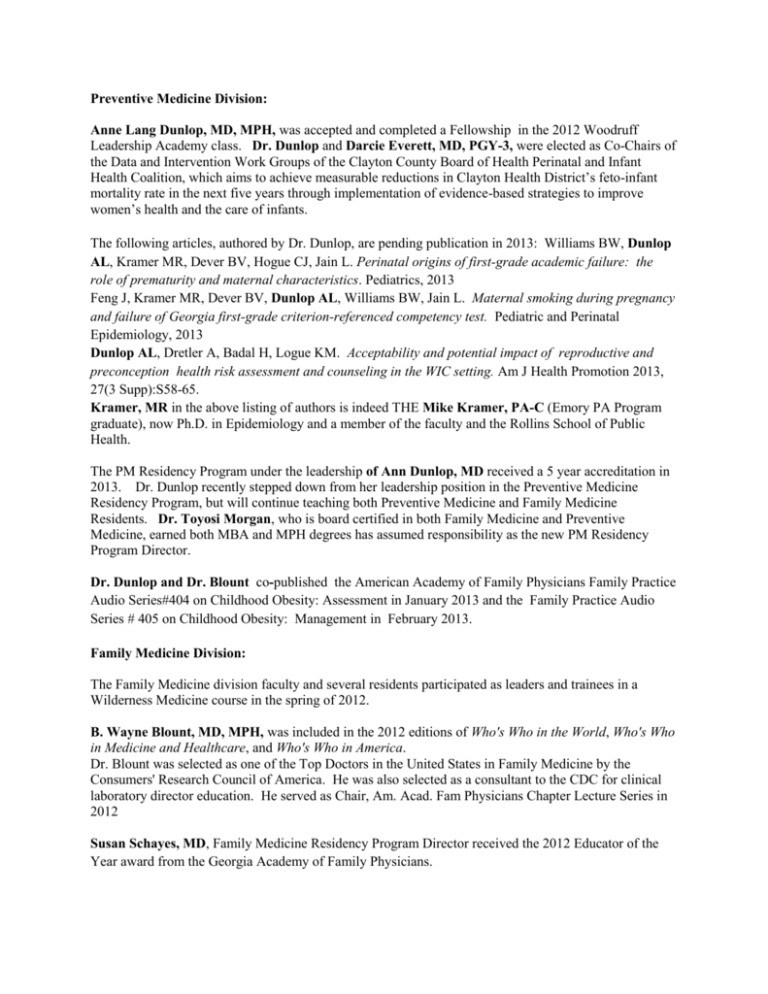 Preventive Medicine Division:
Anne Lang Dunlop, MD, MPH, was accepted and completed a Fellowship in the 2012 Woodruff
Leadership Academy class. Dr. Dunlop and Darcie Everett, MD, PGY-3, were elected as Co-Chairs of
the Data and Intervention Work Groups of the Clayton County Board of Health Perinatal and Infant
Health Coalition, which aims to achieve measurable reductions in Clayton Health District's feto-infant
mortality rate in the next five years through implementation of evidence-based strategies to improve
women's health and the care of infants.
The following articles, authored by Dr. Dunlop, are pending publication in 2013: Williams BW, Dunlop
AL, Kramer MR, Dever BV, Hogue CJ, Jain L. Perinatal origins of first-grade academic failure: the
role of prematurity and maternal characteristics. Pediatrics, 2013
Feng J, Kramer MR, Dever BV, Dunlop AL, Williams BW, Jain L. Maternal smoking during pregnancy
and failure of Georgia first-grade criterion-referenced competency test. Pediatric and Perinatal
Epidemiology, 2013
Dunlop AL, Dretler A, Badal H, Logue KM. Acceptability and potential impact of reproductive and
preconception health risk assessment and counseling in the WIC setting. Am J Health Promotion 2013,
27(3 Supp):S58-65.
Kramer, MR in the above listing of authors is indeed THE Mike Kramer, PA-C (Emory PA Program
graduate), now Ph.D. in Epidemiology and a member of the faculty and the Rollins School of Public
Health.
The PM Residency Program under the leadership of Ann Dunlop, MD received a 5 year accreditation in
2013. Dr. Dunlop recently stepped down from her leadership position in the Preventive Medicine
Residency Program, but will continue teaching both Preventive Medicine and Family Medicine
Residents. Dr. Toyosi Morgan, who is board certified in both Family Medicine and Preventive
Medicine, earned both MBA and MPH degrees has assumed responsibility as the new PM Residency
Program Director.
Dr. Dunlop and Dr. Blount co-published the American Academy of Family Physicians Family Practice
Audio Series#404 on Childhood Obesity: Assessment in January 2013 and the Family Practice Audio
Series # 405 on Childhood Obesity: Management in February 2013.
Family Medicine Division:
The Family Medicine division faculty and several residents participated as leaders and trainees in a
Wilderness Medicine course in the spring of 2012.
B. Wayne Blount, MD, MPH, was included in the 2012 editions of Who's Who in the World, Who's Who
in Medicine and Healthcare, and Who's Who in America.
Dr. Blount was selected as one of the Top Doctors in the United States in Family Medicine by the
Consumers' Research Council of America. He was also selected as a consultant to the CDC for clinical
laboratory director education. He served as Chair, Am. Acad. Fam Physicians Chapter Lecture Series in
2012
Susan Schayes, MD, Family Medicine Residency Program Director received the 2012 Educator of the
Year award from the Georgia Academy of Family Physicians.
Oguchi Nwosu, MD is leading a medical mission to Haiti in June, 2013 to develop a women's health
clinic and initiate HPV testing and treatment as well as contraception education. He will be accompanied
by Jennifer Burkmar, PGY2 Emory Family Medicine Resident and several Emory medical students.
Oguchi Nwosu, MD was elected as a member of the GAFP Congress of Delegates District 11. He
conducted a round table discussion on menopause at the Georgia Academy of Family Physicians annual
scientific assembly in 2012. He is an active member of the GAFP Public Health and Education &
Research committees and a member of the Quality Committee in Obstetrics at the Emory University
Hospital Midtown
Lianne Beck, MD was a guest speaker at 2012 AAFP National Board Review Course, Atlanta GA and
was guest speaker at Emory sponsored 2010 and 2011 Physician Assistant National Board Review
Course, Atlanta GA
Julie Johnson, MD and Dr. B.W. Blount developed the January 2013, AAFP FP Essentials audio CME
"Health Literacy, which is pending publication,
Dr. David Callahan co-authored the following publication:
Garbe, PL, David B. Callahan, Peng-Jun Lu, and Gary L. Euler. Editorial: First Things First: Protecting
Children with Asthma from Infection with Influenza. Am. J. Respir. Crit. Care Med. 2012;185 i-ii.
Joanne Williams-Cooper, MD, MPH, completed two years of service to the National Board of Medical
Examiners as a member of the Step 3 Community in Medicine Item Writing Committee. Dr Williams has
been elected to Alpha Omega Alpha, the National Medical Honor Society. As mentioned in the attached
letter, this honor recognizes Dr. Williams' work as a member of the faculty and the many fine qualities
she has exhibited. She will be honored at the Annual AOA Banquet and Fincher Lecture to be held on
Tuesday evening, April 23, 2013.
Dr. Joanne Williams announced her retirement from student activities associated with the Office of
Medical Education and Student Affairs and the Department of Family and Preventive Medicine. Dr.
Williams has been an outstanding teacher, mentor and role model for hundreds of Emory medical students
for the past several decades. She has given so much of herself in this capacity, and led the Emory charge
for Family Medicine for our students. The Dean's Office and our Department owe her an enormous debt
of gratitude for her tireless efforts to explain, extol, experience and expand the role of Family Medicine
for Emory SOM and visiting medical students. Fortunately, our Department will retain Dr. Williams'
clinical skills, experience and teaching, as she will be seeing patients in the Dunwoody Clinic on
Mondays, and a couple of Saturdays per month.
In light of Dr. Williams' transition, Dr. Samantha Brown-Parks will assume the responsibilities and
title of Director of Undergraduate Medical Education for the Department of Family and Preventive
Medicine. Dr. Brown Parks is a graduate of the University of Miami School of Medicine, the Madigan
Transitional Internship Program and service as a General Medical Officer in the Army for 3 years. She
obtained her MPH from the Rollins School of Public Health and then matriculated to the Emory Family
Medicine Residency Program, rising to Chief Resident in her final year. After completing a two-year
faculty development fellowship, she joined the Emory faculty. She is a highly regarded clinicianeducator, and was rewarded with a role as Society Mentor for the School of Medicine.
Samantha Brown-Parks, MD, was selected and completed in the School of Medicine Junior Faculty
Leadership Development Program in 2012.
Ashley Owen, Ph.D. was appointed to the Board position of Legal and Legislative Committee Liaison
to the Georgia Psychological Association Council on Psychology of Women and Girls (COPOWAG)
which will begin July 1, 2013. This position serves to provide bi-directional communication between the
council and the Georgia Psychological Association Legal and Legislative Committee and to focus on
local, state, and national legislation that impacts the role of psychologists as well as the mental health of
women and girls.
Kara McDaniel, Ph.D., NCC, LPC completed the Behavioral Health/Family Systems Educator
Fellowship in 2011conducted by the Society of Teachers of Family Medicine (STFM)
Dr. Owen and Dr. McDaniel also provide patient counseling at the Emory Patient Centered Primary
Care Clinic for employees and their families on the Emory University campus.
Dr. Susan Schayes, Director of the Emory Family Medicine Residency Program, has submitted her
resignation effective late June, 2013 to pursue some of her life passions. Dr. Lianne Beck will serve as
acting Family Medicine Residency Program Director.
Family Medicine Residents:
Dr. Ambar Kulshreshtha (PGY1) applied for and was awarded funding in June, 2013 for his pilot study
from the AAFP Foundation's Research Committee for the project titled "Smart-7 Study: A Pilot Study to
Evaluate a Patient Self-monitoring Intervention to Improve Cardiovascular Health." This project will be
implemented at the Emory Family Medicine Dunwoody clinic.
Dr. Helma Prinssen, (PGY3) was named the Georgia Academy of Family Physicians 2013 Resident
of the Year
Bilqees Fatima, MD, (PGY-3) was selected to attend the Southeast Center of Excellence in Geriatric
Medicine (SCEGM) Resident Award Summit. The SCEGM, a joint program of the University of
Alabama at Birmingham and Emory University, was established in 1998 to promote the career
development of physicians as clinician educators and as researchers. The program is funded by a grant
from the John A. Hartford Foundation.
Dr. Bilquees Fatima won the 2012 award for best poster presentation at the annual Georgia Academy of
Family Physicians Annual Scientific Assembly. The topic of her poster was Superior Vena Cava
Syndrome in Hemodialysis Patients. Two other residents, Muhammed Ali and Katie Humphries, FM
faculty, Dr. Oguchi Nwosu along with one of our former medical students Fei also did a poster
presentation, which came 2nd overall about a patient who was admitted from our clinic to EUHM with
recurrent Rickettsial disease.
Jeffrey Westerfield, MD, PGY-3, was selected by the American Medical Society for Sports Medicine
(AMSSM) to attend the AMSSM 21st Annual Meeting, to be held April 21-25, 2012 in Atlanta, Georgia.
This is a national scholarship awarded annually to resident applicants who best demonstrate a
commitment to a career in sports medicine. Dr.Westerfield completed his residency and plans to practice
in Alaska.
Ann Marie Lam, MD, PGY-3, was named "2012 Resident of the Year" by the Georgia Academy of
Family Physicians. Dr. Lam graduated from Emory Family Medicine Residency Program in 2012 and
joined Perimeter North Family Medicine private practice in Woodstock, GA. Her husband is completing a
Cardiothoracic Anesthesia fellowship at Emory. They recently welcomed the birth of their son, James, in
2013.
Dr. Jennifer Burkmar (PGY2) was awarded the Georgia Healthy Family Alliance (GHFA) 2013 GHFA
Resident Trustee seat. Dr. Jennifer Burkmar will be volunteering some of her free time to enhance the
overall health of communities in Georgia. Dr. Burkmar was also selected by the AAP/AAFP/ACOG/ACP
and AMA to attend leadership advocacy training in Washington DC.
Dr. Rianot Amzat (PGY1) who was selected along with several residents at Emory for the Health Care
Ethics Consortium of Georgia 2013 Annual Conference, as well as being selected for a 6th resident only
ethics sessions which will involved case studies, resident leadership and target reading.
Dr. Katie Humphries(PGY2)and Dr. Susan Schayes were selected by the Executive Committee of the
GAFP to serve as a GAFP leaders and to attend the AAFP Annual Leadership forum (ALF). Hundreds of
current and aspiring groundbreakers in family medicine convenes for three days of dynamic, high-energy
leadership training. This one of a kind invitation only event, connects leaders from across the country to
learn and develop effective leadership skills, gain easy to implement leadership strategies and build
relationships and share ideas. Dr. Humphries is one of only two residents selected for this honor in the
state. Dr. Humphries was selected to attend both the National Conference of Special Constituencies
(NCSC) and the Annual Leadership Forum (ALF).
Dr Abi Senthivel (PGY1) and Dr Salvatore Bruni (PGY1) attended the "GoDiabetes" Train the Trainer
sessions in New Orleans in the spring of 2013. The intent of the workshop to prepare the participants to
bring back the "GoDiabetes" curriculum to their residency program to enhance practice quality
improvement in Diabetes care. More information about this initiative can be found at: we will work as a
team to analyze and implement change in our clinic for a better care of our Diabetic patients.
http://www.godiabetes.org/About.aspx
Dr. Ambar Kulshreshtha's manuscript, titled Urban-Rural Differences in Coronary Heart Disease
Mortality in the United States, 1999-2009 has been accepted for publication in the Public Health Reports.
He has submitted two more manuscripts to the Journal "Stroke" and another to "Circulation".
Dr. Richard Rodriguez, PGY2 and his wife Dr. Nicki Rodriguez, a 2012 graduate of the Emory Family
Medicine Residency Program are proud new parents of healthy twins (one boy and one girl) born May 3,
2013. Richard was allowed to deliver the twins.
PA Program Division:
Terry Mize, PA-C, MMSc, the Director of Admissions for the Physician Assistant Program division of
the Department of Family and Preventive Medicine and Director of the PA Program Community Service
Learning projects was inducted into the inaugural class of Diplomats for the Society of Emergency
Medicine Physician Assistants (SEMPA) by Andrew E. Sama, MD, FACEP, President-Elect of ACEP.
SEMPA held the first-ever Diplomat Award Ceremony at 11:30 a.m. on Wednesday, March 20 in
conjunction with SEMPA's Town Hall Meeting at the SEMPA 9th Emergency Medicine Annual
Conference (in Las Vegas) where Terry received this national recognition for contributions toward the
growth and prestige of a professional society. The announcement was recently made by Andrew E.
Sama, MD, FACEP, President-Elect of ACEP. Terry also serves to serve on the Academic Affairs
Committee of the American College of Emergency Physicians (ACEP), as a representative of the Society
of Emergency Medicine Physician Assistants. , which has over 29,000 members. This is a high-level
committee of ACEP, and it is a great honor to be selected to serve in this capacity. Terry Mize, PA-C,
was also elected during the summer of 2013 to the Board of Directors of the Georgia Association of
Physician Assistants. Terry will be leaving the Emory PA Program and Atlanta to return to practice and
education in Emergency Medicine in New Mexico, where his daughter lives and practices as an
Emergency Medicine Physician.
Allan Platt, MMSc, PA-C, has been invited to serve as the American Academy of Physician Assistants
representative to a new coordinating committee of the National Heart, Lung and Blood Institute at the
NIH. The committee for the new National Blood Disorders Program will focus on patient and provider
education regarding the management of sickle cell disease and other blood disorders.
In March of this year the Physician Assistant Program was awarded continued accreditation by ARC-PA
for 7 years. Congratulations to the PA Program faculty and staff team.
Dr. Dana Sayre-Stanhope has submitted her resignation as PA Program Director effective May 20th, but
will continue working with the PA Program Division on special projects. Dr. Douglas Ander,
Associate Dean in the School of Medicine and Professor in the Department of Emergency Medicine, will
serve as Acting Program Director. Dr. Theresa Berry, Medical Director of the Physician Assistant
Program since 2004 has resigned to spend more time with her husband and three boys, work at the Emory
Student Health Service and finish building a new house. Dr Anne Dunlop, Associate Professor in the
Department of Family and Preventive Medicine, who is board certified in both Family Medicine and
Preventive Medicine has been named as Acting Medical Director of the Physician Assistant Program.
Ms. Barbara Jones, PA Program Office Manager will be retiring from Emory at the end of May, 2013
after nearly 30 years of dedication to the PA Program faculty, staff, students, and graduates. She will be
missed!
South Georgia Farmworker Health Project, 2012:
Jodie Guest, PhD, one of the many participants in the Physician Assistant Program's annual Migrant
Farm Workers Family Health Program in June 2012, reported: "As of last night's clinic we have provided
care, clothing, toiletries and food for 548 migrant farm workers. Today we are in a school doing exams
and providing books for 130 children. There are thirty-five PA students here and five physicians as well
as medical interpreters, faculty, logistics team and Teen Corp. We have a morning and evening clinic
every day for a week in Bainbridge and then the team will move to Valdosta for a week. These clinics
occur in tomato fields, corn fields, outside housing dorms for the pickers, schools, and packing plants.
Also, in the list of groups here we also have two Emory medical students, two Mercer PA students, two
international medical students and local nursing students for intake. This year, we have sixteen kids
working in Teen Corp, a new experiential learning group. These kids are managing and working the
clothing and food area and are responsible for putting together the toiletry kits as well as shadowing a PA
student mentor during clinics. They have all seen either a cardiac echo or a fetal ultrasound. Between
clinics each day, there is a class for Teen Corp and their PA student mentors. These classes include
discussions on cardiology, orthopedics, health care reform, underserved communities, and case
presentations by both the Teen Corp and the PA student "mentors." Ms. Berenice Rodriquez, a Paideia
student, who was one of the Teen Corp and Farmworker Project student volunteers won the 2012 Teen
Volunteer of the Year Award.
The 2013 South Georgia Farmworker Health Project is scheduled for June 7 to June 21.
Terry Mize gave a presentation on the South Georgia Farmworker Health Project to the new Dean of the
Emory School of Medicine, , Dr. Chris Larson and Council of Chairs in February.
An article, co-authored by Terri Mize and Jeri Sumitani titled Public Health Impact of Heat-Related
Illness Among Migrant Farmworkers with Nancy Fleisher, PH.D from the CDC was published in the
March, 2013 edition of the American Journal of Preventive Medicine. Congrats to Nancy (now at South
Carolina) who did a masterful job of gathering the data and the methodology of the paper.
Community Medicine Division:
Karen Duncan, MD, nominated by the Grady Health System CEO, participated in the very competitive
National Association of Public Hospitals Leadership Fellowship.
Doris Munoz-Mantilla, MD, is completing her fellowship in Bariatric Medicine.
Quiyang Li, MD, is now Board Certified in Geriatrics. Dr Li was a 2010 graduate of the Emory Family
Medicine Residency Program, and joined our faculty in Community Medicine in 2011.
Congratulations to Irshad Syed, MD, Asa G. Yancey Medical Director. Dr Syed also won first place
in the Georgia Academy of Family Physicians poster presentation for his abstract: Project Healthcare
Access II: The Benefits of Mental Health Case Management in a Primary Care Setting, and is
participating in the Satcher Health Leadership Institute's
In April,2012 the National Committee for Quality Assurance awarded Recognition Level 3 Patient
Centered Medical Home to Grady's North Fulton Health Center and in June 2012 NCQA awarded the
Kirkwood Family Health Center PCMH Recognition level 3
The Asa Yancey and North Fulton Health Center sites have integrated behavioral health with primary
care, and have implemented group diabetic visits at North DeKalb, North Fulton and Kirkwood Family
Medicine Health Centers.
In March 2012, one of our five community health centers, Asa G. Yancey Health Center, won a second
place honorable mention in the national clinical medicine Award of Excellence on Integration
Behavioral Health Integration Curriculum Development Project. We are proud of his leadership &
accomplishments!
SEATEC Division:
In January 2012 SEATEC initiated intensive on-site and team-based training for Community Health
Centers (CHCs) that serve ethnic and racial minority communities highly impacted by HIV and are
initiating or expanding HIV testing and treatment services. Two of these CHCs are located in Atlanta:
Southside Medical Center and HEALing Communities.
Student Health And Counseling Services entered the third year of the "Emory Cares 4 U" program,
funded by the Garrett Lee Smith Memorial Campus Suicide Prevention Grant that Emory University was
awarded by the Substance Abuse and Mental Health Services Administration (SAMHSA). Major grant
related accomplishments included providing gatekeeper training to faculty, staff and students across
campus, continuing the internet based outreach program developed and supported by the American
Foundation for Suicide Prevention, and developing an Emory Cares 4 U web site which includes links to
materials developed specifically through grant related activities.