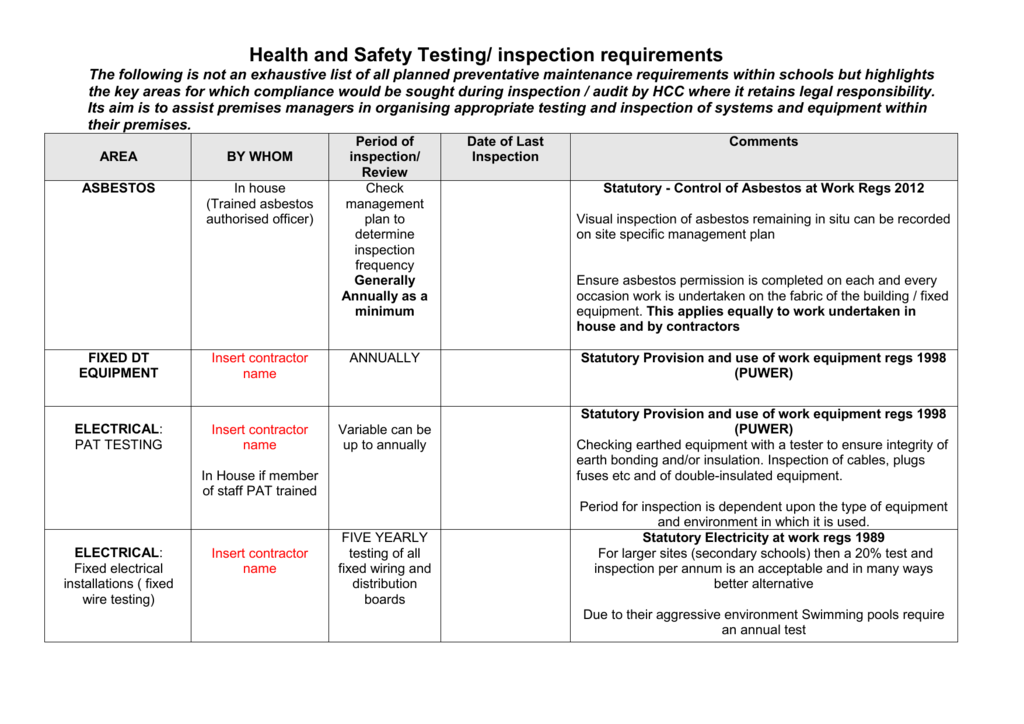 Health and Safety Testing/ inspection requirements
The following is not an exhaustive list of all planned preventative maintenance requirements within schools but highlights
the key areas for which compliance would be sought during inspection / audit by HCC where it retains legal responsibility.
Its aim is to assist premises managers in organising appropriate testing and inspection of systems and equipment within
their premises.
AREA
BY WHOM
ASBESTOS
In house
(Trained asbestos
authorised officer)
Period of
inspection/
Review
Check
management
plan to
determine
inspection
frequency
Generally
Annually as a
minimum
FIXED DT
EQUIPMENT
Insert contractor
name
ANNUALLY
ELECTRICAL:
PAT TESTING
Insert contractor
name
Variable can be
up to annually
In House if member
of staff PAT trained
ELECTRICAL:
Fixed electrical
installations ( fixed
wire testing)
Insert contractor
name
FIVE YEARLY
testing of all
fixed wiring and
distribution
boards
Date of Last
Inspection
Comments
Statutory - Control of Asbestos at Work Regs 2012
Visual inspection of asbestos remaining in situ can be recorded
on site specific management plan
Ensure asbestos permission is completed on each and every
occasion work is undertaken on the fabric of the building / fixed
equipment. This applies equally to work undertaken in
house and by contractors
Statutory Provision and use of work equipment regs 1998
(PUWER)
Statutory Provision and use of work equipment regs 1998
(PUWER)
Checking earthed equipment with a tester to ensure integrity of
earth bonding and/or insulation. Inspection of cables, plugs
fuses etc and of double-insulated equipment.
Period for inspection is dependent upon the type of equipment
and environment in which it is used.
Statutory Electricity at work regs 1989
For larger sites (secondary schools) then a 20% test and
inspection per annum is an acceptable and in many ways
better alternative
Due to their aggressive environment Swimming pools require
an annual test
Period of
inspection/
Review
Date of Last
Inspection
Comments
AREA
BY WHOM
ELECTRONIC
POWERED GATES /
DOORS
Insert contractor
name
6 MONTHLY
IN HOUSE
WEEKLY
Insert contractor
name
ANNUALLY
Check safety devices are working correctly and that the moving
door leaf / gate avoids contact with any person using these.
Statutory Regulatory reform (Fire Safety) Order 2005
Full duration discharge test and certification by competent
person.
IN HOUSE
DAILY
MONTHLY
Daily check that indicator lights are functioning
Monthly in house short duration checks for operability
Insert contractor
name
ANNUALLY
Statutory Regulatory reform (Fire Safety) Order 2005
EMERGENCY
LIGHTING
FIRE ALARM
SERVICE
FIRE ALARM
SERVICE
Insert contractor
name
For 230 volt
systems
without battery
back up
Six Monthly
For systems
with battery
back up
Workplace (Health Safety and welfare) Regs
Existing powered doors and gates must be designed,
constructed and maintained for safety. School to be aware of
existing safety features force limitation and other safety
controls for electronic powered gates to be checked as part of
ongoing maintenance.
Every 6 months a check should be carried out by someone
who is suitably qualified, on the proper working of the safety
devices and service the gate automation devices.
Six monthly checks are a British Standard recommendation.
Test and examination by competent service engineer
Statutory Regulatory reform (Fire Safety) Order 2005
Six monthly battery check, test and examination by competent
service engineer
This check may also include 50% of the automatic smoke /
heat detectors, sounders and manually operated devices
AREA
BY WHOM
FIRE ALARM
TESTING
IN HOUSE
Period of
inspection/
Review
DAILY
WEEKLY
Check alarm is
audible in all
areas.
Record details
of call point
tested
FIRE DRILL
IN HOUSE
TERMLY
FIRE
EXTINGUISHERS
Insert contractor
name
ANNUALLY
FIRE EXIT ROUTES
IN HOUSE
IN HOUSE
WEEKLY
DAILY
Date of Last
Inspection
Comments
Statutory Regulatory reform (Fire Safety) Order 2005
Check fire alarm panel for faults
Fire alarm audibility test conducted by site with a different call
point tested each week in rotation. Number each call point for
identification.
Check that any fire doors on automatic door closures linked to
the fire alarm are closing properly.
Check that any doors on exit routes with electro-magnetic/
electro-mechanical locks release when the alarm is activated.
Statutory Regulatory reform (Fire Safety) Order 2005
Termly drills are best practice and HCC expectation as the
employer
Record details of drill, evacuation time and any problems.
Statutory Regulatory reform (Fire Safety) Order 2005
Weekly in house checks that extinguishers are in place,
available for use, undamaged and unobstructed.
Check for any obstructions on escape routes (internally and
externally)
Doors: check self closing devices, and that push bars/ other
emergency fastening devices are operational
WEEKLY
FIRST AID
EQUIPMENT
IN HOUSE
TERMLY
Check all doors fitted with electromagnetic locks on escape
routes are releasing when fire alarm activates.
Health and safety (first aid) regulations 1981 Regular check
to ensure contents are complete and none are outside of
expiry date
AREA
BY WHOM
FUEL OIL STORAGE
Insert contractor
name
GAS APPPLIANCES
Boilers, catering, DT
etc.
GAS CYLINDERS
Period of
inspection/
Review
Date of Last
Inspection
Comments
Control of pollution (Oil Storage) regs 2011
ANNUALLY
Insert contractor
name
ANNUALLY
IN HOUSE
ANNUALLY
Maintenance check on all oil pipe work
Statutory Gas Safety (Installations and Use) Regs 1998
Gas safety inspection and certificate
Annual servicing for efficient operation
Inspect for damage
Regulators should be sent away for checking every 5 years to
a specialist firm
KILN
Insert contractor
name
LIFTS AND HOISTS
Insert contractor
name
DEPENDANT
ON
FREQUENCY
OF USE
ANNUAL – 3
YEARLY
6 MONTHLY for
all lifts, hoists
and associated
accessories
used to lift
people and all
lifting
accessories
12 MONTHLY
for all other
lifting equipment
goods lifts ,
dumb waiters
etc
Period will vary dependent upon number of firings
Statutory Lift Operations and lifting equipment regs 1998
Thorough examination maintenance and inspection
All lifting accessories (slings, hooks, shackles, ropes etc.)
safety eyes and bolts should also be subject to 6 monthly
inspections by a competent person
Period of
inspection/
Review
ANNUALLY
AREA
BY WHOM
LIGHTNING
CONDUCTORS
Insert contractor
name
LOCAL EXHAUST
VENTILATION
Fume cupboards etc
LPG INSTALLATION
Insert contractor
name
EVERY 14
MONTHS
Insert contractor
name
ANNUALLY
Date of Last
Inspection
Comments
Lightning conductor to be inspected annually (11 months is
actually the recommended frequency – which means over a 12
year period the conductor is tested every month allowing for
seasonal changes in soil resistivity.)
Testing to be carried out to BS 62305:206 comprises :
Continuity tests, earth resistance tests, visual check of
conductors, bonds and joints and a cert of compliance
Statutory Control of substances hazardous to health 2002
Annual LPG user checklist to be conducted, sooner if
any leak is suspected or any work e.g. modifications to area,
extensions etc. is carried out on pipework.
IN HOUSE
Gas appliances to be subject to annual Gas safety inspection
and certificate
Statutory Gas Safety (Installations and Use) Regs 1998
10 year check by gas supplier on tank condition
PLANT ROOMS
AND ELECTRICAL
INTAKE
IN HOUSE
WEEKLY
PLAY / PE
EQUIPMENT
Insert contractor
name
ANNUAL
ACTIVITY TRAIL /
OUTDOOR PLAY
EQUIPMENT
IN HOUSE
Free of storage / combustible materials
TERMLY
FORMAL
CHECK
Best Practice under British Standards
and HCC expectation as the employer
CHECKLIST FOR OUTDOOR PLAY EQUIUPMENT
AREA
BY WHOM
PRESSURE
VESSELS
compressors,
calorifiers and air
receivers etc
Insert contractor
name
e.g. an insurance
company engineer
TREE SAFETY
Insert contractor
name
WATER SYSTEM
TESTING
IN HOUSE
Period of
inspection/
Review
periodic
inspection and
examination
determined by a
competent
person
Determined by
risk assessment
WEEKLY
MONTHLY
QUARTERLY
TERMLY
Insert contractor
name
ANNUALLY
Date of Last
Inspection
Comments
The Pressure Systems Safety Regulations 2000
Written scheme of examination required
Pressure vessels associated with a pressurised hot / cold
water system should have safety valves tested as part of
annual boiler service.
Risk assessment in place providing school with plan for
maintenance review assessment annually.
Statutory COSHH , L8 (Control of legionella bacteria in
water systems ACOP)
Identify and flush seldom used outlets / showers
Check water temperature of first and last taps on a circulating
system. Cold water taps below 20 oC. Hot water taps 50o C.
Where thermostatic mixing valves are fitted the temperature
should be measured at the valve supply point with a contact
thermometer
Check temperatures in flow and return pipework at calorifiers.
The return temperature must be greater than 500 C
Dismantle, clean/disinfect and descale showerheads and
hoses.
At start of term, run all taps for 5 mins to ensure pipes
completely flushed through.
Cold water tank condition lids sealed/lidded to prevent
contamination) and compliance inspection, temperature of
stored water monitored – ideally during summer months a
maximum/ minimum thermometer could be used.
AREA
BY WHOM
Period of
inspection/
Review
Date of Last
Inspection
Comments
WORK AT HEIGHT
LADDER CHECKS
IN HOUSE
MOBILE
SCAFFOLDING
IN HOUSE
FORMALLY
TERMLY
Complete ladder checklist termly
Towers should only be erected / inspected by trained and
competent people.
It must be inspected:
•
after assembly in any position;
•
after any event liable to have affected its stability; and
•
at intervals not exceeding seven days.
Safety eyes, bolts
etc
Insert contractor
name
ANNUALLY
Annual inspection and test to ensure its in safe working order
BS 7883 requires that all safety anchor devices are removable
for periodic inspection. If the eyebolts installed are intended for
rope access use, they will require testing every 6 months.
If the eyebolt system is for Fall Arrest, then they should be
tested annually (12 months).