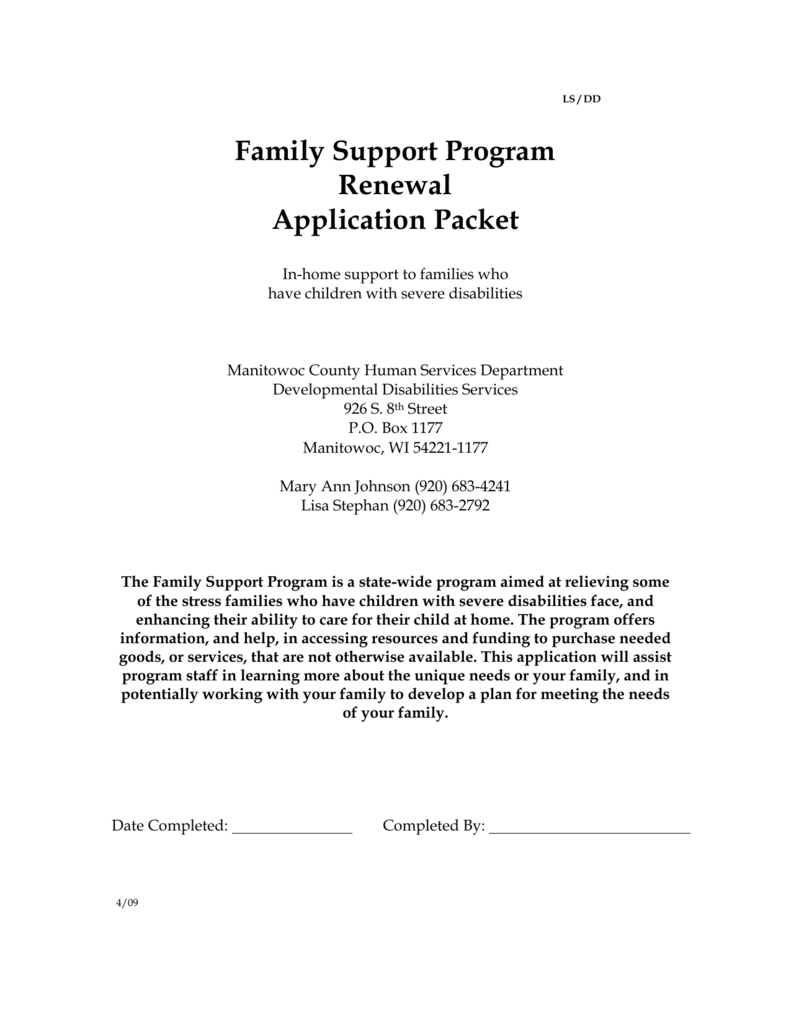 LS / DD
Family Support Program
Renewal
Application Packet
In-home support to families who
have children with severe disabilities
Manitowoc County Human Services Department
Developmental Disabilities Services
926 S. 8th Street
P.O. Box 1177
Manitowoc, WI 54221-1177
Mary Ann Johnson (920) 683-4241
Lisa Stephan (920) 683-2792
The Family Support Program is a state-wide program aimed at relieving some
of the stress families who have children with severe disabilities face, and
enhancing their ability to care for their child at home. The program offers
information, and help, in accessing resources and funding to purchase needed
goods, or services, that are not otherwise available. This application will assist
program staff in learning more about the unique needs or your family, and in
potentially working with your family to develop a plan for meeting the needs
of your family.
Date Completed:
4/09
Completed By:
Child's Last Name
Date of Birth
Child's First Name
SSI#
Parent(s) Name(s)
Home Telephone #
Household Members:
Name
Middle Initial
Sex
Medical Assistance ID #
Address
Work Telephone #
Date of Birth
Relationship
please attach sheet if more space is needed
Diagnostic Information
Diagnosis
Name of Physician
Making Diagnosis
Date of
Diagnosis
Please briefly describe your child's current condition. Please note any changes to
his/her condition within the last year. Also please list strengths of your child.
Physicians and Specialists
Name- Primary Health Care Provider
Type
Address (Street, City, State, Zip Code)
Telephone Number
Name – Psychiatrist
Type
Address (Street, City, State, Zip Code)
Telephone Number
Name
Type
Address (Street, City, State, Zip Code)
Telephone Number
Name
Type
Address (Street, City, State, Zip Code)
Telephone Number
please attach sheet if more space is needed
Hospitalization or out of home placement history List inpatient hospitalization
(including psychiatric), institutional placement or foster care/group home
placement for the past year. Include facility name, dates, address and reason. If
you need additional room please attach a separate sheet.
1.
2.
3.
Please attach sheet if more room is required
Social Service Providers / Resources
Birth to 3 Program
Community Options Program (COP)
Respite Care
Substance Abuse Services
Child Protective Services
Other: Specify
I understand that personally identifiable information on this form is used to help
determine eligibility for Children's Long Term Support Services.
I certify, under the penalty of perjury, that the information on this application
and given in connection with it is a true and complete statement of facts
according to my best knowledge and belief. I also understand that I may be
asked to provide proof of any information given on this application form and
that giving false information may subject me to prosecution for fraud.
_______________________________
SIGNATURE –Child (If age 14 years or older)
Check here if child
is unable to sign
_____________________________________ ______________________
SIGNATURE – Parent or Guardian
Relationship to Child
___________________
Date Signed
___________________
Date Signed
The final page of this application is where you are requested to identify what the
needs of your family are to keep your child in your home. Needs are placed into
4 categories including crisis, at-risk, maintenance, and enhancement. Please
review the following definitions of the 4 categories and place the needs of your
family into the category you best feel it fits.
A. Crisis Category: Where funds would be provided to prevent an imminent
crisis situation.
B. At-Risk Category: Funds provided to families with at risk factors that
increase the likelihood of a crisis situation. At risk is also defined as an
unmet need that would result in greater impairment to the child.
C. Maintenance: Funds needed to continue the quality of care and service
level recognized as necessary for maintaining the child in the home.
D. Enhancement Category: Funding provided to enhance the quality of care
and service level for the child, but not necessary for continued success in
the home environment.