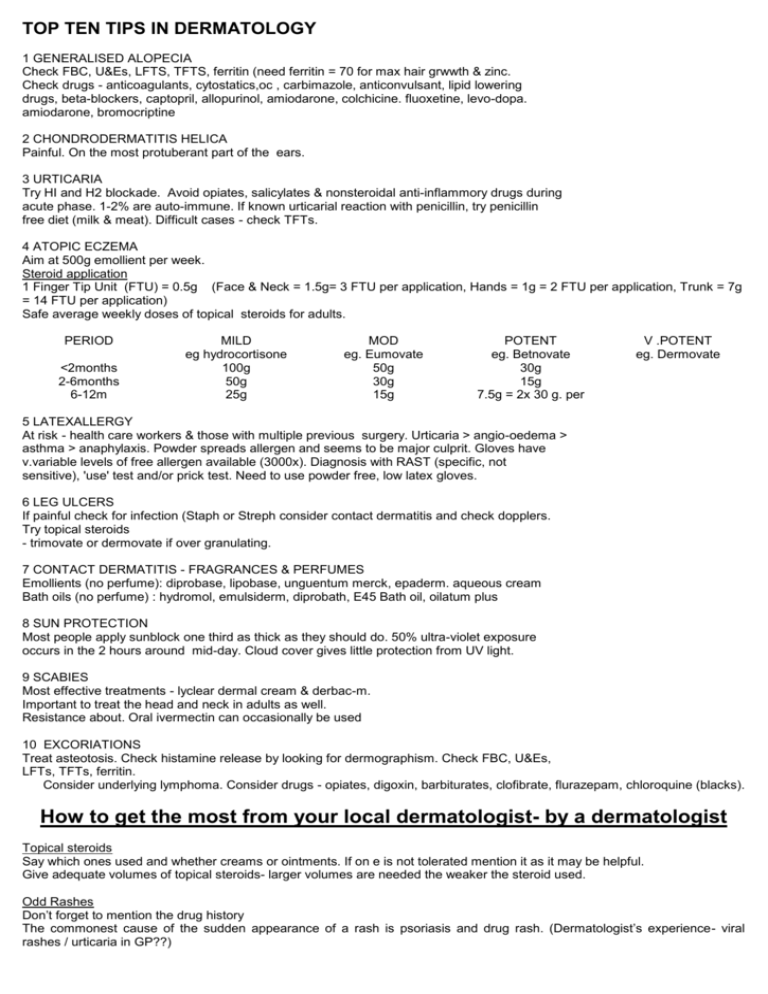 TOP TEN TIPS IN DERMATOLOGY
1 GENERALISED ALOPECIA
Check FBC, U&Es, LFTS, TFTS, ferritin (need ferritin = 70 for max hair grwwth & zinc.
Check drugs - anticoagulants, cytostatics,oc , carbimazole, anticonvulsant, lipid lowering
drugs, beta-blockers, captopril, allopurinol, amiodarone, colchicine. fluoxetine, levo-dopa.
amiodarone, bromocriptine
2 CHONDRODERMATITIS HELICA
Painful. On the most protuberant part of the ears.
3 URTICARIA
Try HI and H2 blockade. Avoid opiates, salicylates & nonsteroidal anti-inflammory drugs during
acute phase. 1-2% are auto-immune. If known urticarial reaction with penicillin, try penicillin
free diet (milk & meat). Difficult cases - check TFTs.
4 ATOPIC ECZEMA
Aim at 500g emollient per week.
Steroid application
1 Finger Tip Unit (FTU) = 0.5g (Face & Neck = 1.5g= 3 FTU per application, Hands = 1g = 2 FTU per application, Trunk = 7g
= 14 FTU per application)
Safe average weekly doses of topical steroids for adults.
PERIOD
<2months
2-6months
6-12m
MILD
eg hydrocortisone
100g
50g
25g
MOD
eg. Eumovate
50g
30g
15g
POTENT
eg. Betnovate
30g
15g
7.5g = 2x 30 g. per
V .POTENT
eg. Dermovate
5 LATEXALLERGY
At risk - health care workers & those with multiple previous surgery. Urticaria > angio-oedema >
asthma > anaphylaxis. Powder spreads allergen and seems to be major culprit. Gloves have
v.variable levels of free allergen available (3000x). Diagnosis with RAST (specific, not
sensitive), 'use' test and/or prick test. Need to use powder free, low latex gloves.
6 LEG ULCERS
If painful check for infection (Staph or Streph consider contact dermatitis and check dopplers.
Try topical steroids
- trimovate or dermovate if over granulating.
7 CONTACT DERMATITIS - FRAGRANCES & PERFUMES
Emollients (no perfume): diprobase, lipobase, unguentum merck, epaderm. aqueous cream
Bath oils (no perfume) : hydromol, emulsiderm, diprobath, E45 Bath oil, oilatum plus
8 SUN PROTECTION
Most people apply sunblock one third as thick as they should do. 50% ultra-violet exposure
occurs in the 2 hours around mid-day. Cloud cover gives little protection from UV light.
9 SCABIES
Most effective treatments - lyclear dermal cream & derbac-m.
Important to treat the head and neck in adults as well.
Resistance about. Oral ivermectin can occasionally be used
10 EXCORIATIONS
Treat asteotosis. Check histamine release by looking for dermographism. Check FBC, U&Es,
LFTs, TFTs, ferritin.
Consider underlying lymphoma. Consider drugs - opiates, digoxin, barbiturates, clofibrate, flurazepam, chloroquine (blacks).
How to get the most from your local dermatologist- by a dermatologist
Topical steroids
Say which ones used and whether creams or ointments. If on e is not tolerated mention it as it may be helpful.
Give adequate volumes of topical steroids- larger volumes are needed the weaker the steroid used.
Odd Rashes
Don't forget to mention the drug history
The commonest cause of the sudden appearance of a rash is psoriasis and drug rash. (Dermatologist's experience- viral
rashes / urticaria in GP??)
Acne
When referring a patient with poor control, don't forget to mention the doses and duration of each drug used as poor response
is soften related to dose & duration
Pigmented Lesions
When referring a patient with a lesion, don't forget to mention whether you think it could be a melanoma. It is helpful to know if
you know it is a dermatofibroma, a basal cell pappilloma or cosmetically annoying skin tag.
Disease History
Don't forget to mention pacemakers, pregnancy, recent MIs or CABG, aspirin, warfarin, haemophilia, reactions to local
anaesthetic or tachyarhthmias, particularly if surgery is contemplated.