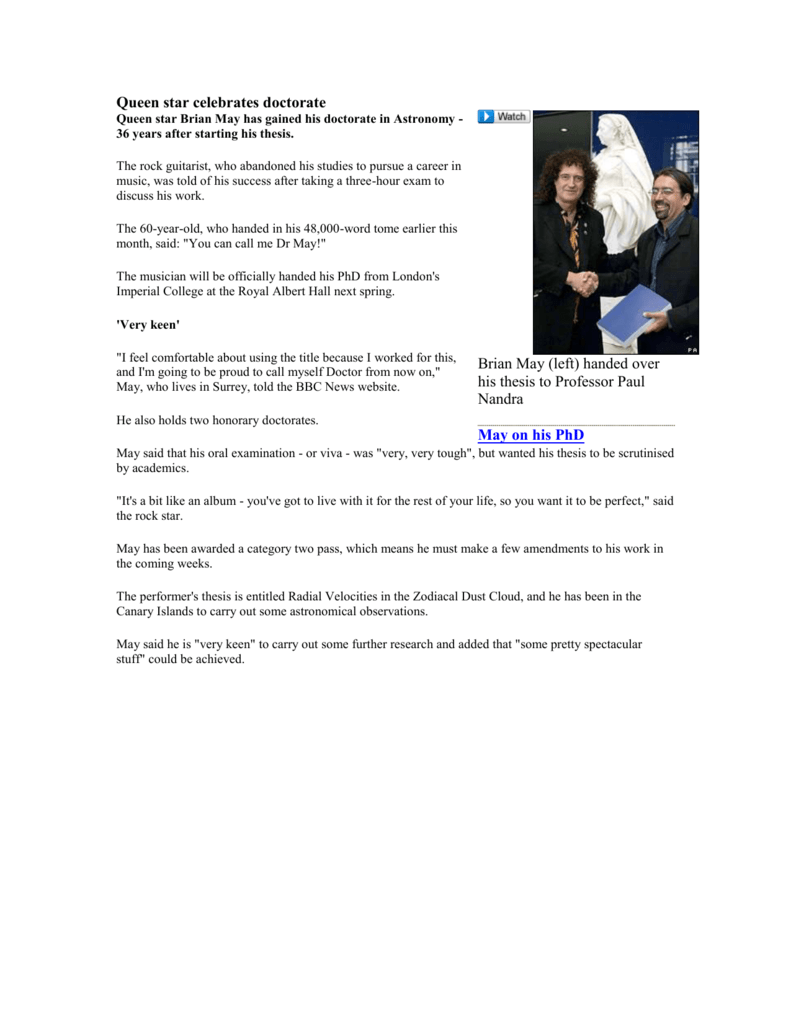 Queen star celebrates doctorate
Queen star Brian May has gained his doctorate in Astronomy 36 years after starting his thesis.
The rock guitarist, who abandoned his studies to pursue a career in
music, was told of his success after taking a three-hour exam to
discuss his work.
The 60-year-old, who handed in his 48,000-word tome earlier this
month, said: "You can call me Dr May!"
The musician will be officially handed his PhD from London's
Imperial College at the Royal Albert Hall next spring.
'Very keen'
"I feel comfortable about using the title because I worked for this,
and I'm going to be proud to call myself Doctor from now on,"
May, who lives in Surrey, told the BBC News website.
Brian May (left) handed over
his thesis to Professor Paul
Nandra
He also holds two honorary doctorates.
May on his PhD
May said that his oral examination - or viva - was "very, very tough", but wanted his thesis to be scrutinised
by academics.
"It's a bit like an album - you've got to live with it for the rest of your life, so you want it to be perfect," said
the rock star.
May has been awarded a category two pass, which means he must make a few amendments to his work in
the coming weeks.
The performer's thesis is entitled Radial Velocities in the Zodiacal Dust Cloud, and he has been in the
Canary Islands to carry out some astronomical observations.
May said he is "very keen" to carry out some further research and added that "some pretty spectacular
stuff" could be achieved.