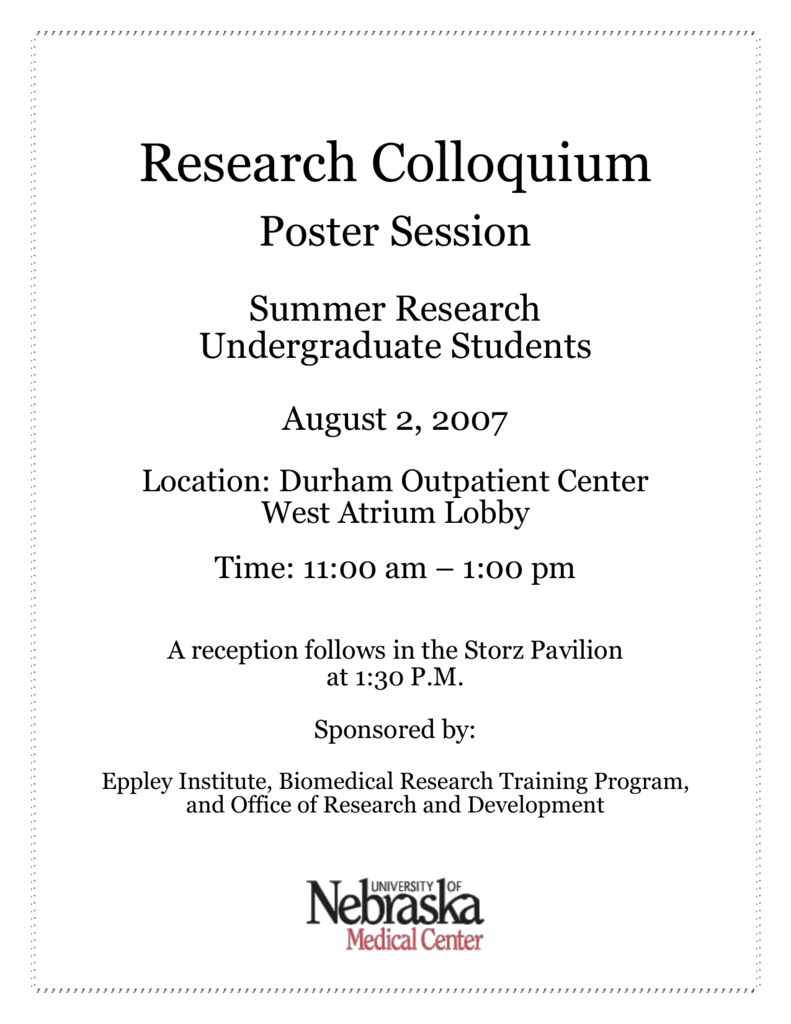 Research Colloquium
Poster Session
Summer Research
Undergraduate Students
August 2, 2007
Location: Durham Outpatient Center
West Atrium Lobby
Time: 11:00 am – 1:00 pm
A reception follows in the Storz Pavilion
at 1:30 P.M.
Sponsored by:
Eppley Institute, Biomedical Research Training Program,
and Office of Research and Development
POSTER
NUMBER
1
2
3
ANESTHESIA
"Preoperative, Intraoperative, & Postoperative Pain Perceptions as
Reported by Chronic Pain Patients"
Kathryn Kersenbrock, Creighton University, Hiba Ahmad, Creighton Univerity,
Kiran Napa, Creighton University
Franklin Cobos II, M.D.
"Predicting Emergence Times from General Anesthesia"
Kiran Napa, Creighton University, Hiba Ahmad, Creighton Univerity, Kathryn
Kersenbrock, Creighton University
Franklin Cobos II, M.D.
"Risks Associated with Post-Operative Myocardial Infarction in Patients
Undergoing Surgical Procedures at an Academic Medical Center"
Kathryn Kersenbrock, Creighton University
Sasha Shillcutt, M.D.
BIOCHEMISTRY & MOLECULAR BIOLOGY
4
5
6
7
"Probing the Role of the C-terminal Noncatalytic Region of Myotubularin"
Kimberly Acker, Concordia University
Gregory Taylor, Ph.D.
"Comparative Methods of Protein Extraction from Octopus Hot Spring
Microbial Mat"
Sharlay Butler, Midland Lutheran College
Laurey Steinke, Ph.D., Robert F. Ramaley, Ph.D. and Michelle Fontaine, B.S.
"Effects of Phosphorylation of the Longest Carboxyl Terminal of
Connexin 43"
Khristian Harris, Virginia State University
Paul Sorgen, Ph.D., Sylvie Chenevas, Ph.D., and Denis Bouvier, Ph.D.
"Effects of RUNX3 Over-expresion in Pancreatic Cancer Cells"
Brandon Vanhessche, Rockhurst University
Surinder K. Batra, Ph.D. and Maneesh Jain, Ph.D.
CELLULAR & INTEGRATIVE PHYSIOLOGY
8
9
"Baroreflex Impairment in Streptozotocin Induced Type-1 Diabetic
Rats"
Richard Akromis, Kansas State University
Harold Schultz, Ph.D.
"Exercise Training Normalizes Upregulated Angiotensin Converting
Enzyme in the Brain of Rabbits with Pacing Induced Chronic Heart
Failure"
Sumit Kar, Millard North High School
Irving H. Zucker, Ph.D.
EPPLEY INSTITUTE FOR RESEARCH IN CANCER
10
"Influence of Amyloid Precursor-Like Protein 2 and Invariant Chain on the
Cell Surface Expression of Major Histocompatibility Complex Class I
Molecules"
Austin Ahles, Missouri Southern State University
Joyce Solheim, Ph.D.
11
12
13
14
15
16
17
18
19
20
"Maldi-Tof/Tof Mass Spectroscopy To Study Organophosphate Interaction
With Plasma Proteins"
John Carr, Missouri Southern State University
Shi-Jian Ding, Ph.D. and Oksana Lockridge, Ph.D.
"Expression and Purification of Tsg101, CT-Tsg101, and UEV Domain of
Tsg101 Proteins"
Christopher J. Danford, Stanford University
Gloria Borgstahl, Ph.D. and Admir Kellezi
"Mutagenic Characterization of Human ITPA"
Kathryn Spitler, Drake University
Elena Stepchenkova, Ph.D. and Youri Pavlov, Ph.D.
INTERNAL MEDICINE
"Adenosine Receptor(s) Activation is Involved in Epithilial Ciliary Motility"
DeAndre Bluitt, University of North Texas
Diane Allen-Gipson, Ph.D. and Justin Jarrell, B.S.
"Effect Of PPAR-Gamma Agonists On Fgfand Insulin Stimulated ERK1/2
Invascular Smooth Muscle Cells"
Anthony Brand, University of Nebraska at Omaha
Cyrus Desouza, M.D., Mark Solomon
"Mechanism of Prostaglandin D2 Inhibition of Fibroblast Mediated
Collagen Gel Contraction"
Whitney Ijem, Washington University in St. Louis
Steven Rennard, M.D. and Amy Nelson
"An Essential Role of Early Growth Response -1 in Alcohol Induced Fatty
Liver".
Megan Millea, Xavier University
Terrance M. Donohue, Ph.D.
"Possible Involvement of MAPK p38 in the Ethanol-induced G2/M
Cell Cycle Arrest"
Brigitte Pohren,
Dahn Clemens, Ph.D. and Katrina Mahon
"The Effect of IGF-1 on HBF and HFL Mediated Collagen Gel
Contractions"
Humaira Qasimyar, University of Nebraska at Omaha
Martin Liu, M.D. and Mona Al-mugotir
"Alcohol Exposure Attenuates Airway Smooth Muscle Contraction"
Chelsea Ruhge, Nebraska Wesleyan University
Peter Oldenburg, Ph.D., Todd Wyatt, Ph.D., and Joseph Sisson, M.D.
MD/PhD PROGRAM
21
22
"Differentiation of Human Embryonic Stem Cells Toward Hepatocytes"
Eric Bonness, University of Nebraska - Lincoln
Ira Fox, M.D.
Surgery Department
"Collagen mRNA Expression in Lung Fibroblasts"
Dixon Dorand, University of Alabama at Birmingham
Stephen I. Rennard, M.D.
Internal Medicine Department
23
24
25
26
27
28
29
30
31
32
"Identification of Transcriptional Targets of NR2E3 Using Chromatin
Immunoprecipitation and ChIP on Chip Microarray Analysis"
Meghan Gaule, University of Notre Dame
Neena B. Haider, Ph.D.
Genetics, Cell Biology and Anatomy Department
"Control of Progesterone Synthesis: Effects of Metformin and AICAR on
Steroidogenic Cells"
Lauren Gengenbach, Nebraska Wesleyan University
John Davis, Ph.D. and Sharon Hou, M.D.
Obstetrics & Gynecology Department
"The Interaction Of VASP With IP3R And TRPC Calcium Channels In
MDCK Cells"
Andy Huss, Rice University
Steven Sansom, Ph.D.
Cellular and Integrative Physiology Department
"Fas-Mediated Apoptosis Regulates Iron Metabolism in Vivo"
Chris Jensen, Rice University
Dee Harrison-Findik, Ph.D., D.V.M.
Internal Medicine Department
"Comparison of Transabdominal Ultrasound and Electromagnetic
Transponders for Prostate Localization: Clinical Experience in a Large
Patient Population"
Andrew Kerkhoff, University of North Carolina of Chapel Hill
Ryan D. Foster, Ph.D. and Timothy D. Solberg, Ph.D.
Radiation Oncology Department
"Expression of Mucin Biomarkers in Human Pancreatic Cancer Tissue"
Katie Lutz, Iowa State University
Tony Hollingsworth, Ph.D.
Eppley Research Institute
"Glutaminase Release from Damaged Macrophages: A Mechanism for
Excitotoxicity in HIV Associated Dementia"
Emma Meyer, Carleton College
Jialin Zheng, M.D.
Pharmacology and Experimental Neuroscience Department
"IL-1ß-induced Human Astrocyte Activation Causes Impaired Glutamate
Clearance: Mechanistic Links to HIV-Associated Dementia"
Crystal Reyelts, Vanderbilt University
Wei Kou, M.D., Ph.D. and Anuja Ghorpade, Ph.D.
Pharmacology & Experimental Neuroscience Department
"The Role Of CTLA4 In The Pathogenesis Of CLL Subgroups"
Rae Rohlfsen, Saint Louis University
Shantaram S. Joshi, Ph.D.
Genetics, Cell Biology, and Anatomy Department
"Applications of Mass Spectrometry to the Characterization of
Organophosphate Adducts of Proteins"
Lawrence Yun Tong, Boston College
Oksana Lockridge, Ph.D
Eppley Research Institute
PEDIATRICS
33
34
35
36
37
38
39
40
41
42
43
"Seasonal Comparison of Vitamin D Levels in Patients with Cystic Fibrosis"
Natalie Brooks, Nebraska Wesleyan University
Heather Thomas, M.D.
"Sjögren-Larsson Syndrome: Large Gene Deletions Detected by Inverse
PCR"
Holly Engelstad, Iowa State University
William Rizzo, M.D.
"Histochemical Localization of FALDH in WIld-Tyoe and FALDH
Deficient Mouse Tissues"
Joseph V. Lamar, University of Nebraska at Omaha
William B. Rizzo, M.D.
"Adolescent Health Findings: City Data from the 2005 Youth Risk Behavior
Surveillance System"
Zack Sutton, Creighton University
Carol Gilbert, M.S. and Patrick Simpson, M.P.H.
PHARMACOLOGY & EXPERIMENTAL NEUROSCIENCE
"HIV-1 And Viral Glycoproteins Induce Dysfunction Of Human Brain
Endothelium Via The JAK/STAT Signaling Pathway"
Sidra Akhter, Millard North High School
Georgette Kanmogne, Ph.D. and Sangya Singh
"Optimization of a Method for the Purification of the Ryanodine Receptor
(RyR2) by GST-FKBP12.6 Affinity Chromatography"
Andrew Barnett, Drake University
Keshore Bidasee, Ph.D., Chung-Hong Shao, Ph.D., and Xiaoyan Feng
"Stimulation of Lung Fibroblasts-Mediated Collagen Gel Contraction by
Lysophosphatidic Acid"
Stephanie Brady, University of Nebraska at Omaha
Myron Toews, Ph.D., Karen Kassel, Ph.D., and Nancy Schulte
"Selectivity of NU Drugs for Human Alpha-2B Adrenergic Receptors Over
Alpha-2A and Alpha-2B Adrenergic Receptors"
Abigail Fitzgerald, Hastings College
David Bylund, Ph.D., Jeff Anderson, and Chris Taylor
"Creation of an Adeno-Associated Virus to Up-Regulate Glyoxalase I
Expression in Diabetic Rats"
Jose M. Lopez, University of Texas - Pan American
Keshore Bidasee, Ph.D., Chun-Hong Shao, M.D., Ph.D.,
Tsuneya Ikezu, M.D., Ph.D. and Xiaoyan Feng
"A Humanized Mouse Model in the Study of Human Immunodeficiency
Virus Type 1 Pathogenesis and Vaccine Response"
Aaron Persinger, Nebraska Wesleyan University
Howard E. Gendelman, M.D., Larisa Poluektova, M.D.,Ph.D., and Santhi
Gorantula, Ph.D.
"Macrophage-based Anti-Retroviral Delivery: Implications for HIV-1
Associated Dementia"
Ben Robbins, Grand Island Senior High
Huanyu Dou, M.D., Cassi Grotepas
44
45
46
"Immunohistochemical Analysis of Tau-Tubulin Kinase 1 and P301L Tau
Mutant/Tau-Tubulin Kinase 1 Transgenic Mice"
Russell Swan, University of Nebraska-Lincoln,
Tsuneya Ikezu, M.D., Ph.D
(Presented by Ben Robbins)
"Microglia-Astrocyte Crosstalk and the Neuropathogenesis of HIV-1
Infection"
Juliet Silberstein, Amherst College
Howard Gendelman, M.D. and Tong Wang, Ph.D
"Transcription Factor FOXO3a Mediates Apoptosis in Human Neural
Progenitor Cells"
Marrisa Yang, University of North Texas
Jialin Zheng, M.D., Yunlong Huang, M.D., Ph.D.
PHARMACEUTICAL SCIENCES
47
48
49
50
51
52
53
54
55
"LHRH-Receptor Targeted Prostate Cancer Therapy"
Jennifer Christie, Hampton University
Uday Kompella, Ph.D.
"The Usefulness of an Ex-Vivo Bovine Eye Model for Examining the
Corneal Penetration of Topical Ophthalmic Drugs"
Joe Hejkal, University of Dallas
Uday Kompella, Ph.D.
"Does the Stability of a DNA Duplex Affect the Formation of Its Related
Triplex?"
Ian Herran, University of Texas
Luis Marky Ph.D., Irine Khutsishvili, Ph.D., and Hui-Ting Lee
"Folate-Nanogel Mediated Targeting of MGTP to Leukemic Cancer Cells"
Jared Knoell, University of Nebraska-Lincoln
Serguei V. Vinogradov, Ph.D.
"Combinations of 1,2,4-Trioxolanes with Chemotherapeutic Agents"
Kiel Neumann, University of Nebraska at Omaha
Jonathon L. Vennerstrom, Ph.D., Yuxiang Dong, Ph.D., and
Richard Lomneth, Ph.D.
"Quantitative Structure Pharmacokinetic Relationships for Intravitreal
Drug Clearance"
Shruti Senapati, Georgia Institute of Technology
Uday B. Kompella, Ph.D. and Chandrasekar Durairaj, Ph.D.
"Synthesis of an Antimalarial Trioxolane Containing an Aniline Moiety"
Xu (Sherry) Wang, Washington University in St. Louis
Jonathan Vennerstrom, Ph.D.
"The in vitro Double Targeting of DNA Single Strands Yields Stable
Bimolecular Triplexes"
Lela Waters, Northwestern University
Luis A. Marky, Ph.D. and Hui-Ting Lee
"Cytotoxicity and Uptake of Spermine Modified Pluronics and Cancer
Therapy Drug, FdUTP, in PC-3 Cell Lines"
Brittany Williams, Creighton University
Serguei Vinogradov, Ph.D.
56
SURGERY
"TGF-â Induced JNK Phosphorylation in Smooth Muscle Cells"
Rachel Quinn, Creighton University
B. Timothy Baxter, M.D.