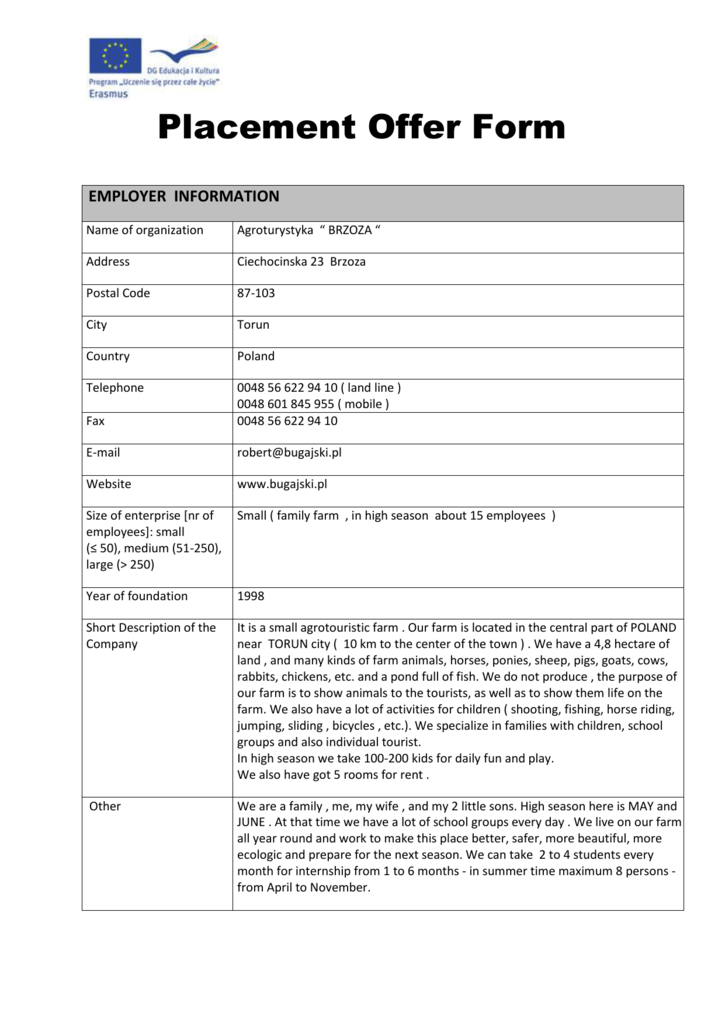 Placement Offer Form
EMPLOYER INFORMATION
Name of organization
Agroturystyka " BRZOZA "
Address
Ciechocinska 23 Brzoza
Postal Code
87-103
City
Torun
Country
Poland
Telephone
Fax
0048 56 622 94 10 ( land line )
0048 601 845 955 ( mobile )
0048 56 622 94 10
E-mail
[email protected]
Website
www.bugajski.pl
Size of enterprise [nr of
employees]: small
(≤ 50), medium (51-250),
large (> 250)
Small ( family farm , in high season about 15 employees )
Year of foundation
1998
Short Description of the
Company
It is a small agrotouristic farm . Our farm is located in the central part of POLAND
near TORUN city ( 10 km to the center of the town ) . We have a 4,8 hectare of
land , and many kinds of farm animals, horses, ponies, sheep, pigs, goats, cows,
rabbits, chickens, etc. and a pond full of fish. We do not produce , the purpose of
our farm is to show animals to the tourists, as well as to show them life on the
farm. We also have a lot of activities for children ( shooting, fishing, horse riding,
jumping, sliding , bicycles , etc.). We specialize in families with children, school
groups and also individual tourist.
In high season we take 100-200 kids for daily fun and play.
We also have got 5 rooms for rent .
Other
We are a family , me, my wife , and my 2 little sons. High season here is MAY and
JUNE . At that time we have a lot of school groups every day . We live on our farm
all year round and work to make this place better, safer, more beautiful, more
ecologic and prepare for the next season. We can take 2 to 4 students every
month for internship from 1 to 6 months - in summer time maximum 8 persons from April to November.
CONTACT PERSON DETAILES
Name
Robert Bugajski
Department / Function
Owner
Direct telephone number
0048 56 622 94 10
Direct mobile
0048 601 845 955
Direct e-mail address
[email protected]
PLACEMENT INFORMATION
Department / Function
Manual worker at agroturistic farm
Description of activities
Helping out on the farm, caring for animals and helping in modernizing
projects
Duration
1-12 months
Working hours / Weekly
working hours
Working from 08 a.m. to 03 p.m./ 35 hours weekly
City
Toruń Brzoza
Help with finding
accommodation
We provide free accommodation on our farm with free internet wi-fi.
Financial contribution
none
Other
We provide transportation from airport to our farm and return.
We provide basic meals, but not vegetarian or connected with religion.
REQIUREMENTS
Oral and written language Oral English - intermediate level
skills
Field of study
Bioindustrial Science – Agriculture,
Tourism and Recreation, Veterinary, Biology, Zoology.
Computer skills
Basic skills
Other
Teamwork skills, self-reliance, sense of responsibility for the undertaken
tasks.