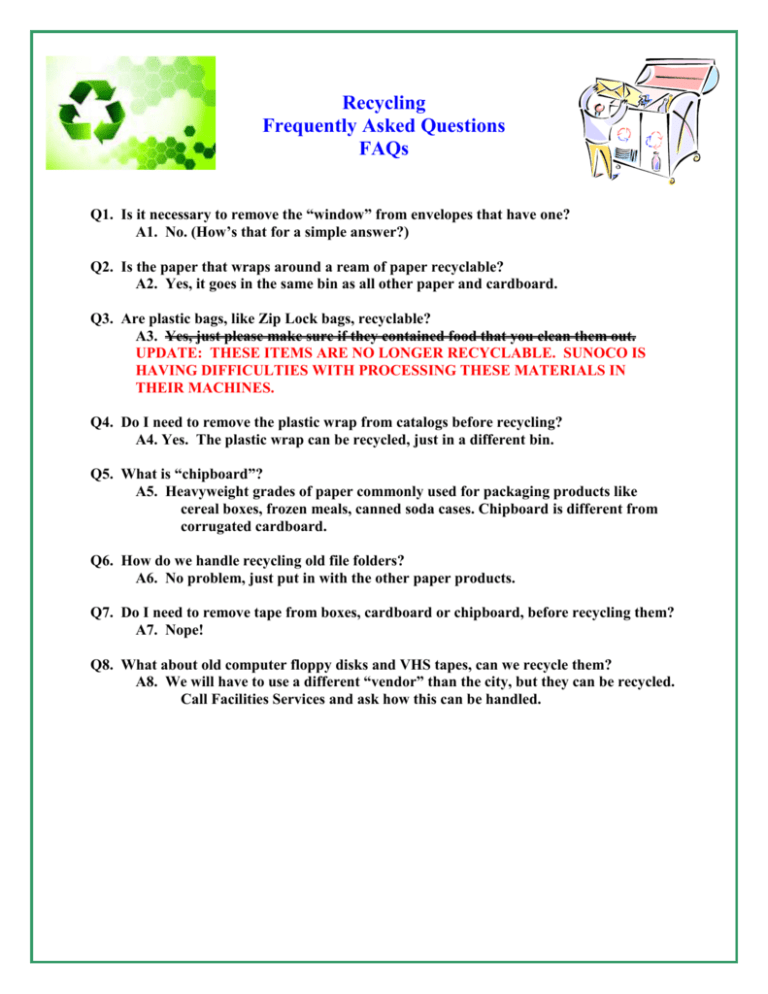 Recycling
Frequently Asked Questions
FAQs
Q1. Is it necessary to remove the "window" from envelopes that have one?
A1. No. (How's that for a simple answer?)
Q2. Is the paper that wraps around a ream of paper recyclable?
A2. Yes, it goes in the same bin as all other paper and cardboard.
Q3. Are plastic bags, like Zip Lock bags, recyclable?
A3. Yes, just please make sure if they contained food that you clean them out.
UPDATE: THESE ITEMS ARE NO LONGER RECYCLABLE. SUNOCO IS
HAVING DIFFICULTIES WITH PROCESSING THESE MATERIALS IN
THEIR MACHINES.
Q4. Do I need to remove the plastic wrap from catalogs before recycling?
A4. Yes. The plastic wrap can be recycled, just in a different bin.
Q5. What is "chipboard"?
A5. Heavyweight grades of paper commonly used for packaging products like
cereal boxes, frozen meals, canned soda cases. Chipboard is different from
corrugated cardboard.
Q6. How do we handle recycling old file folders?
A6. No problem, just put in with the other paper products.
Q7. Do I need to remove tape from boxes, cardboard or chipboard, before recycling them?
A7. Nope!
Q8. What about old computer floppy disks and VHS tapes, can we recycle them?
A8. We will have to use a different "vendor" than the city, but they can be recycled.
Call Facilities Services and ask how this can be handled.