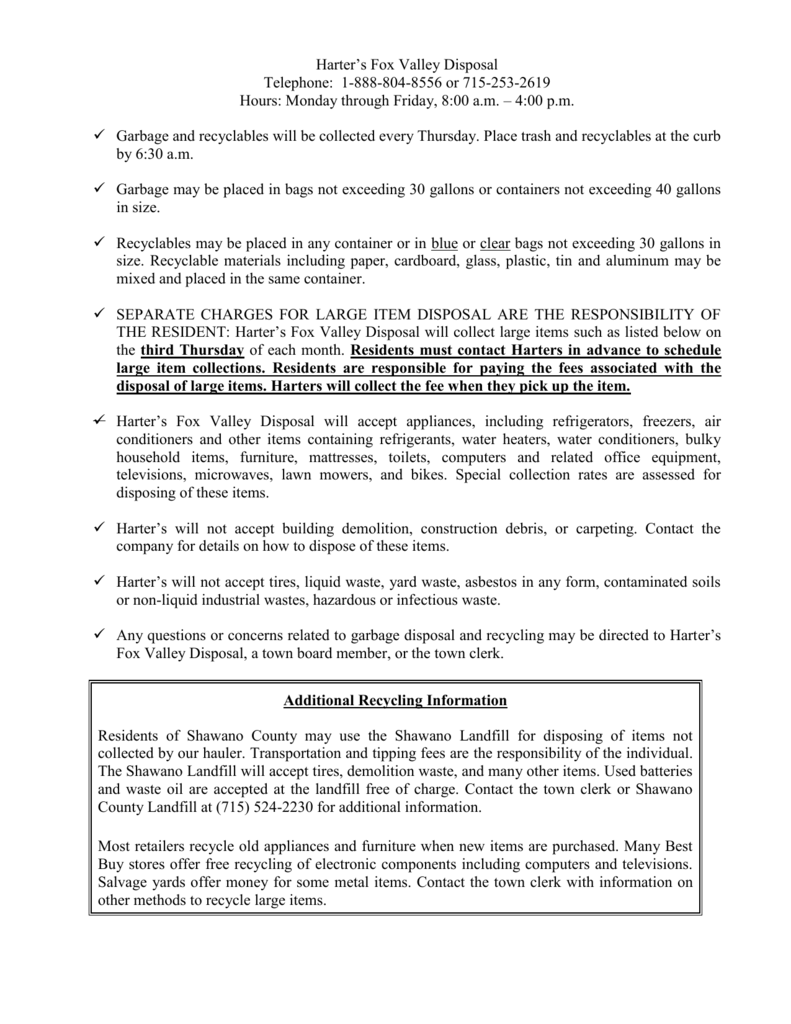 Harter's Fox Valley Disposal
Telephone: 1-888-804-8556 or 715-253-2619
Hours: Monday through Friday, 8:00 a.m. – 4:00 p.m.
 Garbage and recyclables will be collected every Thursday. Place trash and recyclables at the curb
by 6:30 a.m.
 Garbage may be placed in bags not exceeding 30 gallons or containers not exceeding 40 gallons
in size.
 Recyclables may be placed in any container or in blue or clear bags not exceeding 30 gallons in
size. Recyclable materials including paper, cardboard, glass, plastic, tin and aluminum may be
mixed and placed in the same container.
 SEPARATE CHARGES FOR LARGE ITEM DISPOSAL ARE THE RESPONSIBILITY OF
THE RESIDENT: Harter's Fox Valley Disposal will collect large items such as listed below on
the third Thursday of each month. Residents must contact Harters in advance to schedule
large item collections. Residents are responsible for paying the fees associated with the
disposal of large items. Harters will collect the fee when they pick up the item.
 Harter's Fox Valley Disposal will accept appliances, including refrigerators, freezers, air
conditioners and other items containing refrigerants, water heaters, water conditioners, bulky
household items, furniture, mattresses, toilets, computers and related office equipment,
televisions, microwaves, lawn mowers, and bikes. Special collection rates are assessed for
disposing of these items.
 Harter's will not accept building demolition, construction debris, or carpeting. Contact the
company for details on how to dispose of these items.
 Harter's will not accept tires, liquid waste, yard waste, asbestos in any form, contaminated soils
or non-liquid industrial wastes, hazardous or infectious waste.
 Any questions or concerns related to garbage disposal and recycling may be directed to Harter's
Fox Valley Disposal, a town board member, or the town clerk.
Additional Recycling Information
Residents of Shawano County may use the Shawano Landfill for disposing of items not
collected by our hauler. Transportation and tipping fees are the responsibility of the individual.
The Shawano Landfill will accept tires, demolition waste, and many other items. Used batteries
and waste oil are accepted at the landfill free of charge. Contact the town clerk or Shawano
County Landfill at (715) 524-2230 for additional information.
Most retailers recycle old appliances and furniture when new items are purchased. Many Best
Buy stores offer free recycling of electronic components including computers and televisions.
Salvage yards offer money for some metal items. Contact the town clerk with information on
other methods to recycle large items.
TOWN
OF
GRANT
Website: www.townofgrant.com
Grant Town Board
Chairman
Richard Britzke
N3926 Verg Road
Tigerton, WI 54486
715/754-5067
Clerk - Kay Blum
W12745 Grant Road
Caroline, WI 54928
[email protected]
715/754-2223
Fax: 715/754-2218
Grant Plan Commission
Ken Huebner, Chairman
Sue Raether, Clerk
Armond Schmidt
Gene Mehlberg
Dale Klitz
Supervisors
Dale Klitz
N3781 County Road G
Caroline, WI 54928
715/754-2057
Treasurer - Rick Grunewald
PO Box 93
Caroline, WI 54928
[email protected]
715-853-8739
Town Hall Reservations
Audrey Pockat
715/754-5319
Bill Bowers
N2901 County Road G
Marion, WI 54950
715/754-5762
Road Maintenance
Mike Fritz
715/754-2744
Board Meetings
Usually 1st Monday/7:30 p.m.
Grant Town Hall
W12610 County Road M
Caroline, WI 54928
715/754-4949
Building Inspector
Larry Joos
715-754-2984
Caroline Sanitary District
Dale Klitz, President
Annette Schmidt, Secretary
Joanne Kostlevy, Treasurer
Scott Zillmer, Sanitation Engineer
Armond Schmidt, Maintenance
Town Annual Meeting
Tuesday, April 16, 2013
Contact the town clerk for
voter registration information.
Burning Permits
Permits are required for burn barrels and brush burning in the Town of Grant. Burning permits
are available at Plain Sense Printing, 744 Main Street, Caroline, Wisconsin.
Only the following items can be burned in barrels: leaves, plant clippings, paper, cardboard,
and clean untreated wood. However, clean paper and cardboard should be recycled rather than burned.
Prohibited materials include household garbage, wet food scraps, plastics, foam, synthetic materials,
treated/painted wood, asphalt, rubber and other man-made materials. Burning prohibited materials
releases harmful chemicals, such as dioxins, mercury, and lead into the air, soil and water of our
beautiful state. Please use burn barrels sparingly and do not burn prohibited materials. Thank you.
Building Permits
Residents are reminded that since January 1, 2001, the Town of Grant has adopted an ordinance
complying with the regulations set forth by the State of Wisconsin Uniform Dwelling Code. All new
home construction, garages, decks, outbuildings, changes in heating, air conditioning, plumbing
systems, and remodeling upgrades to existing structures in excess of $1,000.00 require a building
permit. Residing, re-roofing, painting or refinishing of interior surfaces, and the installation of cabinetry
may be exempt unless the project results in a change to the original structure of the home. Building
permits may be obtained from Larry Joos, Town of Grant Building Inspector.
Driveway Permits
Permits are required for the installation of a culvert, construction of new driveways, or the
modification of existing driveways. Permit applications are available from the clerk, chairman, road
maintenance employee, and building inspector.