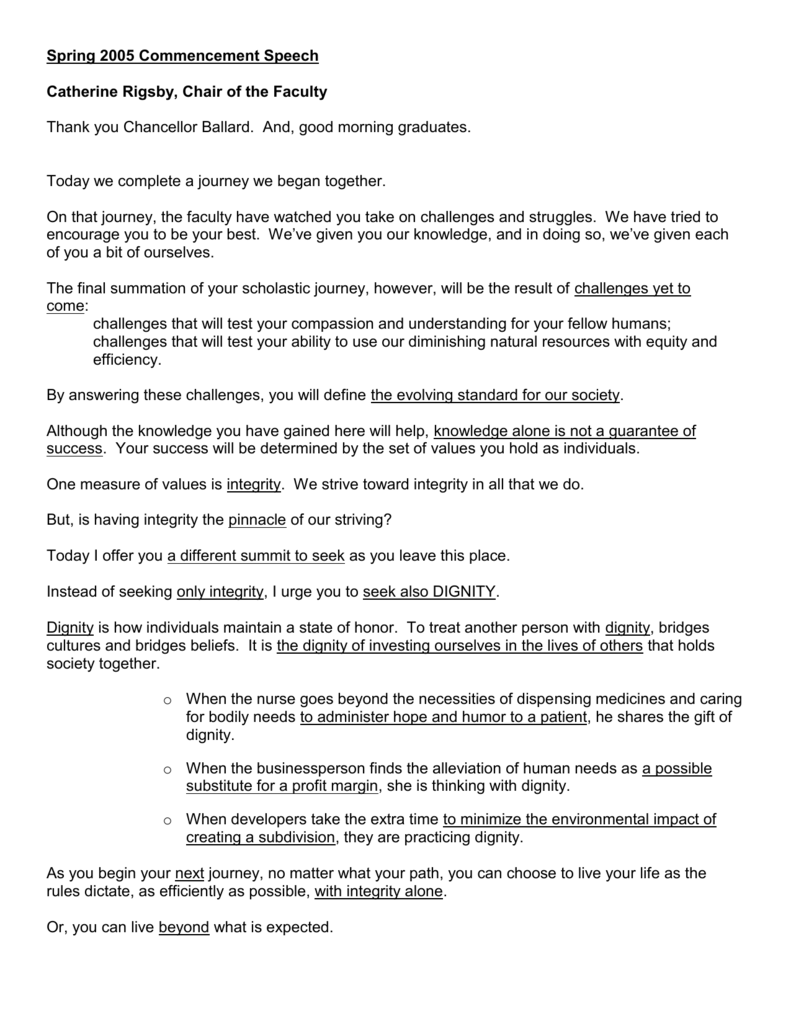 Spring 2005 Commencement Speech
Catherine Rigsby, Chair of the Faculty
Thank you Chancellor Ballard. And, good morning graduates.
Today we complete a journey we began together.
On that journey, the faculty have watched you take on challenges and struggles. We have tried to
encourage you to be your best. We've given you our knowledge, and in doing so, we've given each
of you a bit of ourselves.
The final summation of your scholastic journey, however, will be the result of challenges yet to
come:
challenges that will test your compassion and understanding for your fellow humans;
challenges that will test your ability to use our diminishing natural resources with equity and
efficiency.
By answering these challenges, you will define the evolving standard for our society.
Although the knowledge you have gained here will help, knowledge alone is not a guarantee of
success. Your success will be determined by the set of values you hold as individuals.
One measure of values is integrity. We strive toward integrity in all that we do.
But, is having integrity the pinnacle of our striving?
Today I offer you a different summit to seek as you leave this place.
Instead of seeking only integrity, I urge you to seek also DIGNITY.
Dignity is how individuals maintain a state of honor. To treat another person with dignity, bridges
cultures and bridges beliefs. It is the dignity of investing ourselves in the lives of others that holds
society together.
o When the nurse goes beyond the necessities of dispensing medicines and caring
for bodily needs to administer hope and humor to a patient, he shares the gift of
dignity.
o When the businessperson finds the alleviation of human needs as a possible
substitute for a profit margin, she is thinking with dignity.
o When developers take the extra time to minimize the environmental impact of
creating a subdivision, they are practicing dignity.
As you begin your next journey, no matter what your path, you can choose to live your life as the
rules dictate, as efficiently as possible, with integrity alone.
Or, you can live beyond what is expected.
You can decide to be responsible for more than yourself –– to nurture the best from our human
condition by acknowledging the dignity that each of us holds.
I offer you congratulations as you begin your new journey.
I wish you luck.
And, I hope you chose the path of dignity.