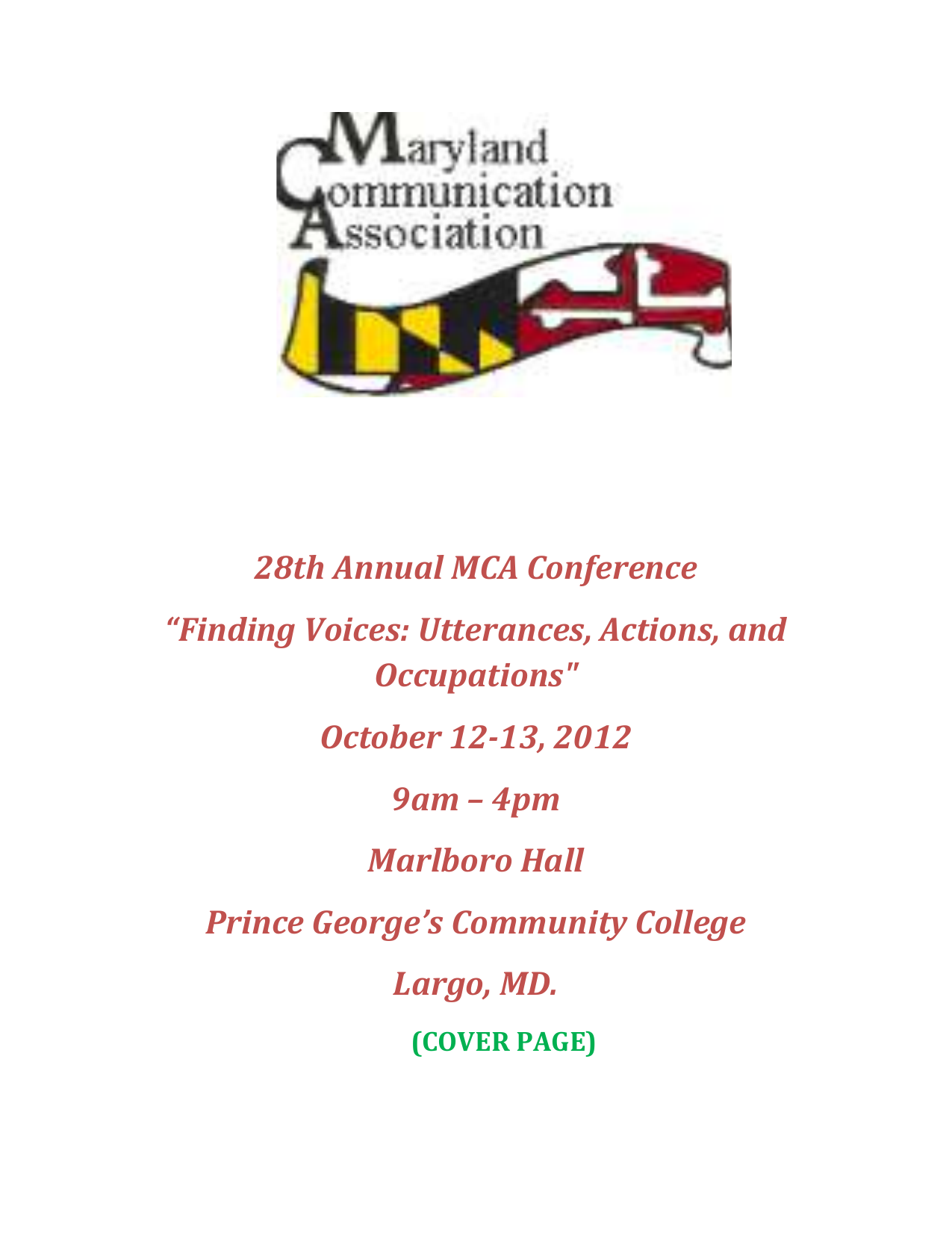 28th Annual MCA Conference
"Finding Voices: Utterances, Actions, and
Occupations"
October 12-13, 2012
9am – 4pm
Marlboro Hall
Prince George's Community College
Largo, MD.
(COVER PAGE)
PRESIDENT'S MESSAGE
(INSIDE COVER)
Sheri Whalen
President
Frostburg State University
BOARD MEMBERS
PHOTOS TO COME
(INSIDE COVER)
Elesha Ruminski
Immediate Past President
Frostburg State University
Clover Baker-Brown
1st Vice President
Prince George's
Community College
Pat Obrien
Michon Parker
ostburg State University
nd
2 Vice President
Treasurer
Immediate Past President
Bowie State
Prince George's
University
Community
College
Claudia Brown
Secretary
Harford
Community
College
8:30 AM
REGISTRATION
CONTINENTAL BREAKFAST AVAILABLE
Sponsored by Cengage Learning
8:45 – 9 AM
OPENING
Marlboro Art Gallery
WELCOME MESSAGES
PRINCE GEORGE'S COMMUNITY COLLEGE
MARYLAND COMMUNICATION ASSOCIATION
CONFERENCE ANNOUNCEMENTS
9:00 AM – 4:00 PM
EXHIBITORS ROW
Exhibits will be on display during the above hours.
Please visit our Exhibitors and support them.
9 – 10 AM
M-1098 or M-1104?
Structuring and Leading the Occupy and Tea Party Movements: Are They Effective in
Providing a Voice for the Voiceless?
Nzinga Jones, George Mason University, Va.
Social movements, as defined by social change activist Bill Moyer, are collective actions in
which the masses are alerted, educated, and mobilized over years and decades, to challenge
the power holders and society to set right social problems or grievances and restore critical
social values (Moyer, 1987). The Occupy and Tea Party socio-political movements are
stirring up interest as well as controversy by pushing their messages into the public
spotlight. Criticism and opposition are seen on both sides, yet both movements have
achieved victories. The focus of this presentation is to question if whether these
movements provide a voice for the voiceless and carry out social change, or if they only
serve as "noisemakers."
Organizing via Social Media to Reverse an Unpopular Ideological Decision: Planned
Parenthood versus Susan G. Komen Foundation.
Rod Carveth, Morgan State University, MD.
Just days before Christmas 2011, the Susan G. Komen Foundation informed Planned Parenthood of
America that it was discontinuing its funding for cancer screenings. Ostensibly, the reason Komen
pulled the funding was because the foundation had adopted a new criterion for funding awards.
The Associated Press (AP) story about Komen cancelling funding to Planned Parenthood appeared
on Tuesday, January 31 (Crart, 2012, Jan. 31). By the next day (February 1), the Komen Facebook
site was overwhelmed with negative comments. A similar outburst of negative attacks against
Komen also appeared on Tumblr and Twitter. Komen's response at first was silence. Later in the
day, Komen started deleting many of the negative comments on their Facebook page. The
controversy that ensued resulted in the resignation of Komen board members, decline in both
donations as well as participation in the well-known "Race for a Cure" events. In 21st century public
relations, corporations need to have an active social media presence. Having an active social media
presence is not just merely maintaining a Facebook page but its means interacting with users of
that page.
9 – 10 AM
M1058 or M1097?
Facebook Me: Friendly Reflections of Gendered Performances
Jennifer Potter, Towson University, MD
Judith Butler (1990) contends that people perform their gender without self-reflection and
through their own routinized activities. People enact performances daily (i.e., feminine
performances of applying make-up and wearing heels and masculine performances of
shaving one's face and dressing for optimal comfort) yet pay little attention to the ways in
which these performances are intimately connected to gender identity. This presentation
relies on the framework of performance and performativity and also on the importance of
social media in the classroom to enhance critical learning.
Gendered Inequality and Pigeonholing in Public Relations: Practitioner Resistance via
Social Media.
Tiphanè P. Turpin, M.A., Howard University
The recent growth of the public relations field increased the number of female
professionals in the field (Sha, 2011); implying that more individuals are subject to the
structures reinforcing continued power and gender inequality in the practice. This research
employed critical empirical analysis, critical historical methods, and critical
autoethnography to study the development of gender inequality and pigeonholing.
10:15 – 11:15 AM
M-1098 or M-1104?
Reporting "Dreamers:" How Newspapers Give Voice to the Mexican "Dreamers."
Raul Tovares, Trinity Washington University, DC.
The term "Dreamers" refers to undocumented immigrants brought to the U.S. while under
the age of 16 by their undocumented parents. The DREAM Act would give many of these
young people a chance to adjust their status, access funds for college, and if they meet
certain criteria, earn U.S. citizenship. The focus of this paper is on how the DREAM Act and "
Voice, Race and the Ascent of Beige in Advertising
Janice Smith, Howard University, DC
Various studies have been conducted over the years about how African Americans are
depicted in television commercials and print advertising in general circulation magazines
in the United States. In the early 1900s, few African Americans were pictured in print ads in
such publications and those who were depicted appeared in subservient roles mainly to
assist whites. The presentation discusses how the role of African Americans in
commercials for mainstream television has evolved from merely being in the background
to dominant roles with meaningful depictions.
10:15 – 11:15 AM
M-1058
Giving a Voice to Wisdom Literature in the Classroom: Using Traditionally Religious
Texts as Non-Religious Sources.
Jacqueline Murdock, University of Maryland, MD.
Many instructional faculty members find themselves at a crossroads of ethics when it
comes to using religious material as support in a public school classroom. There are
concerns about offending students or crossing the separation of church and state line. This
presentation explores how faculty could become multidimensional in their perspectives on
ethics and religion in the classroom.
Understanding the Media Game: Examining the Need for Increased Media Literacy
Levels among African Americans: A Literary Analysis
Jayne Cubbage, American University, DC.
Like most Americans, African Americans are not seen as media literate. In passing, if the
concept is introduced, most people are not familiar with the term and why it would be
important to them. Accordingly, many people can speak about what they don't like about
media and perhaps why they consume what they do. However beyond those two elements
of this discussion, the analysis of media's impact on our lives generally falls short. This
work will examine the history of the media literacy movement in the United States and
provide an overview of various implementation strategies, which have been used to
introduce the concept to the American public.
11:30–12:30 PM
B-132
GREAT IDEAS FOR TEACHERS (G.I.F.T.S)
Students Finding Voices through "Ranting and Raving"
Denise Gilmer-Knudson
College of Southern Maryland, MD.
***********
GREAT IDEAS FOR TEACHERS (G.I.F.T.S)
Who am I? Who are We?
Stacey Peterson
Notre Dame of Maryland University
11:30-12:30 PM
Marlboro Art Gallery
MCA VOICES - A LEADERSHIP DISCUSSION
Roundtable discussion leader: Elesha L. Ruminski, Ph.D., Frostburg State University,
Immediate Past President of MCA
A special session for MCA exec board members, liaisons, and members who have interest in
offering leadership (or mentorship about leadership) to MCA. This roundtable discussion
will focus on the leadership of MCA and how we can together structure and organize this
professional association for our members and the discipline. Topics to be discussed will
include what to offer as an organization beyond the annual conference; supporting faculty
professional development and articulation agreements; fostering undergraduate and
graduate student academic opportunities; liaison involvement; bylaws revision; and
ongoing organizational initiatives, including links to the National States Advisory Council
and other state organizations. Those interested in serving as future leaders, whether as
liaisons, exec board members, or otherwise, should join this discussion.
12:00-1 PM
LUNCHEON
MARLBORO ART GALLERY
12:15 PM
GUEST SPEAKER:
DR. RONALD WILLIAMS
VICE PRESIDENT
THE COLLEGE BOARD
RONALD ALEXANDER WILLIAMS
Ronald Williams is a vice president of the College Board. Among several leadership roles, Williams
is responsible for strengthening the relationship between the College Board and community
colleges throughout the United States. He also provides leadership to a cluster of initiatives dealing
with students' access to, and persistence in, college. Williams joined the College Board in 2007 from
Prince George's Community College in Largo, Md., where he had served as president since 1999,
capping an extensive career with community colleges. Williams is a member of the board of the
American Association of Colleges and Universities, the American Association of Community
Colleges, and the American Council on Education's Center for Policy Analysis Advisory Committee.
Williams attended Lehigh University, where he earned a doctorate in literature, a master's degree
in English and a bachelor's degree in History and English. A writer, Williams has published two
novels, Four Saints and an Angel and A Death in Panama.
1- 1:30 PM
Business Meeting
All members are encouraged to participate in this business meeting to discuss the affairs of
the MCA.
PRESENTATIONS
Guest Speaker
Presented by Clover Baker-Brown
MCA Founder's Scholarship Winner
Presented by Elesha Ruminski
Speech Competition Winner
Presented by Claudia Brown
************
PASSING THE TORCH
Outgoing President
Sheri Whalen
Frostburg State University
Incoming President
Clover Baker-Brown
Prince George's Community College
1:45-2:45 PM
M-1098
Using Technology to Enhance Confidence in Speaking for International Students Workshop
Cassondra Pope, Elaine Kass, Jeanne Vandenbosch, Jocelyn Alexander-Tate, Neha
Sethi (Student), Prince George's Community College, MD.
International students have special communication needs that can often be overlooked in
college-level education. The language barrier presents a set of challenges that may deter
many International students from speaking up in an academic setting with confidence. This
presentation focusses on how international students use technology to enhance their
ability and improve their confidence in speaking and communicating in Standard American
English.
1:45-2:45 PM
M-1076
Occupy Online: Communication Studies in Digital Spaces
Linda Di Desidero, University of Maryland University College, MD
"Resistance is Futile: (Some of) the Future of Higher Education is Online" Linda Di Desidero
and Team.
Alana Fennie, University of Maryland University College, MD
"An Emancipatory Approach to Instructional Design"
Melinda Schwenk-Borrell , University of Maryland University College & Wilson
College, Chambersburg, PA, Lisa Ady Dewey, University of Maryland University
College, MD
"Three Key Communication Studies Courses ONLINE: SPCH 100, COMM 300, COMM 495"
Melinda Schwenk-Borrell and Lisa Ady Dewey
Invited Chair/Respondent: Rose Piskapas, Montgomery College, MD
3:00 – 4:00 PM
M-1104
The Rhetorical Function of Privilege
Christopher Abbott, Towson University, MD.
This essay examines the rhetorical function of privilege by exploring various uses of the
term "privilege." This essay identifies and analyzes various moments when the word
"privilege" appears throughout society, including legal, governmental, and sociological
contexts. It also compares and contrasts the term's use in both its noun and verb forms.
Viewing privilege as an effect of unequal power relations has profound implications for
communication scholars, and this presentation explores some of those implications.
The Gay Marriage Issue: Using Coherence, Communication Competency and Listening
Approaches as Strategies Against Essentialist Ideology.
Adrian Krishnasamy, Bowie State University, MD
Before President Obama's support for same-sex marriage equality became public,
Republican Candidates have made essentialist statements about gay marriage in complicit
ways. McPhail defines complicity as "the agreement to disagree and negative difference
refers to the principle of critical analysis that undergirds essentialist epistemology". This
presentation examines the push for gay marriage equality rights within the gay community
was done in a "complicit" manner.
3:00 – 4:00 PM
M-1086 M-1098 M-1104
Climbing the Wall to Equality: Inside a 21st Century Protest
Claudia Brown, Harford Community College
Student Journalism Club, Harford Community College
When the July 13, 2011Adbuster Magazine issued a call on behalf of the "Occupy Wall
Street" for citizens to camp out on Wall Street in New York City on September 17, the
students in the Journalism Club at Harford Community College (HCC) answered the call.
When students visited New York City in October of 2011, the demonstration was in full
force. The protest took a variety of forms from interpretive dancing to a homemade
community altar. Large media outlets reported the story but the Journalism students of
HCC took a different look at the movement. This presentation focuses on student
perspectives in media bias and the reporting of the Occupy Wall Street protests.
Sponsors
Pearson's
Cengage
Frostburg State University
Steven's University
Prince George's Community College - Student Services
REVE Jewelery
Maryland Online
Bowie State University
Bowie State – National Capital Television Museum
(BACK PAGE)
SPONSORS
The Maryland Communication Association thanks the following
sponsors:
Office of the President
Communication and Theatre Department
Marketing and Creative Services
Student Services
College Life Services
Music Department
Art Department
Harford Community College (No Logo Available)
The Board of the Maryland Communication Association thanks you for your
participation in this year's conference. We look forward to your participation
in Conference 2013, to be held at Bowie State University, Bowie, MD.
Let us stay in touch. Visit our website at marylandcomm.org and Like us on
Facebook at Maryland Communication Association (MCA).