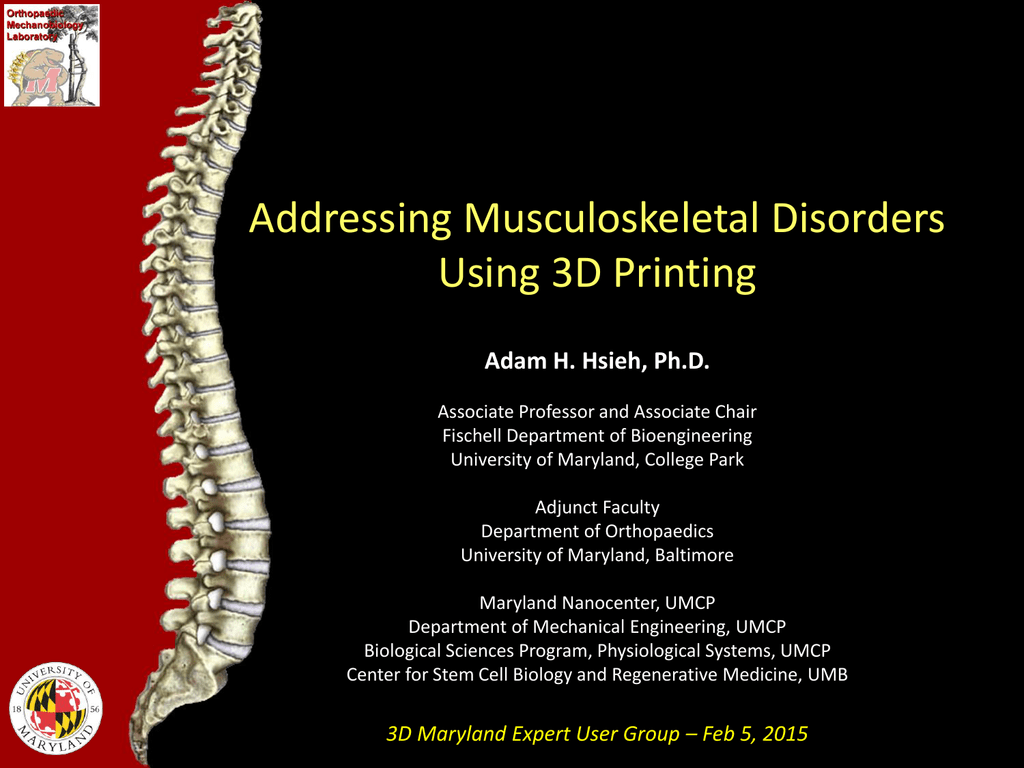 Addressing Musculoskeletal Disorders
Using 3D Printing
Adam H. Hsieh, Ph.D.
Associate Professor and Associate Chair
Fischell Department of Bioengineering
University of Maryland, College Park
Adjunct Faculty
Department of Orthopaedics
University of Maryland, Baltimore
Maryland Nanocenter, UMCP
Department of Mechanical Engineering, UMCP
Biological Sciences Program, Physiological Systems, UMCP
Center for Stem Cell Biology and Regenerative Medicine, UMB
3D Maryland Expert User Group – Feb 5, 2015
2
"Form follows function"
3
External devices
4
Cutting blocks for total joint replacement
5
Repair of structural defects
6
Scaffolds for tissue growth
7
Acknowledgements
Staff
Hyunchul Kim, M.S.
Trainees
Adam Gabai, M.S.
Dana Hartman, B.S.
Sang Kuy Han, Ph.D.
Genevieve Hill, B.S.
David Hwang, Ph.D.
Aileen Leung, B.S.
Valerie Loewensberg, M.S.
Carlos Luna, Ph.D.
Tom Metzger, B.S.
Mike Morschauser, Ph.D.
Emmarie Myers, B.S.
Chetan Pasrija, B.S.
Anshu Rastogi, Ph.D.
Lauren Resutek, B.S.
Joe Russell, B.S.
Danial Shahmirzadi, Ph.D.
Poonam Sharma, B.S.
Rebecca Stevick
Pratiksha Thakore, B.S.
Julianne Twomey, B.S.
Ágústa Vigfúsdóttir, M.S.
Ashish Uppala
Ping Wang, Ph.D.
Alvin Yew, Ph.D.
Current
Current collaborators
collaborators
UM, College Park
Yu Chen, Ph.D.
Henry Haslach, Ph.D.
Darryll Pines, Ph.D.
Norm Wereley, Ph.D.
Miao Yu, Ph.D.
UM, Baltimore
Bob O'Toole, M.D.
Frank Henn, M.D.
Joe Stains, Ph.D.
NIST
Javier Atencia, Ph.D.
Children's Nat'l Med Ctr
John Elliott, Ph.D.
Matt Oetgen, M.D.
Anne Plant, Ph.D.
Colorado State Univ
FDA
Christian Puttlitz, Ph.D.
Maureen Dreher, Ph.D.
Srinidhi Nagaraja, Ph.D.
UCSD
Sameer Shah, Ph.D.
Emory University
Tim Yoon, M.D.
THANK YOU! QUESTIONS?