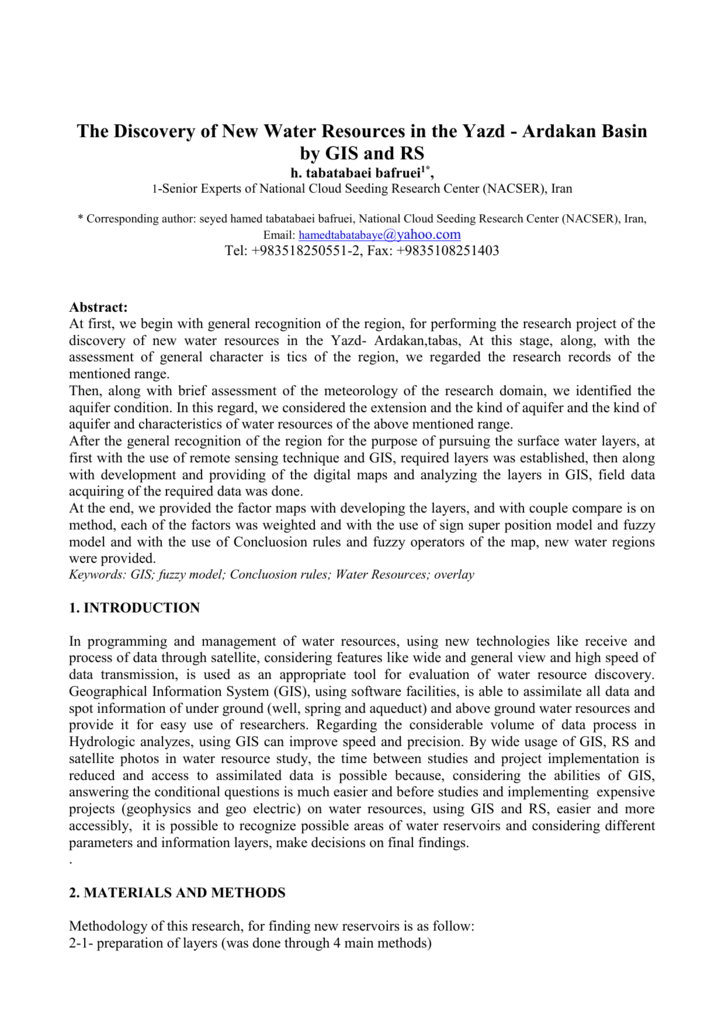 The Discovery of New Water Resources in the Yazd - Ardakan Basin
by GIS and RS
h. tabatabaei bafruei1*,
1-Senior Experts of National Cloud Seeding Research Center (NACSER), Iran
* Corresponding author: seyed hamed tabatabaei bafruei, National Cloud Seeding Research Center (NACSER), Iran,
Email: [email protected]
Tel: +983518250551-2, Fax: +9835108251403
Abstract:
At first, we begin with general recognition of the region, for performing the research project of the
discovery of new water resources in the Yazd- Ardakan,tabas, At this stage, along, with the
assessment of general character is tics of the region, we regarded the research records of the
mentioned range.
Then, along with brief assessment of the meteorology of the research domain, we identified the
aquifer condition. In this regard, we considered the extension and the kind of aquifer and the kind of
aquifer and characteristics of water resources of the above mentioned range.
After the general recognition of the region for the purpose of pursuing the surface water layers, at
first with the use of remote sensing technique and GIS, required layers was established, then along
with development and providing of the digital maps and analyzing the layers in GIS, field data
acquiring of the required data was done.
At the end, we provided the factor maps with developing the layers, and with couple compare is on
method, each of the factors was weighted and with the use of sign super position model and fuzzy
model and with the use of Concluosion rules and fuzzy operators of the map, new water regions
were provided.
Keywords: GIS; fuzzy model; Concluosion rules; Water Resources; overlay
1. INTRODUCTION
In programming and management of water resources, using new technologies like receive and
process of data through satellite, considering features like wide and general view and high speed of
data transmission, is used as an appropriate tool for evaluation of water resource discovery.
Geographical Information System (GIS), using software facilities, is able to assimilate all data and
spot information of under ground (well, spring and aqueduct) and above ground water resources and
provide it for easy use of researchers. Regarding the considerable volume of data process in
Hydrologic analyzes, using GIS can improve speed and precision. By wide usage of GIS, RS and
satellite photos in water resource study, the time between studies and project implementation is
reduced and access to assimilated data is possible because, considering the abilities of GIS,
answering the conditional questions is much easier and before studies and implementing expensive
projects (geophysics and geo electric) on water resources, using GIS and RS, easier and more
accessibly, it is possible to recognize possible areas of water reservoirs and considering different
parameters and information layers, make decisions on final findings.
.
2. MATERIALS AND METHODS
Methodology of this research, for finding new reservoirs is as follow:
2-1- preparation of layers (was done through 4 main methods)
2-1-1- using remote sensing technique and GIS for finding spot locations and layers like cracks,
salty lands, some petrology information , determine the plant variety and denoting them, land usage
(Figure no 1), nominating the soil type (Figure no 2), recognition of sedimentary areas, water
reservoir stone layers, sand hills, and plant variety, to detect low depth reservoir layers.
Figure No 1 –land usage plan for study area
Figure No 2 –soil type plan for study area
2-1-2- preparation and aggregation of numeral plans along with descriptive information of geology
plans (Figure no 3)
2-1-3- producing the needed layers through GIS analyzes , using other layers like DEM and
numeral height model, slope plan , slope and canals direction.
2-1-4- site visit, gathering data of existing water resources (Figure no 4) and also basin confine
Figure No 3 - geology plan of study area
Figure No 4 – water resource plan of study area
2-2- presenting the 'producing layers image' system and then overlay of created numeral layers.
2-3- creating valuation field for all producing layers and evaluating the different parameters record
through experts comments.
value
3
3
3
1
3
3
2
3
1
3
2
4
4
3
1
3
usage
Lake, waterwheel and dam
Forest
Rain based implant
pasture
Drench implant
Gallant pastures
Sterile territories
Watery territories
Salty lands
forest
Implanted jungle
Salty lake
sands
basin
City zone
Poor pastures
code
1
2
3
4
5
6
7
8
9
10
11
12
13
14
15
15
Table 1 - land usage
Value
1
1
3
3
1
4
5
5
2
5
2
Type
Mountain
Hill
plateau
Hillside moors
Residential and industrial
zones
Torrent moors
Outflow gravels
Gravel alluvial
Mix territory
Shallow territory
Other territories
Table 2 – soil type
Code
1
2
3
4
6
7
8
9
10
11
12
value
1
3
4
2
3
2
1
1
3
4
Plant variation
Sterile (without
stone emerge)
pastures
Drench implant and
garden
desert
Implanted jungle
Pastures over %50
density
Pastures with %25 to
%50 density
Pastures with %5 to
%25 density
Residential zone
Sand hills
Salty lands
code
BL
IF
K
PF
R1
R2
R3
URB
SS
SL
Table 3 – plant variety
Value
1
2
3
4
5
Grade
Grade 1
Grade 2
Grade 3
Grade 4
Grade 5
Code
1
2
3
4
5
Table 4 – canals
After preparation and aggregation of necessary data and layers, factor plans were provided and re
categorized. Then, using mutual comparison method , which is a part of AHP process, each factor
was evaluated and finally, through index overlay model, prospect model was provided and new
water resources plans were created. Also, using fuzzy logic model, each factor was given fuzzy
membership and at the end, by using conclusion rules and fuzzy operators map of new water
resources area was created. Overlay of layers have different types, which to mention some of them,
'index overlay' and 'fuzzy logic model' can be mentioned. Presenting a proper model for finding new
water reservoirs needs exact recognition of variables and effective environmental parameters like
topographical elements, plant variety, land usage and so on. Knowing the effect of above told
parameters and their effect scale needs descriptive geographical studies so that referring them, the
effectiveness of those parameters can be judged.
2-4- evaluation and grading the layers according to different scales and using AHP methods.
value
1
2
3
4
5
6
7
8
9
10
11
Bottom stone layer
Well
aqueduct
springs
lit logy
sill
Physiographic type
Bottom stone layer
Canals
Salty lands
Land usage
Plant variation
Table 5 – grade of layers
code
1
2
3
4
5
6
7
8
9
10
11
2-5- compilation and analyze of results of evaluation of layers in order to final decision making on
choosing proper spots for probable water reservoir levels and new water reservoirs which are done
here through fuzzy logic and calculation methods .
Description of fuzzy logic:
Fuzzy logic is a derivative of fuzzy numbers (intolerable volume logic) which opposing the classic
(Bully or 0 and 1) argues approximate measures (for example: not completely right and not
completely wrong, or not just 1 and not just 0). This theory focuses on intolerable measures so that
it is used for solving very precise problems of actual life (it uses actual life patterns). Most of times,
measure of rightness of some thing is mistaken with probability of it. To bring an example, it can be
said that if we say some one is good, you might judge that he is only %8 good and your friend judge
him to be only %3 good but this doesn't mean that that person is not good (your different point of
views does not effect the main idea of that person's goodness, in other words it is the matter of
different percentage not probability) in fuzzy logic, every problem or event, does not has an exact
answer, it is always defined as an incommensurable measure between 0 and 1 (including 0 and 1 ).
To make it more clear, another example is brought:
Some one is living in a house with 2 rooms (a sitting room and a kitchen) it can't be said that in all
conditions, he is in sitting room or he is in the kitchen (he may stand between them) he can stand
between 2 rooms so that a part of his body be in kitchen and the other part in the sitting room,
determination of measure of him which is in each room is explained as a member of a fuzzy
complex.
Fuzzy logic uses values for its measures like, between 0 and 1 (including 0 and 1), different
measures of grey (including black and white) and imprecise words like "a little", "totally" and "so
much". The theory of 'fuzzy complexes and probabilities' was presented by professor lotfi zadeh in
1965 in Berkley University (California). This logic is widely used and accepted but also is one of
the most argued ones. Critics believe that probability is deeply dependent on mathematics and in the
other hand, fuzzy logic can't be considered as an independent complex from complex theories
because its members are defined with arbitrary words.
2-5-1- classification and creating raster layers from vector layers which some samples are shown in
Figure no. 5, 6 and 7 .
2-5-2- making models through calculation in GIS. Figure no 8
2-5-3- classification and creation of fuzzy layers from raster layers (which are created using fuzzy
logic) samples of these raster plans are shown in Figure no. 9, 10, 11, 12.
2-5-4- making models of created fuzzy layers using fuzzy logic (no. 13)
Figure No 5 - raster map of land usage
Figure No. 7 – raster map of soil type
Figure No. 9 – fuzzy map of basin confine
Figure No 11 – fuzzy map of lit logy
Figure No 6 – raster map of geological valuation
Figure No 8 – topology map and spot map of new water
reservoirs (using calculation in GIS)
Figure No 10 – fuzzy map of land usage
Figure No 12 – fuzzy map of soil type
Figure No 13 – topology map and location map of new water reservoirs (using fuzzy in GIS)
References
Usage of IT in geology – kazem Alavi panah PhD
Remote sensing – Rezaiee and Fatemi
GIS – P.A Baro (translated by Taherkia PhD)
Remote sensing (principals and application) – Rabiee PhD
Main arguments of M.A in GIS and RS – Deleer and Monzavi
6- Enviromental Geology- (K.knodel-G.lange-H.j.voigt)
7- Data Assimilation for atmospheric,oceanic and Hydrologic Applications –(Seon
k.park.liang xu)
8.
8- Atmosphoric ultraviolet Remote sensing (Robert E.Huffman)
9.
9- Remote sensing of impervious surfaces (Qihao weng)
10. 10- Image processins for Remot Sensing (C.h.Chen)
11. 11- Thermal Remote sensing in land Surface processing- (A.Quattrochi - C.luvail)
12. 12- Remote sensing- (R.Schott)
1.
2.
3.
4.
5.
6.
7.