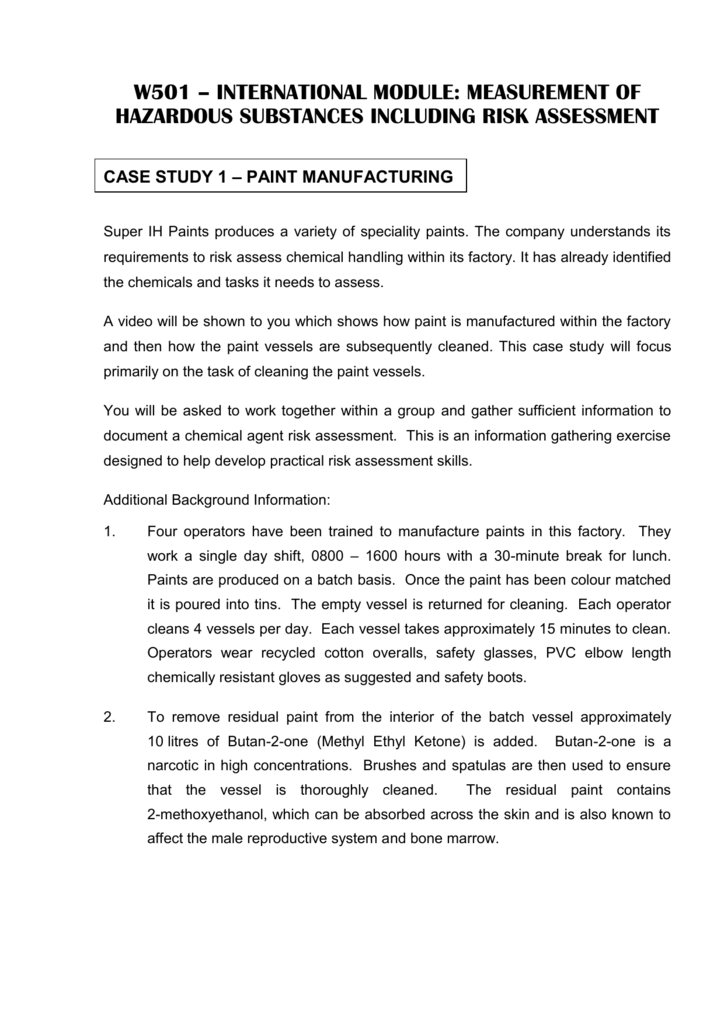 W501 – INTERNATIONAL MODULE: MEASUREMENT OF
HAZARDOUS SUBSTANCES INCLUDING RISK ASSESSMENT
CASE STUDY 1 – PAINT MANUFACTURING
Super IH Paints produces a variety of speciality paints. The company understands its
requirements to risk assess chemical handling within its factory. It has already identified
the chemicals and tasks it needs to assess.
A video will be shown to you which shows how paint is manufactured within the factory
and then how the paint vessels are subsequently cleaned. This case study will focus
primarily on the task of cleaning the paint vessels.
You will be asked to work together within a group and gather sufficient information to
document a chemical agent risk assessment. This is an information gathering exercise
designed to help develop practical risk assessment skills.
Additional Background Information:
1.
Four operators have been trained to manufacture paints in this factory. They
work a single day shift, 0800 – 1600 hours with a 30-minute break for lunch.
Paints are produced on a batch basis. Once the paint has been colour matched
it is poured into tins. The empty vessel is returned for cleaning. Each operator
cleans 4 vessels per day. Each vessel takes approximately 15 minutes to clean.
Operators wear recycled cotton overalls, safety glasses, PVC elbow length
chemically resistant gloves as suggested and safety boots.
2.
To remove residual paint from the interior of the batch vessel approximately
10 litres of Butan-2-one (Methyl Ethyl Ketone) is added.
Butan-2-one is a
narcotic in high concentrations. Brushes and spatulas are then used to ensure
that the vessel is thoroughly cleaned.
The residual paint contains
2-methoxyethanol, which can be absorbed across the skin and is also known to
affect the male reproductive system and bone marrow.
2.
3.
Personal monitoring has been performed and analysis of the samples obtained
gave Butan-2-one 8-hour time-weighted average concentrations in the range 100
– 300 ppm. 2-methoxyethanol 8-hour TWA concentrations were all less than
1 ppm (Occupational Hygiene Report, 'Assessment of exposure to vapour and
noise', Ref: KJ0087K, 01/09/05). The operators performing this task commented
that they often experienced light-headedness, headache and nausea at the end
of the working day.
4.
Procedures describing how this task should be performed are not available.
However, local exhaust ventilation units are uniquely identified, maintained at
regular intervals and are subject to a thorough examination and test every
14 months. The maintenance department undertakes weekly visual inspections
of these units. Confined space entries are controlled through a permit to work
system. Regular safety walkthroughs involving safety discussions with staff are
carried out.
5.
Process operators have received training on the harmful effects of the materials
used and on the correct application of the control measures that have been
provided.
6.
Occupational exposure limits, risk phrases and boiling points for butan-2-one and
2-methoxyethanol are as follows:
-
Butan-2-one (methyl ethyl ketone) – 200 ppm 8 hour TWA and 300ppm
15 minute STEL, Narcotic in high concentrations. Absorbs through skin. Risk
phrases: 11, 36, 66, 67, Boiling point: 80°C.
-
Paint (2-methoxy ethanol) – 5 ppm 8 hour TWA, Long-term effects on male
reproductive organs. Absorbs through skin, Risk phrases: 60, 61,10,
20/21/22, Boiling point: 125°C.
-
Risk Phrases
R10
-
Flammable
R11
-
Highly flammable
R20/21/22
-
Harmful by inhalation, in contact with the skin and if
swallowed
3.
7.
R36
-
Irritating to eyes
R60
-
May impair fertility
R61
-
May cause harm to the unborn child
R66
-
Repeated exposure may cause skin dryness or cracking
R67
-
Vapours may cause drowsiness and dizziness
Emergency response, in this case loss of containment and subsequent spillage,
has been well addressed by the company. Detailed emergency procedures are
available and an emergency exercise conducted annually.
Spill kits and
personal protective equipment (including breathing apparatus) are available
together with a separate first aid room.
Note: This case study is based on a range of archive materials adapted to create a case study for
student use. It does not represent any particular company or situation past or present. Any
resemblance to current people, organisations or companies is coincidental.