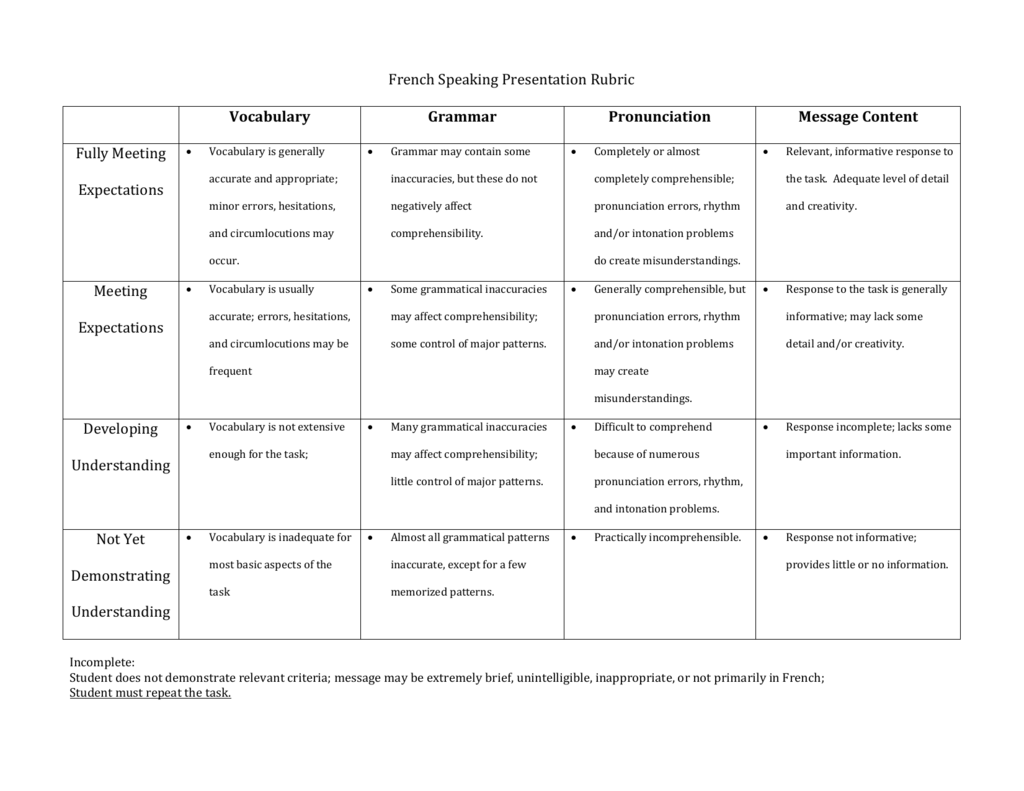 French Speaking Presentation Rubric
Vocabulary
Fully Meeting

Expectations
Vocabulary is generally
Grammar

Grammar may contain some
Pronunciation


Expectations

Relevant, informative response to
accurate and appropriate;
inaccuracies, but these do not
completely comprehensible;
the task. Adequate level of detail
minor errors, hesitations,
negatively affect
pronunciation errors, rhythm
and creativity.
and circumlocutions may
comprehensibility.
and/or intonation problems
occur.
Meeting
Completely or almost
Message Content
Vocabulary is usually
do create misunderstandings.

Some grammatical inaccuracies

Generally comprehensible, but

Response to the task is generally
accurate; errors, hesitations,
may affect comprehensibility;
pronunciation errors, rhythm
informative; may lack some
and circumlocutions may be
some control of major patterns.
and/or intonation problems
detail and/or creativity.
frequent
may create
misunderstandings.
Developing

Vocabulary is not extensive

enough for the task;
Understanding
Many grammatical inaccuracies

Difficult to comprehend
may affect comprehensibility;
because of numerous
little control of major patterns.
pronunciation errors, rhythm,

Response incomplete; lacks some
important information.
and intonation problems.
Not Yet
Demonstrating

Vocabulary is inadequate for

Almost all grammatical patterns
most basic aspects of the
inaccurate, except for a few
task
memorized patterns.

Practically incomprehensible.

Response not informative;
provides little or no information.
Understanding
Incomplete:
Student does not demonstrate relevant criteria; message may be extremely brief, unintelligible, inappropriate, or not primarily in French;
Student must repeat the task.