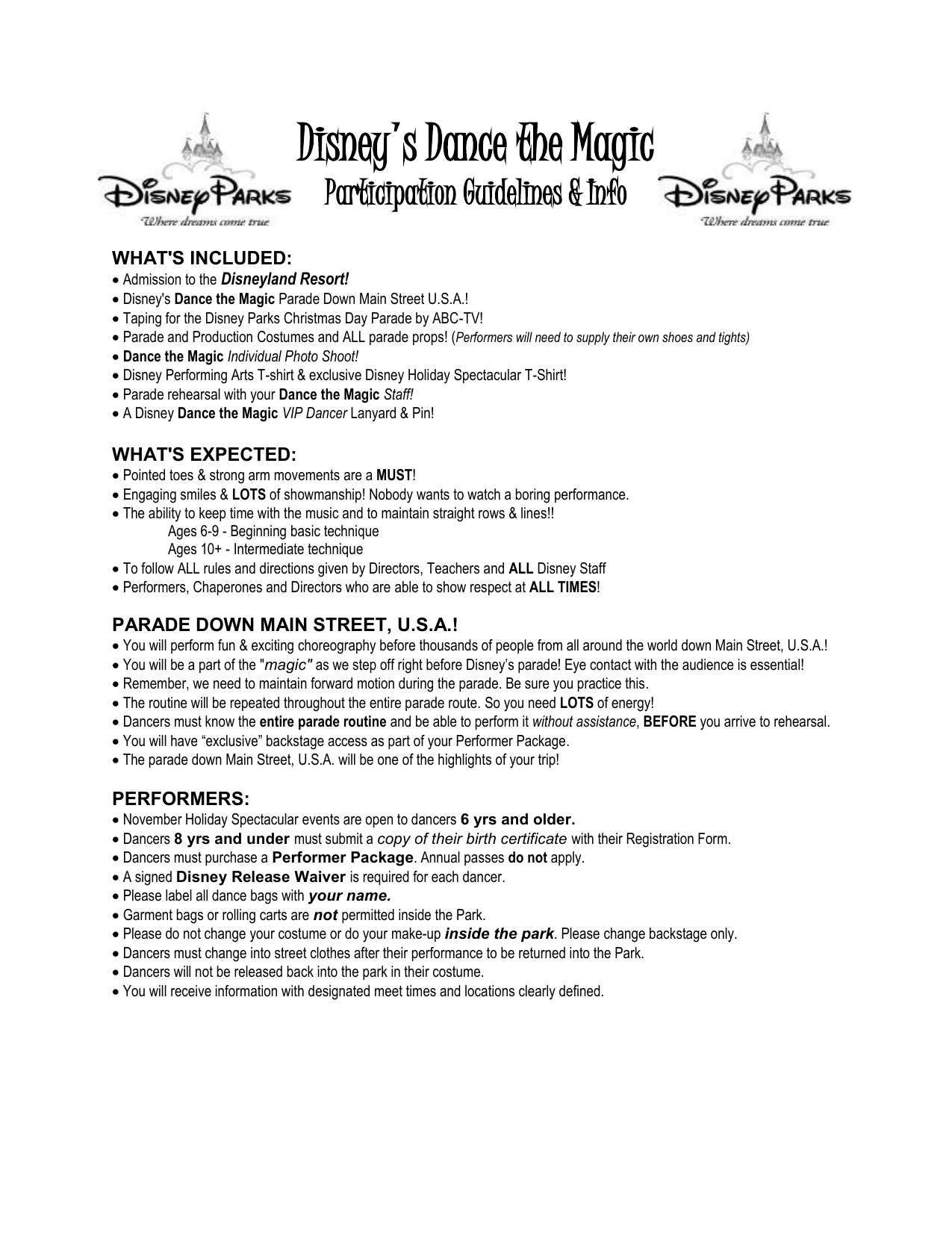 Disney's Dance the Magic
Participation Guidelines & Info
WHAT'S INCLUDED:
Admission to the Disneyland Resort!
Disney's Dance the Magic Parade Down Main Street U.S.A.!
Taping for the Disney Parks Christmas Day Parade by ABC-TV!
Parade and Production Costumes and ALL parade props! (Performers will need to supply their own shoes and tights)
Dance the Magic Individual Photo Shoot!
Disney Performing Arts T-shirt & exclusive Disney Holiday Spectacular T-Shirt!
Parade rehearsal with your Dance the Magic Staff!
A Disney Dance the Magic VIP Dancer Lanyard & Pin!
WHAT'S EXPECTED:
Pointed toes & strong arm movements are a MUST!
Engaging smiles & LOTS of showmanship! Nobody wants to watch a boring performance.
The ability to keep time with the music and to maintain straight rows & lines!!
Ages 6-9 - Beginning basic technique
Ages 10+ - Intermediate technique
To follow ALL rules and directions given by Directors, Teachers and ALL Disney Staff
Performers, Chaperones and Directors who are able to show respect at ALL TIMES!
PARADE DOWN MAIN STREET, U.S.A.!
You will perform fun & exciting choreography before thousands of people from all around the world down Main Street, U.S.A.!
You will be a part of the "magic" as we step off right before Disney's parade! Eye contact with the audience is essential!
Remember, we need to maintain forward motion during the parade. Be sure you practice this.
The routine will be repeated throughout the entire parade route. So you need LOTS of energy!
Dancers must know the entire parade routine and be able to perform it without assistance, BEFORE you arrive to rehearsal.
You will have "exclusive" backstage access as part of your Performer Package.
The parade down Main Street, U.S.A. will be one of the highlights of your trip!

PERFORMERS:
November Holiday Spectacular events are open to dancers 6 yrs and older.
Dancers 8 yrs and under must submit a copy of their birth certificate with their Registration Form.
Dancers must purchase a Performer Package. Annual passes do not apply.
A signed Disney Release Waiver is required for each dancer.
Please label all dance bags with your name.
Garment bags or rolling carts are not permitted inside the Park.
Please do not change your costume or do your make-up inside the park. Please change backstage only.
Dancers must change into street clothes after their performance to be returned into the Park.
Dancers will not be released back into the park in their costume.
You will receive information with designated meet times and locations clearly defined.
COSTUMES:
Costumes for the ABC Taping and the Holiday Spectacular parade will be selected by Disney. No other costumes are allowed.
ONLY White Keds Champion style tennis shoes are to be word for the parade.
Your group must have clean, shoes. Do not wear these shoes other than performance!
Hair is to be worn EXACTLY as instructed by Disney.
There will be a hair and make-up class so that everyone learns to do their hair the same..
Remember, your appearance is a reflection of you and Disney!
DRESS REHEARSAL:
We will have a dress rehearsal. Please attend in your COMPLETE performing attire with hair and make-up done.
ALL rehearsals are mandatory for all parade performing dancers. Location: Backstage area
We will practice forward motion, block the routine, and then perform the parade routine for Disney & ABC representatives.
Each group will perform the routine separately, then all together.
Everyone must know the parade routine and be able to perform with a SMILE!
Individual and group photos will be taken at Dress Rehearsal.
MAGICAL MEMORIES FOR YOU:
Each Performer will receive a professional 8 x 10 Disney photo of themselves in costume!
Each Performer will receive a professional DVD of our event activities, including their parade down Main Street, U.S.A.!
Dancers will have the option of purchasing a beautiful souvenir group photo of their dance / group team.
Photos from the parade and showcase will be posted online for viewing and purchase approx. 3 weeks after the event.
PLEASE NOTE:
Disney & ABC reserves the right to pull any and all performers who are not able to perform the routines as expected.
Any performer missing items such as the correct shoes, or costume pieces will also not be able to perform.