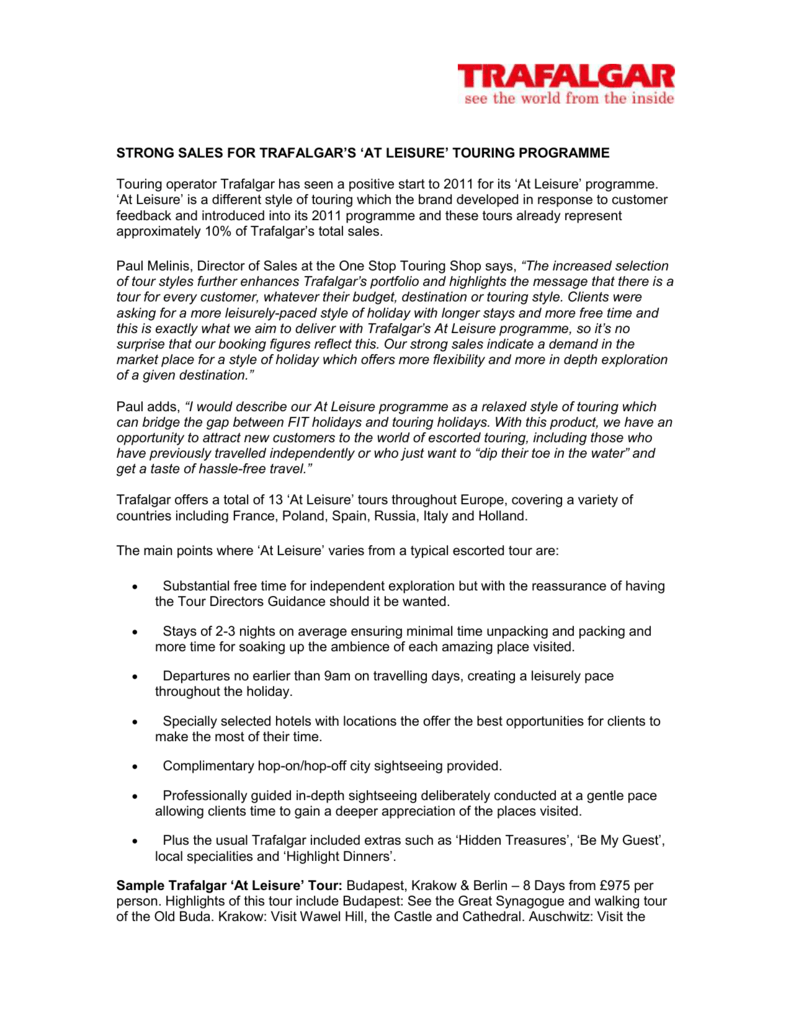 STRONG SALES FOR TRAFALGAR'S 'AT LEISURE' TOURING PROGRAMME
Touring operator Trafalgar has seen a positive start to 2011 for its 'At Leisure' programme.
'At Leisure' is a different style of touring which the brand developed in response to customer
feedback and introduced into its 2011 programme and these tours already represent
approximately 10% of Trafalgar's total sales.
Paul Melinis, Director of Sales at the One Stop Touring Shop says, "The increased selection
of tour styles further enhances Trafalgar's portfolio and highlights the message that there is a
tour for every customer, whatever their budget, destination or touring style. Clients were
asking for a more leisurely-paced style of holiday with longer stays and more free time and
this is exactly what we aim to deliver with Trafalgar's At Leisure programme, so it's no
surprise that our booking figures reflect this. Our strong sales indicate a demand in the
market place for a style of holiday which offers more flexibility and more in depth exploration
of a given destination."
Paul adds, "I would describe our At Leisure programme as a relaxed style of touring which
can bridge the gap between FIT holidays and touring holidays. With this product, we have an
opportunity to attract new customers to the world of escorted touring, including those who
have previously travelled independently or who just want to "dip their toe in the water" and
get a taste of hassle-free travel."
Trafalgar offers a total of 13 'At Leisure' tours throughout Europe, covering a variety of
countries including France, Poland, Spain, Russia, Italy and Holland.
The main points where 'At Leisure' varies from a typical escorted tour are:

Substantial free time for independent exploration but with the reassurance of having
the Tour Directors Guidance should it be wanted.

Stays of 2-3 nights on average ensuring minimal time unpacking and packing and
more time for soaking up the ambience of each amazing place visited.

Departures no earlier than 9am on travelling days, creating a leisurely pace
throughout the holiday.

Specially selected hotels with locations the offer the best opportunities for clients to
make the most of their time.

Complimentary hop-on/hop-off city sightseeing provided.

Professionally guided in-depth sightseeing deliberately conducted at a gentle pace
allowing clients time to gain a deeper appreciation of the places visited.

Plus the usual Trafalgar included extras such as 'Hidden Treasures', 'Be My Guest',
local specialities and 'Highlight Dinners'.
Sample Trafalgar 'At Leisure' Tour: Budapest, Krakow & Berlin – 8 Days from £975 per
person. Highlights of this tour include Budapest: See the Great Synagogue and walking tour
of the Old Buda. Krakow: Visit Wawel Hill, the Castle and Cathedral. Auschwitz: Visit the
concentration camp. Berlin: Visit Checkpoint Charlie museum, the Reichstag, the Opera
House. Price based on two people sharing and excludes flights.
Insight Vacations, Trafalgar and Contiki Holidays are part of One Stop Touring Shop.
For more information, agents should contact One Stop Touring Shop' on: 020 7468
4335.