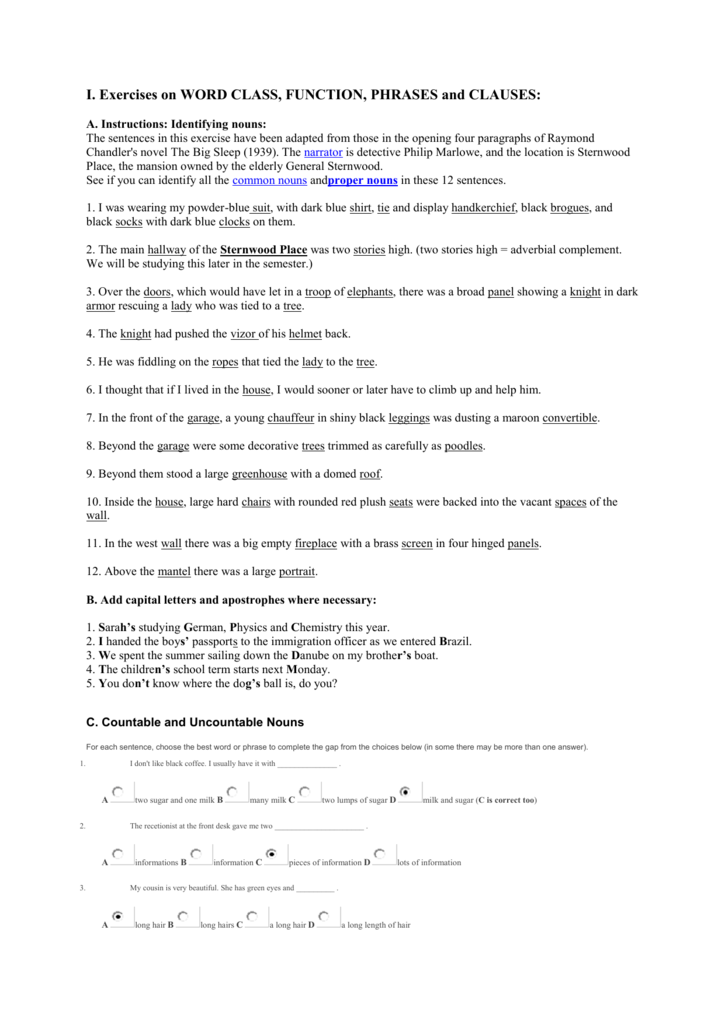 I. Exercises on WORD CLASS, FUNCTION, PHRASES and CLAUSES:
A. Instructions: Identifying nouns:
The sentences in this exercise have been adapted from those in the opening four paragraphs of Raymond
Chandler's novel The Big Sleep (1939). The narrator is detective Philip Marlowe, and the location is Sternwood
Place, the mansion owned by the elderly General Sternwood.
See if you can identify all the common nouns andproper nouns in these 12 sentences.
1. I was wearing my powder-blue suit, with dark blue shirt, tie and display handkerchief, black brogues, and
black socks with dark blue clocks on them.
2. The main hallway of the Sternwood Place was two stories high. (two stories high = adverbial complement.
We will be studying this later in the semester.)
3. Over the doors, which would have let in a troop of elephants, there was a broad panel showing a knight in dark
armor rescuing a lady who was tied to a tree.
4. The knight had pushed the vizor of his helmet back.
5. He was fiddling on the ropes that tied the lady to the tree.
6. I thought that if I lived in the house, I would sooner or later have to climb up and help him.
7. In the front of the garage, a young chauffeur in shiny black leggings was dusting a maroon convertible.
8. Beyond the garage were some decorative trees trimmed as carefully as poodles.
9. Beyond them stood a large greenhouse with a domed roof.
10. Inside the house, large hard chairs with rounded red plush seats were backed into the vacant spaces of the
wall.
11. In the west wall there was a big empty fireplace with a brass screen in four hinged panels.
12. Above the mantel there was a large portrait.
B. Add capital letters and apostrophes where necessary:
1. Sarah's studying German, Physics and Chemistry this year.
2. I handed the boys' passports to the immigration officer as we entered Brazil.
3. We spent the summer sailing down the Danube on my brother's boat.
4. The children's school term starts next Monday.
5. You don't know where the dog's ball is, do you?
C. Countable and Uncountable Nouns
For each sentence, choose the best word or phrase to complete the gap from the choices below (in some there may be more than one answer).
I don't like black coffee. I usually have it with ______________ .
1.
A
two sugar and one milk B
many milk C
two lumps of sugar D
milk and sugar (C is correct too)
The recetionist at the front desk gave me two _____________________ .
2.
A
informations B
information C
pieces of information D
lots of information
My cousin is very beautiful. She has green eyes and _________ .
3.
A
long hair B
long hairs C
a long hair D
a long length of hair
I went shopping last weekend and I bought _____________________ .
4.
A
two clothes B
two cloth C
two clothings D
two items of clothing
______________ have you got in the bank? Is it enough to buy a house?
5.
A
How many moneys B
How many money C
How much money D
How much moneys
On Saturday, my friend Paul went fishing and he caught __________ .
6.
A
three fish B
three fishes C
three items of fish D
three of fish (A is correct too)
What would you like in your sandwich? - I'll have ____________ , lettuce and mayonaise.
7.
A
a chicken B
some chicken C
some chickens D
an item of chicken
Can I borrow ________________ from you? I've left mine at home and I want to write some notes.
8.
A
paper B
a paper C
a slice of paper D
a piece of paper
How much __________________ did the teacher give us today? He always gives us a lot to do.
9.
A
homework B
homeworks C
lots of homework D
pieces of homework
When I listened to the radio this morning, ____________ very bad. England are out of the World Cup.
10.
A
the new's B
the new was C
the news was D
the news were
Every morning before I come to school, I spend thirty minutes doing ________ . That's how I stay so slim.
11.
A
exercise B
an exercise C
some exercises D
some pieces of exercise (C is correct too)
Your sister is a great pianist. She played _______________________ at the party.
12.
A
a lovely music B
some lovely musics C
lovely musics D
a lovely piece of music
D. Write the plural of the following nouns. Use the dictionary where necessary. (Use a good learner's
dictionary to correct yourself. The plural is always given after the singular. There are many
dictionaries available in the BU).
Apology
apologies
Ox oxen
Businessman businessmen
Fox foxes
Sheep sheep
mosquito
Bus busses
salmon salmon
Quantity quantities
torch torches
Tariff tariffs
embargo embargoes
Hero heroes
species species
E. Add –s to the countable nouns that may be made plural. Place a check next to noncount nouns.
(Again, use your dictionary and if you have questions, bring them to class and we will discuss
problems together).
Information x
vegetation x
Literature
youngster/ s
Vocabulary/ ies
lumber x
Advertising x
stationery x
Advertisement/s
luggage x
Climate/s
laughter x
Homework x
Assignment/s
Slang x
Weather x
Clothing x
Machinery x
Machine/ s
Propaganda x
Equipment x
Baseball x
traffic x
knowledge x
humankind x
scenery x
architect/s
engineering x
technology/ ies
architecture x
skyscraper/s
committee/s
F. Use the noncountable singular noun or the countable plural noun. Do not use an article with the
singular noncountable noun.
1.
2.
3.
4.
5.
6.
7.
It has been said that (youth) ______YOUTH___________ is wasted on the young.
Several (youth) ______YOUTHS____________ were seen loitering in the street.
The most expensive wigs are made of _______HAIR__________ hair.
He is so bald that we can almost count the (hair) ______HAIRS___________ on his head.
Various (fruit) ________FRUITS__________ were on display at the fair.
Let's have some (fruit) ______FRUIT_______ for dessert.
He has always been praised for his great (strength) _______STRENGHT______ of
character__CHARACTER_________.
8. One of his great (strength)______STRENGTHS_______ is his ability to get along with people.
9. He doesn't like to drink (wine) ____WINE___________ or (beer) _________BEER________.
10. France produces many (wine) _______WINES__________.
11. That company will not hire you unless you have some experience
___EXPERIENCE_____________.
12. He told about some of the terrible (experience) _______EXPERIENCES______________ he
had in the war.
G. Nouns from Verbs : fill in the blanks with the appropriate noun forms. CORRECT WITH
DICTIONARY
1.
2.
3.
4.
5.
6.
7.
8.
9.
10.
11.
12.
13.
14.
15.
16.
17.
18.
19.
The (maintain) ___MAINTENANCE______________ of that building is the responsibility of the
township.
He gave a vivid (describe) ____DESCRIPTION___________ of his home town.
The child was punished for his (disobey) __DISOBEDIENCE___________________.
They built an (extend) __EXTENSION___________________ to the house.
His (succeed) ________SUCCESS___________ in business was the result of hard work.
The doctor gained immediate (recognize) _____RECOGNITION_________________ for his great
discovery.
Everyone would like a (reduce) ____REDUCTION___________ in taxes.
We must find a (solve) ______SOLUTION__________ to this problem.
Her husband's constant (suspect) ________SUSPICION_____________ of infidelity irritated her.
The judge's (decide) ______DECISION______________ is final.
That gas can easily cause an (explode) ________EXPLOSION_______________.
The tornado caused a great deal of (destroy) ________DESTRUCTION______________.
What is the (pronounce) _____PRONUNCIATION__________________ of this word?
The (omit) ______OMISSION____________ of a few words in the contract caused a great deal of
trouble.
A (compare) ___COMPARISON______________ between two systems reveals that one is much more
efficient than the other.
For a long time people had many (misconceive) ___MISCONCEPTION______________ about the
nature of mental disorders.
He couldn't give a satisfactory (explain) _______EXPLANATION___________ for his absence.
The girl's father asked her suitor what his (intend) _______INTENTION__________ were in regard to
marriage.
The (conquer) ___CONQUEST____________ of England by the Normans occurred in 1066.
H. Nouns from Adjectives CORRECT WITH DICTIONARY
1.
2.
3.
4.
What is the (deep) _____DEPTH________, the (high) _______HEIGHT____________ and the long)
___LENGTH_____________ of this box?
Although he was a world-renowned scientist, he always behaved with (humble)
_HUMILITY___________.
She has great (strong) ________STRENGTH__________ and (noble) _NOBILITY_____ of character.
She was thanked for her great (generous) ______GENEROSITY___________________.
I. Inflected possessive form: Change the of phrases in the following sentences to the inflected possessive forms
The house of Mr. Jones has recently been sold. Mr. Jones's House
The crew of the ship decided to go on strike. The ship's crew
He was irritated by the attitude of his friends. His friends' attitude
The rays of the sun shine on all. The sun's rays
The hunters are now on the trail of the deer. The deer's trail
The doctor is waiting for the report of the X-ray technician. The X-ray technician's report
The distance of the earth from the sun is now known. The earth's distance
The unwillingness of the two countries to negotiate their differences may lead to warfare between them.
The two countries' unwillingness
9. The reputation of this railroad for safety and reliability has brought about its prosperity. This railroad's
reputation
10. The hair of the baby is becoming lighter. The baby's hair
11. People are not deceived for long by the outrageous promises of that politician. That politician's
outrageous promises
1.
2.
3.
4.
5.
6.
7.
8.
J. Use the correct form of the noun. Try using an English dictionary to do this exercise on your own.
1.
2.
3.
4.
5.
6.
7.
8.
The (propel) __________________ of the plane was damaged.
Athena is the (god) ___________________ of love.
They had a large (wed) _______________.
The (begin) _________________ of the book is interesting.
He removed the (wrap) ____________________ from the candy bar.
We are writing in (refer) ________________________ to your letter of June 18.
There were many (beg) __________________ on the road.
An (occur) _____________________ of this kind was completely unexpected.
K. Change the of-phrase into a genitive construction.
1. The eldest son of my brother - my brother's eldest son
2. The leaders of our country – our country's leader
3. the best team of the women – the best women's team
4. the conviction of the prisoners – the prisoners' conviction
5. the influence of the President – the President's influence
6. the first papers of the students – the students' first papers
7. the last play of Shakespeare – Shakespeare's last play
8. the torn coat of somebody
L. At the end of each sentence you will find a label for a word class. Underline all the words in the
sentences that belong to that word class.
1.
2.
3.
4.
5.
It is remarkably difficult to define what literature is. – verb
Some definitions of literature say that it is language used for making fiction. – noun
Other definitions say that it is language used for the purpose of pleasing aesthetically. – preposition
However, some critics have shown convincingly that the two definitions are necessarily connected. –
adverb
Certainly, the fiction definition alone is not sufficient, since some literature is not fiction (e.g.
biography) and some fiction is not literature (e.g. the story told in an advertisement). – determiner
6.
7.
Attempts to identify literary language through its abundance of rhetorical or figurative devices have
also failed. – adjective
Some have argued that it is a mistake to set up a dichotomy between literary and non-literary language,
since literature is defined simply by what we as readers or literary critics regard as literature. – pronoun
M. Noun suffixes : convert the following words into nouns by adding noun suffixes and making any other
consequent changes. Some words may take more than one noun suffix. USE DICTIONARY:
1. perform
6. behave
2. able
7. satisfy
3. conceive
8. govern
4. speak
5. construct
9. repeat
10. real
N. Number : supply the plural form for each of the singular nouns listed below: USE DICTIONARY
1. analysis
2. thief
3. criterion
4. deer
6. ovum 7. phenomenon 8. hypothesis 9. basis 10. shelf
5. stimulus
O. Pronoun classes : circle the antecedents of the underlined pronouns and possessive determiners.
1.
2.
3.
4.
5.
6.
7.
8.
Scientists have discovered that pets have a therapeutic effect on their owners.
A dog, for instance, can improve the health of the people it comes in contact with.
In a recent study, the blood pressure of subjects was measured while they were petting their pets.
In general, an individual's blood pressure decreased while he was in the act of petting his pet.
Since many of the elderly have experienced the loss of a spouse, it is particularly important that they be
allowed to have a pet.
This is a problem, since the elderly often live in flats whose landlords will not allow their tenants to
own pets.
Recently, however, a local landlord allowed her tenants to own pets on an experimental basis.
The landlord found that when they were allowed to have pets, the elderly proved to be responsible pet
owners.
P. Test your understanding of the use of the apostrophe by identifying the error in each of the examples below
and then correcting it :
Trouser's reduced
Coastguard Cottage's
Adult Learner's Week
Member's May Ball
Nude Reader's Wives
Lands' End
Bobs' Motors
Citizens Advice Bureau
Mens Toilets
Cyclist's only
Please replace the trolley's
Dicks in tray
New members welcome drink
It need'nt be a pane (on a van advertising discount glass)
Ladie's hairdresser
The Peoples Princess'
Freds' Restaurant
"… to welcome you to the British Library, it's services and catalogues (reader induction pamphlet at
British Library).
19. Your 21 today!
20. "… giving the full name and title of the person who's details are given in Section 02 (on UK passport
application form)
1.
2.
3.
4.
5.
6.
7.
8.
9.
10.
11.
12.
13.
14.
15.
16.
17.
18.
Q. Possessives : indicate whether the underlined words are possessive determiners or possessive pronouns:
1.
Can you tell me your address? PD
2.
3.
4.
5.
6.
7.
8.
You've made a mistake. The phone number is not his. PP
This is Doris and this is her husband David. PD
Justin borrowed one of my videos, but I can't remember its title. PD
This book is yours, Robert. PP
Benjamin has already read one of his books. PD
She claimed that the bicycle was hers. PP
They are concerned about the fall in their standard of living. PD
R. Reflexive Pronouns : Fill in each blank with the appropriate reflexive pronoun;
1.
2.
3.
4.
5.
6.
7.
8.
We congratulated___OURSELVES__________ on completing the job in good time.
I________MYSELF________ have arranged the meeting.
I wonder, Tom, whether you wouldn't mind helping____YOURSELF______________ .
I hope that you all enjoy_____YOURSELVES_______________ .
She did the entire job by ___HERSELF_________________.
The surgeons need to allow______THEMSELVES____________ more time.
They can't help_____THEMSELVES______________ .
The dog hurt_______ITSELF_________ when it jumped over the barbed wire fence.
S. Demonstrative pronouns: specify whether the underlined word is a demonstrative pronoun or a
demonstrative determiner:
1.
2.
3.
4.
5.
6.
7.
8.
This happens to be the best meal I've eaten in quite a long time. DP
Put away those papers. DD
That is not the way to do it. DP
You'll have to manage with these for the time being. DP
We can't trace that letter of yours. DD
Who told you that? DP
Where can I buy another one of those? DP
These ones are the best for you. DD
T. Pronouns: Indicate whether the underlined pronouns are personal, possessive, reflexive, demonstrative,
reciprocal, interrogative, relative, or indefinite.
1. Nobody has ever seen a unicorn. INDEFINITE
2. I intend to collect beetles. PERSONAL
3. What do you want me to do? PERSONAL, PERSONAL
4. He can resist everything except temptation. PERSONAL, INDEFINITE
5. She did it all by herself. PERSONAL, REFLEXIVE
6. These are some of the pressure groups that support only one party. DEMONSTRATIVE, INDEFINITE
7. One cannot be too careful in the choice of one's friends. INDEFINITE
8. We are commanded to love one another. RECIPROCAL
9. The next turn is yours. POSSESSIVE
10. Is this war? DEMONSTRATIVE
11. Who is it now? Dummy subject
12. I heard the story from somebody on whom I can rely. PERSONAL, INDEFINITE, PERSONAL
U. Adjective suffixes: convert the following words into adjectives by adding adjective suffixes and making any
consequent changes. Some words may have more than one adjective suffix:
1. style
7. hair
2. cycle
8. use
3. wish
9. sex
4. allergy
10. confide
5. care
6. monster
V. Gradability and comparison
Give the inflected comparative and superlative of each of these adjectives:
1. pure
2. cruel
3. easy
4. narrow
7. clean 8. common
9. quiet
10. handsome
5. happy
6. simple
W. Gradability and comparison : discuss the meanings of these four sentences in relation to their forms:
1.
2.
3.
4.
5.
6.
She was a most kind teacher.
She was the most kind teacher.
She was most kind.
She was kindest.
They were more than happy to hear the news.
He is more shrew than clever.
X. Adverb suffixes: convert the following words into adverbs by adding –ly or –ically and making any
consequent changes.
1. genetic
6. simple
2. realistic
3. lazy
7. public 8. tragic
4. specific
5. recognizable
Y. Confusion between adjectives and adverbs
Z. Correct these sentences when necessary by substituting adjectives for adverbs or adverbs for
adjectives. Some of the sentences do not need to be corrected.
1. The child is eating too fast.
2. Do your pants fit tightly?
3. They fought hard against the change.
4. I didn't sleep too good last night.
5. We left early because I was not feeling well.
6. The milk tasted sourly this morning.
7. I felt good about the way they treated you.
8. Your dog is barking loud.
9. They should think more positive about themselves.
AA. Verb suffixes : convert the following words into verbs by adding verb suffixes and making any consequent
changes. Some words may take more than one suffix.
1. real
6. liquid
2. hyphen
7.. Example
3. ripe
8. white
4. margin
5. random
BB. Classes of irregular verbs : give the three principal parts for each irregular verb:
1. grow 2. put 3. drive 4. send 5. break 6. do 7. go 8. read 9. fall 10. throw
1. Are you looking for someone?
2. They promised the employees a substantial raise at the end of the year.
3. The books which he wrote later weren't quite as interesting.
CC. Identify the subject of the underlined verbs in the following sentences (function):
1.
2.
3.
4.
5.
6.
7.
8.
9.
10.
11.
12.
13.
14.
15.
Would you like some chocolates? YOU
The parcel weighs two kilos. THE PARCEL
There is certainly an easy solution to your problem. THERE (dummy subject)
What hurt his foot? WHO
Who does Jane like best? JANE
Did anyone see the assailant? ANYONE
Among the guests of honour were sitting several friends of mine. SEVERAL FRIENDS OF MINE
Jack and Jill have come back from walking up the hill. JACK and JILL
I wonder how many people saw that strange phenomenon. HOW MANY PEOPLE
I wouldn't like him to think that I'm giving up the idea. HIM
I'm not sure I've been told the truth. I('ve)
How much money did the bank invest in the project? THE BANK
What made you think that there would be more to come?
They don't want us to stay alone.
Next to the bottle stood a pile of empty paper cups.
DD. Exercise on transitive and intransitive verbs. Determine whether the verbs in the examples below are (a)
exclusively intransitive or (b) can be used either transitively or intransitively. Remember, an intransitive verb is
used in a construction that does not take a direct or indirect object. Certain verbs, such as appear, happen, go,
work, glow, are always intransitive. Others, such as drive, play, write, sing, kiss, etc. can function as intransitive
or transitive verbs, which take a direct object. There are some verbs, such as grant or accept, which are always
transitive.
1.
2.
3.
4.
5.
6.
7.
8.
9.
10.
11.
12.
13.
14.
15.
16.
Women today are achieving in many professions which were previously open only to men.
Don't panic. There's no real danger.
He has exhibited in all the major art galleries over the last five years.
You must be joking!
Most of the students baby-sit two or three evenings a week.
Her eyes glittered as she saw the diamonds.
My brother-in-law ghost-writes for at least two politicians.
Have you ever heard it said that horses sweat, men perspire, and ladies glow?
She'll find it difficult to make him change the way he dresses.
The little bird quivered in my hands.
Pete doesn't adapt quite easily to new situation.
He thinks he can take me in, but I know when he's bluffing.
Those couples who have no children of their own are often eager to adopt.
Look at Howard, he's been dozing all through the lecture.
I don't seem to be able to concentrate lately.
The two companies have merged.
EE. Subject-verb agreement (function) (correct answer in bold print)
1. He______ his neighbour jogging. (see, sees)
2. He ______ know what kind of exercise to do. (don't, doesn't)
3. Exercise for the middle-aged _________ considered a prophylactic. (is, are)
4. Too many people ________ up with heart attacks. (end, ends)
5. To undertake an exercise test ______ prudent (is, are)
6. The test __________ your level of fitness. (determine, determines)
7. Usually the test ________ after a physical examination. (come, comes)
8. Finding out what your heart can do ________ the goal of the test. (is, are)
9. The test _______ a treadmill. (use, uses)
10. Some clinics also ________ a bicycle. (use, uses)
11. On the basis of the tests, the doctor _______ likely to recommend an exercise programme. (is, are)
12. To take up a regular programme __________ discipline. (require, requires)
FF. In the sentences below, does the underlined verb have a direct object? If you answer yes, identify the
NP which is the DO. Otherwise, what is the function of the NP? (Function)
1. Could you give me back the book that you borrowed.
2. What books did they borrow?
3. The children loved their teacher.
4. They gave us a room at the back.
5. The parcel weighs 2 kilos.
6. It rained forty days.
7. They were waiting for the end of the show.
8. They sent the actors a huge box of chocolates.
9. Who did you ask?
10. We waited a few minutes, but it was getting late.
11. You didn't answer my question.
12. Everybody worked several weeks on the scheme.
The senator's comments caused a great deal of anger.
direct object
indirect object
The company is offering employees a generous severance package.
direct object
indirect object
Tell me your news.
direct object
indirect object
I'll call you a taxi.
direct object
indirect object
They owe the bank a small fortune.
direct object
indirect object
HH. Each of the following ten sentences contains an indirect object. Identify the indirect object in each
sentence. Answer in BOLD PRINT.
1. Give Marie the prize.
2. The taxi driver charged us twenty dollars.
3. I wished my friends a happy new year and headed back into the house.
4. Afer washing the dishes, I told the children a bedtime story about otters and eagles.
5. Preetha often lends her brother money, but he never pays her back.
6. Mikey handed me a note from his mother explaining his absence the day before.
7. The young man built his family a house in an isolated hollow near White Bluff.
8. Lynn bought her uncle a Western-style gray felt hat at the Franklin Sporting Goods store.
9. Kate passed him the canteen, and he took a big drink of the cold water.
10. Last fall our church group sent the missionaries mops and pails and building supplies.
II. Directions: Identify only the subject, the direct object, and the indirect object in each sentence.
Example: Our teacher gave us some work to do.
subject: _____teacher________ / direct object: ___work_______ / indirect object: ______us_______
1. We sent a package to our relatives in Iowa.
subject: ____we_____________ / direct object: ______package______________ / indirect object:
___________________
2. He told his parents a lie.
subject: _______he__________ / direct object: _____a lie_______________ / indirect object: ______his
parents_____________
3. Please hand me the remote control for the TV.
subject: _________________ / direct object: _________the remote control for the TV___________ / indirect
object: ___________me________
4. Tina is making dinner for us.
subject: _______Tina__________ / direct object: _______dinner_____________ / indirect object:
___________________
5. Our boss is buying us dinner.
subject: ___Our Boss______________ / direct object: ____dinner________________ / indirect object:
_________us__________
6. A movie on TV gave me the chills.
subject: ___A movie on TV______________ / direct object: ______the chills______________ / indirect object:
___________me________
7. Wish me luck.
subject: _________________ / direct object: _____luck_______________ / indirect object:
_________me__________
8. His grandmother sends him five dollars on his birthday every year.
subject: ____his grandmother_____________ / direct object: _____five dollars_______________ / indirect
object: ________________him___
9. They tried giving their baby some mashed peas.
subject: _____they____________ / direct object: ________some mashed peas____________ / indirect object:
_________their baby__________
10. John paid the bill for us.
subject: ___John______________ / direct object: _______the bill_____________ / indirect object:
___________________
JJ. Run-on sentences and comma splices (9.3) Correct errors in run-on sentences and comma splices.
1. One of the more popular methods of reducing waste is by incineration. This method is used where land
is scarce for burial.
2. Ask the first people you see if they can help you. I'm sure they will.
3. He is not the world's leading authority on coins. However, he is often consulted by foreign buyers.
4. Universities now have problems filling some science courses. The applications are not there.
5. The peace talks collapsed. We therefore expect an immediate renewal of fighting.
6. The agency reviewed its security procedures. It did so against a background of warnings of an imminent
terrorist threat.
KK. Instructions: Each of the following sentences contains a complement. Identify the complement in each
sentence, and note whether it is a subject complement or an object complement.
1.Pablo is extremely intelligent.
2.I find him intelligent.
3.Ginger's hair dye turned the water pink.
4.After our fight on the first day of school, Jenny became my friend for life.
5. We painted the ceiling blue.
6. You are making me angry.
7. Paula is a good dancer.
8. Dorothy named her parakeet Onan.
9. Known as "the father of the Texas blues," Blind Lemon Jefferson was a popular entertainer in the 1920s.
LL. Complements and Objects
An object complement is a noun or noun phrase, or an adjective or adjective phrase, that
desrcibes the object. (The news made us depressed.) A subject complement is a noun or noun
phrase, or an adjective or adjective phrase that follows a linking verb (is, was, seems) and
desribes the subject. (She was happy.)
Identify the direct object in the following sentence.
Blake reads the newspaper every morning before work.
Blake
morning
newspaper
Identify the indirect object in the following sentence.
That loud music is giving me a headache.
headache
me
music
Identify the subject complement in the following sentence.
Last summer, Jennifer became an avid golfer.
golfer
Jennifer
summer
Identify the object complement in the following sentence.
Nearly every student considered the pop quiz unfair.
quiz
unfair
student
Identify the direct object in the following sentence.
I didn't understand a word you said.
you
understand
word
Identify the indirect object in the following sentence.
The food server brought us several more hot rolls.
rolls
us
server
Identify the subject complement in the following sentence.
Richard is very creative.
creative
very
Richard
Identify the object complement in the following sentence.
The audience found the comedian's performance offensive.
performance
offensive
audience
Identify the direct object in the following sentence.
Julia sometimes forgets the words to her own songs.
songs
words
Julia
Identify the indirect object in the following sentence.
Give me a call at your convenience.
call
Give
me
Identify the subject complement in the following sentence.
Uncle Al has been a librarian for more than thirty years.
Uncle Al
years
librarian
Identify the object complement in the following sentence.
Charlie's evasive answers made the police officer suspicious.
officer
suspicious
answers
Identify the direct object in the following sentence.
At the flea market, I bought several old lamps.
bought
market
lamps
Identify the indirect object in the following sentence.
Will you lend me your pen?
me
pen
you
Identify the subject complement in the following sentence.
I didn't know that you were unhappy.
I
unhappy
you
Identify the object complement in the following sentence.
The coach named Katherine the most valuable player.
coach
player
Katherine
Identify the direct object in the following sentence.
We welcome your suggestions for improving service.
service
suggestions
We
Identify the indirect object in the following sentence.
Allison is teaching me yoga.
Allison
yoga
me
Identify the subject complement in the following sentence.
Neil Armstrong was the first person to walk on the moon.
moon
person
Neil Armstrong
Identify the object complement in the following sentence.
Tina considers Mrs. Brown a valuable mentor.
Mrs. Brown
Tina
mentor
Identify the direct object in the following sentence.
Excessive humidity damaged the digital camera.
camera
Excessive
humidity
Identify the indirect object in the following sentence.
The regional manager gave Justin a compliment on his presentation.
compliment
Justin
manager
Identify the subject complement in the following sentence.
Shonda has become an expert in tax preparation.
Shonda
expert
become
Identify the object complement in the following sentence.
The city of Pine Grove elected my cousin mayor.
cousin
city
mayor
Identify the direct object in the following sentence.
Ryan's motorcycle needs a new carburetor.
Ryan's
carburetor
motorcycle
MM.. Correct the mistakes in the e-mail below. Once you have done that, underline all the noun phrases and
circle the head of each.
Dear Monique,
We had great trip to the France last weekend. We went to little hotel that you recommended and it was
very pleasant. Foods at the hotel weren't so good, as you warned us, but we strolled down to city centre on
Saturday evening and had lovely meal there. In fact, we ate so much for the dinner that we didn't want a
breakfast on Sunday!
Thanks again for the advice and informations. Now I must unpack and do the washings. Here is a photo
of the hotel to remind you.
See you soon,
Love, Kathy
NN.. In each of the sentences below, identify the noun phrases at the highest level (those that contain other
noun phrases within them) and identify the head. Once you have done this, go back and try to determine how
many noun phrases each sentence contains, working from the highest – those that contain the greatest number of
elements – down to the lowest, including all the intermediary stages along the way.
1.
A former prisoner at a special mental hospital was under guard yesterday after being shot.
2.
A multi-million pound project in Sierra Leone has had to be abandoned because the country cannot
afford it.
3.
The chairman of one of England's largest police authorities yesterday threatened to resign from the
Conservative Party.
4.
Labour released figures showing a huge rise in the number of unemployed in the Tory heartland of the
South East.
5.
The parents of two children critically burned in an arson attack were arrested yesterday at the hospital
where they have been keeping a vigil in the intensive care unit.
OO. Forming relative clauses
Combine the sentences using a relative clause. Use relatvie pronouns only where necessary. Note that you have
to use commas in some of the sentences.
A holiday in Scotland
1.We spent our holiday in Scotland last year. Scotland is in the north of Great Britain.
2. People live in Scotland. They are called Scots.
3. We first went to Edinburgh. Edinburgh is the capital of Scotland.
4.Arthur Conan Doyle was born in Edinburgh. He wrote the Sherlock Holmes stories.
5. Then we visited a lake. It is in the Highlands.
6. Loch Ness is 37 km long. People know it for its friendly monster.
7. There we met an old man. He told us that he had seen Nessie.
8. We then travelled to a mountain. The mountain is near the town of Fort William.
9. The mountain is the highest mountain in Great Britain. It is called Ben Nevis.
10. I sent you a postcard. It was written on the summit of Ben Nevis.