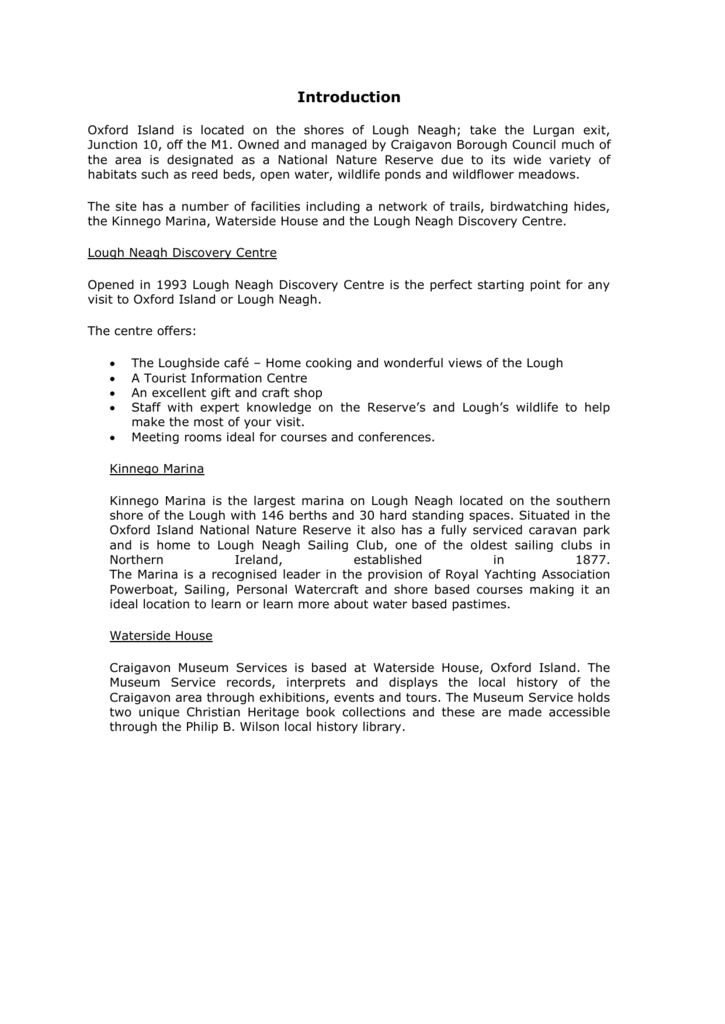 Introduction
Oxford Island is located on the shores of Lough Neagh; take the Lurgan exit,
Junction 10, off the M1. Owned and managed by Craigavon Borough Council much of
the area is designated as a National Nature Reserve due to its wide variety of
habitats such as reed beds, open water, wildlife ponds and wildflower meadows.
The site has a number of facilities including a network of trails, birdwatching hides,
the Kinnego Marina, Waterside House and the Lough Neagh Discovery Centre.
Lough Neagh Discovery Centre
Opened in 1993 Lough Neagh Discovery Centre is the perfect starting point for any
visit to Oxford Island or Lough Neagh.
The centre offers:





The Loughside café – Home cooking and wonderful views of the Lough
A Tourist Information Centre
An excellent gift and craft shop
Staff with expert knowledge on the Reserve's and Lough's wildlife to help
make the most of your visit.
Meeting rooms ideal for courses and conferences.
Kinnego Marina
Kinnego Marina is the largest marina on Lough Neagh located on the southern
shore of the Lough with 146 berths and 30 hard standing spaces. Situated in the
Oxford Island National Nature Reserve it also has a fully serviced caravan park
and is home to Lough Neagh Sailing Club, one of the oldest sailing clubs in
Northern
Ireland,
established
in
1877.
The Marina is a recognised leader in the provision of Royal Yachting Association
Powerboat, Sailing, Personal Watercraft and shore based courses making it an
ideal location to learn or learn more about water based pastimes.
Waterside House
Craigavon Museum Services is based at Waterside House, Oxford Island. The
Museum Service records, interprets and displays the local history of the
Craigavon area through exhibitions, events and tours. The Museum Service holds
two unique Christian Heritage book collections and these are made accessible
through the Philip B. Wilson local history library.