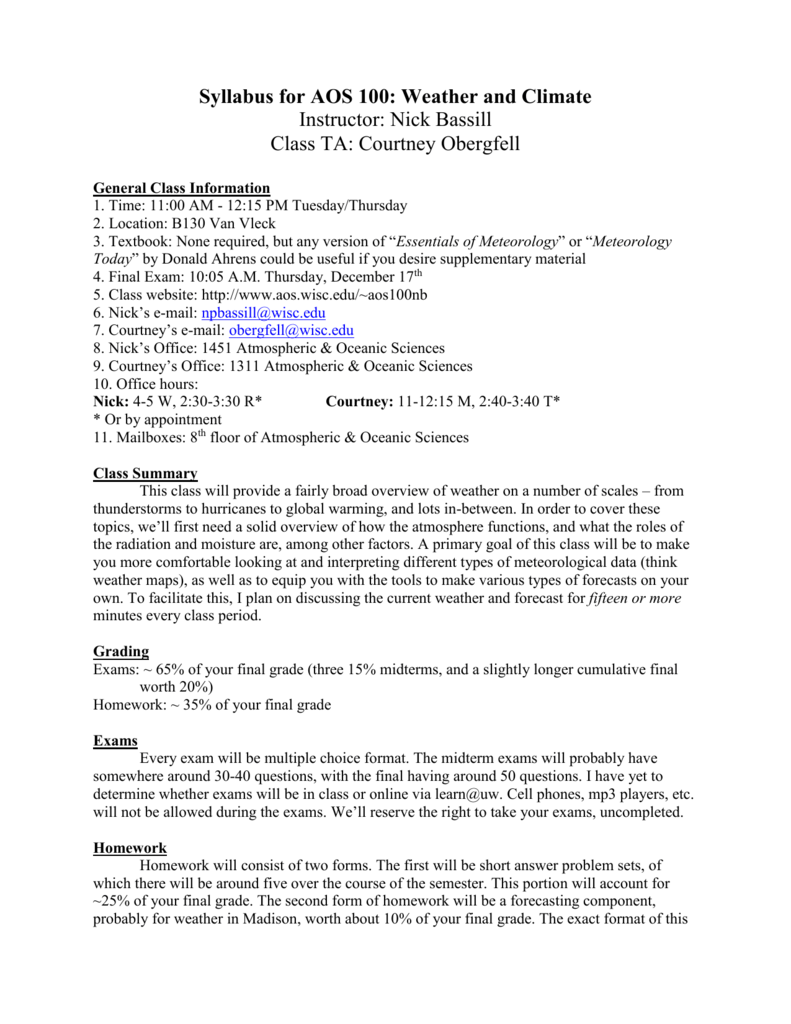 Syllabus for AOS 100: Weather and Climate
Instructor: Nick Bassill
Class TA: Courtney Obergfell
General Class Information
1. Time: 11:00 AM - 12:15 PM Tuesday/Thursday
2. Location: B130 Van Vleck
3. Textbook: None required, but any version of "Essentials of Meteorology" or "Meteorology
Today" by Donald Ahrens could be useful if you desire supplementary material
4. Final Exam: 10:05 A.M. Thursday, December 17th
5. Class website: http://www.aos.wisc.edu/~aos100nb
6. Nick's e-mail: [email protected]
7. Courtney's e-mail: [email protected]
8. Nick's Office: 1451 Atmospheric & Oceanic Sciences
9. Courtney's Office: 1311 Atmospheric & Oceanic Sciences
10. Office hours:
Nick: 4-5 W, 2:30-3:30 R*
Courtney: 11-12:15 M, 2:40-3:40 T*
* Or by appointment
11. Mailboxes: 8th floor of Atmospheric & Oceanic Sciences
Class Summary
This class will provide a fairly broad overview of weather on a number of scales – from
thunderstorms to hurricanes to global warming, and lots in-between. In order to cover these
topics, we'll first need a solid overview of how the atmosphere functions, and what the roles of
the radiation and moisture are, among other factors. A primary goal of this class will be to make
you more comfortable looking at and interpreting different types of meteorological data (think
weather maps), as well as to equip you with the tools to make various types of forecasts on your
own. To facilitate this, I plan on discussing the current weather and forecast for fifteen or more
minutes every class period.
Grading
Exams: ~ 65% of your final grade (three 15% midterms, and a slightly longer cumulative final
worth 20%)
Homework: ~ 35% of your final grade
Exams
Every exam will be multiple choice format. The midterm exams will probably have
somewhere around 30-40 questions, with the final having around 50 questions. I have yet to
determine whether exams will be in class or online via [email protected] Cell phones, mp3 players, etc.
will not be allowed during the exams. We'll reserve the right to take your exams, uncompleted.
Homework
Homework will consist of two forms. The first will be short answer problem sets, of
which there will be around five over the course of the semester. This portion will account for
~25% of your final grade. The second form of homework will be a forecasting component,
probably for weather in Madison, worth about 10% of your final grade. The exact format of this
is still undecided, but it won't begin for several weeks. This portion of the homework is
effectively a participation component – you will not be graded on the quality of your forecasts,
as long as it's clear an effort has been made. (But maybe I'll give some winners extra credit.)
Late Policy
No late homeworks will be accepted. This is largely because I plan on posting solutions
to the homeworks the day they are due. I expect them to be turned in by the end of weather
discussion on the day that they are due (or to our mailboxes beforehand). In the event that you do
get sick, have a funeral, emergency, etc; let us know in advance of the due date. If you do this,
we may be able to work something out, but if you wait until after the due date, your homework
will not be accepted under any condition.
Tentative Exam Days
Midterm 1: October 1st (In Class)
Midterm 2: November 3rd (In Class)
Midterm 3: December 1st (In Class)
Final: 10:05 A.M. Thursday, December 17th (Location TBA)
If you already know of a conflict for any of these days, let me know ASAP so that we can work
something out.
Extras
Attendance is not required. However, given that there is no textbook, attendance in class will be
an invaluable tool to learning the material. Although Powerpoints will be posted after class, I
suspect they will not be sufficient to understand the material.
I will almost certainly offer extra credit of some form during the semester, although probably not
until after the first exam.
Homework and lectures will be posted on the class website.
Last Thoughts
I have not lectured for AOS 100 before. That being said, I think that will be a great positive in
allowing me to make this class more exciting and dynamic compared with past AOS 100 classes.
To this end, I strongly encourage you to tell me about problems you have with the course,
suggestions for improvement, as well as topics you'd like to see covered. Do this at any time –
I'll definitely try to accommodate you to the best of my ability.